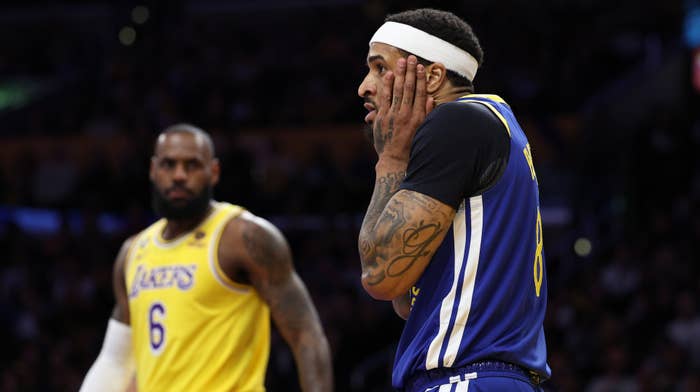 Gary Payton II started for the Golden State Warriors in Game 4 of the defending champions' second-round series against the Los Angeles Lakers on Monday.
Known for his lock-down defense, Payton II was expected to provide the Warriors with spark. Instead, people on social media noticed the 30-year-old might have thrown up in his mouth during the first quarter. As seen in the below videos, Payton II seemingly played an entire defensive possession while appearing to hold the vomit in his mouth.
After the Warriors dashed back up the floor on offense, Payton II ran toward the locker room, resulting in Draymond Green throwing a pass to the Lakers' bench for a turnover.  
While Payton II scored a season-high 15 points in his first time starting in the 2023 NBA Playoffs, the Warriors now face elimination. Curry finished with 31 points, 10 rebounds, and 14 assists, but it wasn't enough for Golden State,  as the Lakers won Game 4 to take a 3-1 lead in the series.
"It feels like what it is," Kerr said of the deficit, per ESPN. "You go home and you take care of business. You get a win. And the momentum is right back in your favor. That's all it is. Someone has to win four times. That's why you play it out."
The Warriors and Lakers will square off Wednesday in San Francisco at 10 p.m. ET for Game 5.