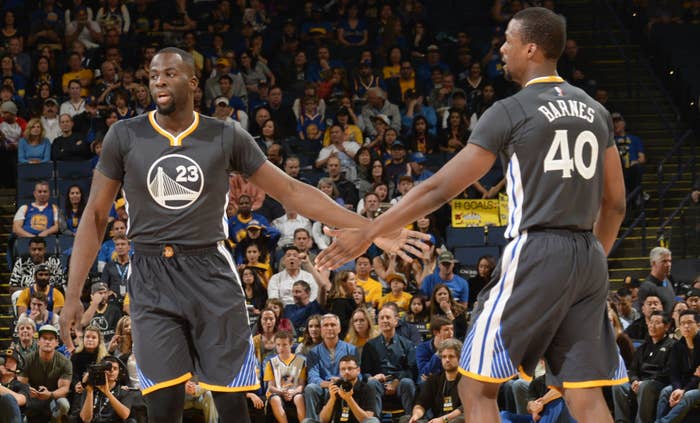 Draymond Green believes Harrison Barnes is still mad at him for pushing the Golden State Warriors to sign Kevin Durant in 2016, which resulted in Barnes signing with the Dallas Mavericks in free agency.
Draymond's comments, which came on the latest episode of the Draymond Green Show podcast, arrived on the heels of Barnes missing a potential winning shot in Game 4 of the Sacramento Kings first-round series against the Warriors.
For context: Green has long been credited with the Warriors signing Durant in the summer of 2016. KD's arrival forced Barnes to leave the team, which he'd helped carry to back-to-back NBA Finals in 2015 and '16, en route to signing with the Mavs. After spending three seasons in Dallas, Barnes was traded to the Kings in February 2019. 
Barnes took the high road after missing the would-be buzzer beater this weekend, telling reporters that the backlash he received after his lackluster performance in the 2016 NBA Finals is far worse than missing the shot on Sunday.
"After you learn to put yourself together after 2016, I think one shot isn't going to faze you," he said.
Meanwhile, Green had a different approach, as he took to his podcast to speculate on how Barnes would've reacted had the shot gone in.
"Harrison was ready to call us every b-word if he made that shot, as we all know," Green said. ""It was great to see him miss it."
Later, Draymond accused Barnes of still being bitter about the KD signing, as he called out Harrison for not inviting him to his wedding, despite inviting teammates Steph Curry, Klay Thompson, and "everybody" else. 
"Harrison Barnes, I think to this day, don't like me for KD coming here," Green explained. "And the reality is, I didn't tell [Warriors GM Bob Myers] to trade you to bring KD in. … He took it very personally because of that story that came out that I cried to KD in the car. He took it very personally at me. This dude invites Steph, Klay, everybody to his wedding except me."
Green added, "I didn't take it personally 'cause it is what it is. … It sucks that you got traded, but you went and made your money."
Watch the full Draymond Green Show episode touching on his relationship with Harrison Barnes below.