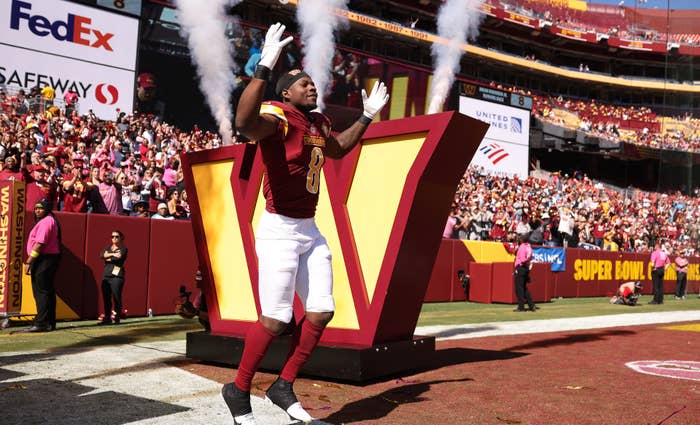 Brian Robinson, the former Alabama running back who was drafted by the Washington Commanders in the third round of last year's draft, made his NFL debut this weekend just six weeks after he was shot during an attempted robbery. 
Robinson took the field against the Tennessee Titans on Sunday with an entrance that was soundtracked by "Many Men," a classic track from 50 Cent's 2003 debut album Get Rich or Die Tryin'.
50 Cent, who has been shot multiple times as well, took to Instagram early Monday morning to shout out Robinson for handling adversity in impressive fashion.
"That shit ain't stop nothing, when God has bigger plans it's just a bump in the road. @b.robinson_4 right back in action," Fif wrote on Instagram.
Though Robinson finished the game with only 22 rushing yards on 9 carries, as Washington lost to Tennessee 21-17, the rookie's return to the field less than two months after suffering a near-fatal shooting was remarkable in of itself.
"That was one of those remarkable feelings," Robinson told reporters after the game. "I can't even really explain it." 
After returning to practice last Wednesday, Robinson, who was shot multiple times during a carjacking on Aug. 28, remained in good spirits. "I feel good, man," he shared. "It's just being back out on the field. I mean, the ups and downs, but today everything finally came into the light. I'm just so blessed to be back out there with all the fans, the team, everybody involved."