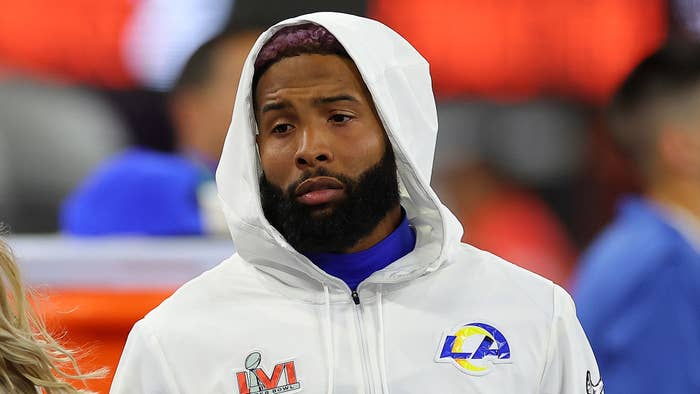 UPDATED 5/23, 8 p.m. ET: Odell Beckham Jr., who in April was charged with assaulting a woman at a West Hollywood nightclub, will not face charges.
TMZ reports the Los Angeles District Attorney's Office will not pursue the case against the free agent wide receiver. Prosecutors told the outlet that video footage of the incident "contradicts the complaining witness' account of events."
The woman previously claimed OBJ put his hand around her neck. 
"The video does not capture any battery," officials stated, while adding that there were also no witnesses to back the woman's story. 
See original story below.
Odell Beckham Jr. has denied allegations of assault against a woman in a restaurant. 
Per TMZ, law enforcement sources said that OBJ was named as a suspect in an alleged assault at Los Angeles restaurant Delilah a few weeks ago, when a woman claimed the 30-year-old wide receiver wrapped his hand around her neck.
A representative for the NFL star said they weren't aware of any such investigation and denied the allegation, adding that they haven't been contacted by the authorities
The accuser filed a police report days after the alleged altercation, which Delilah was made aware of.
"We were contacted about an investigation and reviewed the videos, the claim is false," the restaurant said in a statement. "There is no evidence of this person even being in the area where she claims the incident occurred."
While the response from Delilah does not invalidate the investigation, it does call into question the validity of the claim. The same restaurant previously provided security camera footage that led to the arrest of former NFL Network analyst Willie McGinest, who was captured physically assaulting a man who was sitting at a table. 
The allegation against OBJ comes just over a week after he signed a huge one-year deal with the Baltimore Ravens, which is said to be worth "up to" $18 million. He's guaranteed to make at least $15 million with the team.