Deshaun Watson Suspended For 11 Games and Fined $5 Million, Says He Apologized Because People Were 'Triggered'
Deshaun Watson has been suspended 11 games and will receive a $5 million fine. His first game back will be against his former team, the Houston Texans.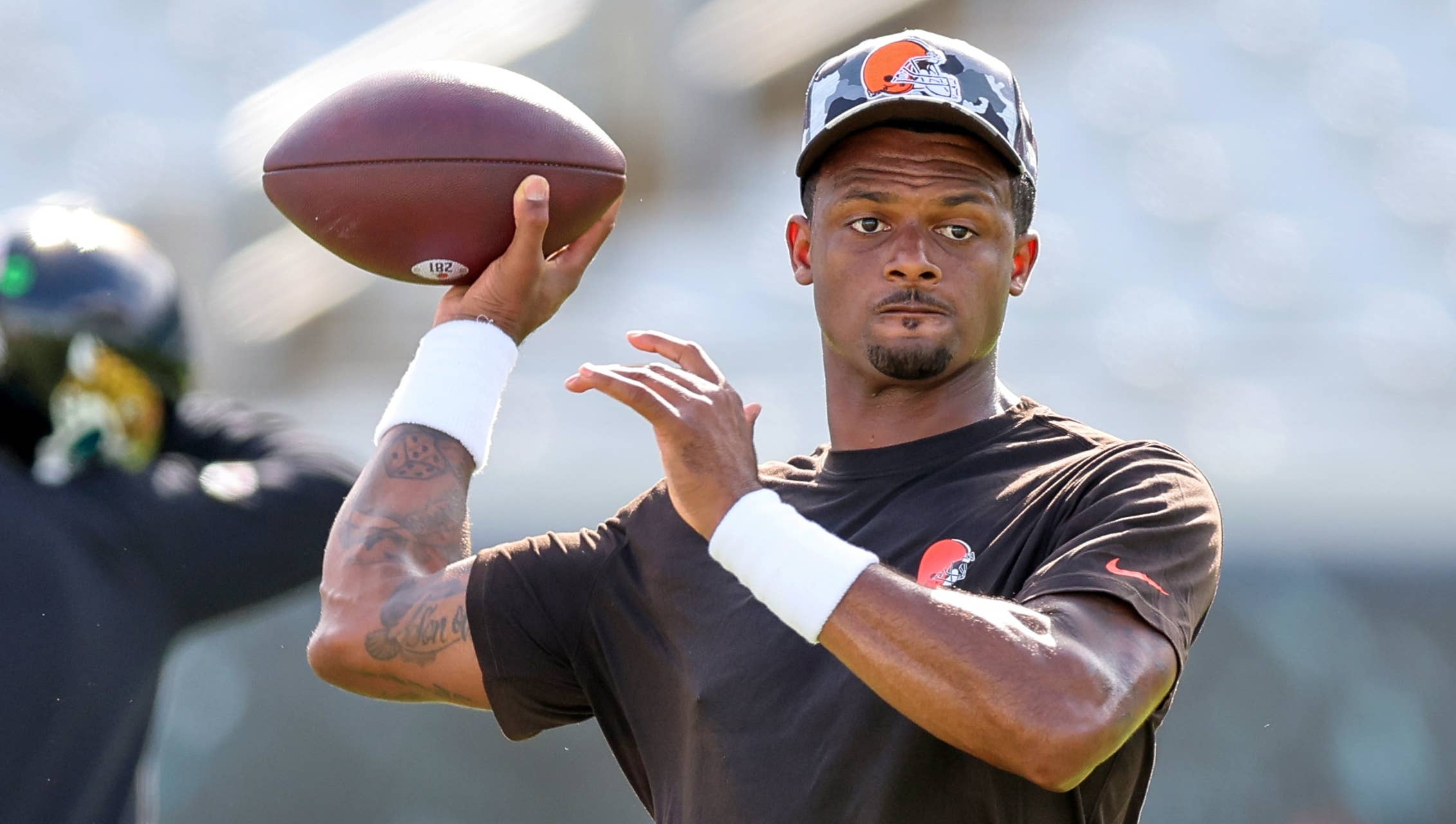 Getty
Image via Getty/Mike Carlson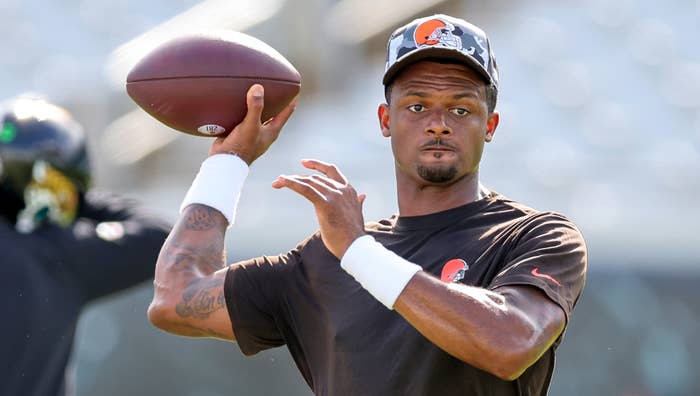 The NFL and the NFLPA have reached a settlement in the case of Deshaun Watson.
Watson has been suspended 11 games and will be fined $5 million. His first game back will be against his former team, the Houston Texans. Watson was initially suspended for six games on account of sexual misconduct allegations leveled against him by over two dozen women, many of whom settled with the Texans last month.
"I'm grateful that the disciplinary process has ended and extremely appreciative of the tremendous support I have received throughout my short time with the Browns organization," Watson said in a statement shared by the Cleveland Browns on Thursday, per ESPN. "I apologize once again for any pain this situation has caused. I take accountability for the decisions I made. My focus going forward is on working to become the best version of myself on and off the field and supporting my teammates however possible while I'm away from the team. I'm excited about what the future holds for me in Cleveland."
When the decision to give Watson a six-game suspension was reached at the start of August, the NFL appealed. Roger Goodell said that evidence of Watson's sexual assault and other misconduct suggested that he should face a one-year suspension at least. 
"As we have previously conveyed, Deshaun and his representatives have abided by the NFL and NFLPA structure awaiting a final decision and we have respected the process," said Browns owners Dee and Jimmy Haslam in a statement. "Now that a decision on discipline has been reached, we understand this is a real opportunity to create meaningful change and we are committed to investing in programs in Northeast Ohio that will educate our youth regarding awareness, understanding, and most importantly, prevention of sexual misconduct and the many underlying causes of such behavior. Since Deshaun entered our building, he has been an outstanding member of our organization and shown a true dedication to working on himself both on and off the field. We will continue to support him as he focuses on earning the trust of our community." 
In an appearance on the NFL Network on Thursday, Watson said he "stand[s] on his innocence" and said he plans to tell his side of the story later down the line. Asked why he apologized to the alleged victims, he said, "For everybody that was affected by this situation. There were a lot of people that were triggered."
Watson's alleged sexual assault and misconduct occurred during massage therapy sessions between March 2020 and March 2021, when he played for the Texans. He has settled all but one of the remaining lawsuits against him. Watson previously denied all of the allegations, but apologized to "all the women I have impacted" prior to the start of the Browns preseason. He signed with the team on a $230 million contract in March 2022, a year after the first allegation against him surfaced.
Watson's latest comments drew heat on Twitter, with many questioning why the NFL appealed the decision only to increase the suspension by a further five games.