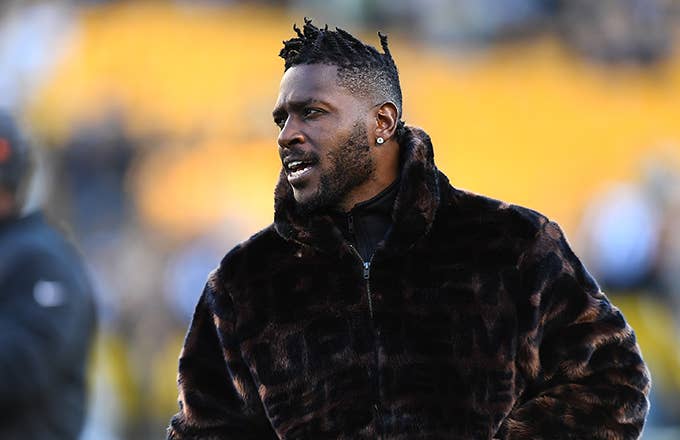 UPDATED 8/13/19 11:05 a.m. ET: Brown has put out a call for a helmet, which he will exchange for a signed practice-worn Raiders helmet. 
UPDATED 8/12/19 5:00 p.m. EST: ESPN's Adam Schefter reports that the arbitrator Antonio Brown was working with to settle the dispute regarding the NFL's new helmet regulations has ruled against the receiver.
As previously reported, Brown stated that he would not play this year if he was unable to wear the 10-year-old Schutt Air Advantage model helmet during competition. Now, Brown has to decide if he wants to adhere to the ruling or continue to press the issue. Yet in an Instagram post responding to the verdict, it appears that Brown is more focused on his physical health and returning to the field than the NFL's new helmet regulations.
"While I disagree with the arbitrator's decision, I'm working on getting back to full health and looking forward to rejoining my teammates on the field," Brown's caption reads. "I'm excited about this season appreciate all the concerns about my feet."
UPDATED 10:15 a.m. EST: 
According to NFL spokesperson Brian McCarthy, if Brown chooses not to abide by the league's helmet guidelines, he risks breaching his contract and subsequently not getting paid. 
"The player can't practice or play in games with equipment that's not approved," McCarthy wrote on Twitter. "If he doesn't play or practice he is in breach of his contract and doesn't get paid. NFL policy is that Helmets have to be certified by NOSCAE. They don't certify equipment that's old than 10 years."
During an interview on Boston's 93.7 WEEI Morning Show, Tom Brady told host Greg Hill that he's still trying out a few different helmet models for the upcoming season. 
"I don't really love the one I'm in, but I don't really have a choice," the quarterback told the host. His comments prompted fans and pundits to draw comparisons between him and Brown, who's making a bigger fuss over the requirements.
See original story below. 
Antonio Brown was traded by the Pittsburgh Steelers to the Oakland Raiders in exchange for third and fifth-round selections in the 2019 NFL Draft, but a new report suggests that Brown has already had enough of his new home. Chase Williams of NBC's Pittsburgh affiliate WPXI has indicated that Brown has gone "radio silent" on his new team as he continues to receive treatment for his foot injury. Now he's also threatening to not play if he doesn't get his way regarding a helmet dispute.
Brown reportedly told team officials that if he doesn't get to wear his old, preferred helmet, he will not play football again. "Antonio Brown believes the new helmet that the rules mandate he wears protrudes out and interferes with his vision as he tries to catch football," Adam Schefter reports. "The Raiders have been sending Brown other approved helmets to try out but, at this time, he is not interested in wearing any of them." 
As ESPN reports, Brown has filed a grievance against the NFL so that he can wear the helmet he wants. He's expected to have a hearing regarding the situation next week.
Reporter Michael Silver has been hearing more detailed reports from sources close to the situation. "Even before suffering bizarre injuries to his feet, Antonio Brown alarmed Raiders coaches and teammates by railing against the NFL's enhance enforcement of helmet regulations," he began a 20-tweet thread.
Brown has reportedly been missing from camp for a week now, although he initially left for medical consultation regarding his feet. "His continued frustation surrounding the situation has created a buzz among teammates and coaches, one of whom referred to the saga as 'honestly the most insane thing I have ever heard. I don't know why it's so important to him,'" Silver added.
When he showed up to on-field workouts, Brown supposedly voiced how much he wasn't a fan of the demand for him to wear a league-approved helmet. A witness said Brown told coaches that Tom Brady and Aaron Rodgers did not have to do the same, and he left in protest. "Raiders officials found video footage of Rodgers, during the Green Bay Packers' OTA session, wearing an approved-model helmet and texted it to Brown," Silver continued.
It only gets stranger from there, with Silver stating that sources told him Brown showed up to training wearing his old helmet with colors he repainted to look like the Raiders design. "He's still freaking out about it," a Raiders player reportedly said. "He hasn't been here for awhile, and no one knows where he's at." Brown has also continually frustrated his new bosses by appearing unfocused at meetings, which he would often turn up late to.
Shortly after news of Brown and his helemet began to surface, the wide reciever took to IG to write, "I love the game; I love the hustle ; young-in got doe he can leave the league but if I leave will the fans still gone love me man? #paidinfull."
Regardless of the issues surrounding Brown, the Raiders aren't too concerned about his absence.