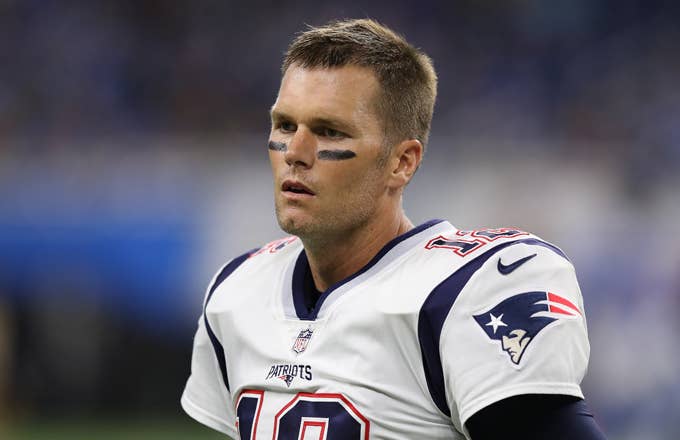 Tom Brady is a system quarterback. I firmly believe this and have for a while. The Giants proved it, the Broncos proved it, Matt Cassell proved it, Jimmy Garoppolo proved it, and Jacoby Brissett proved it. Don't let the media and Patriots fans gas you into thinking this man is the GOAT.
New England is 14-6 without Tom Brady. Fourteen and six. Not to mention Brady has had the luxury of having top-rated defenses hold him down for most of his career and gets play calls from arguably the greatest NFL coach to ever live. You can't say the same for guys like Peyton Manning and Aaron Rodgers, can you? Brady is hella regular when facing a devastating frontline like those Giants and Broncos teams. Is he an all-time great? Without a shadow of a doubt. Is he a tad bit overrated? Absofuckinglutely.
Which elite quarterback in the NFL right now has had teams around them like Brady has had this past decade? For example, if Rodgers, Cam Newton, or Drew Brees goes down, their teams will easily be drafting in the top 10 the very next season. In 2013, when Rodgers only played in nine games, the Packers went 8-7. The New England Patriots are still a playoff team without Brady on the field.
Granted, most elite quarterbacks have Brady to thank for their durability being that his knee injury in 2008 caused the NFL to implement a rule essentially making it illegal to touch a QB. I would have five Super Bowls wins too if no one were allowed to touch me.
 Shout out to Tom Brady, though, the greatest trick he ever pulled was convincing you fools Aaron Rodgers doesn't exist.
Tom Brady is good, he's clutch, and he's been able to do this with a revolving door of wide receivers. But so is Aaron Rodgers, who, for my money, is a much better quarterback than Brady ever was and ever will be. Rodgers is the Hitman Hart of the NFL. Let's look at some stats, shall we? In Rodgers' first nine seasons as a starter he threw for 36,498 yards with a 65.2 completion percentage, 296 touchdowns, and 71 interceptions. In Brady's first 10 seasons as a starter (we counted the quarter he played in 2008), he threw for 34,738 yards with a 63.6 completion percentage, 261 touchdowns, and 103 interceptions. (Shout out to Pro-Football Reference.)
Aaron was better in that span with lesser overall teams, except Brady gets the slurpage because he has more rings. Tom has played for a better coach and a better organization—or at least this is what they want us to think. Both Belichick and Brady have been accused of cheating on multiple occasions; Joe Montana never got caught cheating! But that's another take for another day.
Now, the Patriots wouldn't have any championships if it weren't for Tom Brady. I'm not saying he's a complete bum, just an overhyped quarterback that can't beat Eli Manning when it counts. Also, the Falcons gave away that game more than the Patriots won it. Brady will finally look 40 this year and I look forward to watching him become human before your very eyes. Shout out to Tom Brady, though, the greatest trick he ever pulled was convincing you fools Aaron Rodgers doesn't exist. Yes, Tom Brady is the devil. Full stop.