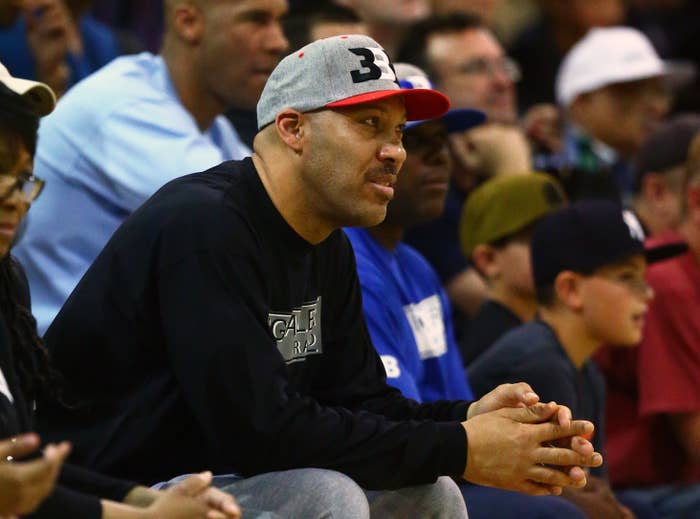 Aren't you supposed to ball 'til you fall? That's what we've been taught by every rapper since the beginning of the Jiggy Era. LaVar Ball is taking that saying as serious as a newly signed rapper at a strip club. The leader of basketball's most talked about family has been out here acting a fool, making headlines, taking the spotlight off his kids while also putting targets on their backs, and, ultimately, being a good dad.

"They" want you to hate LaVar because he's too loud, because he's a shit-talker, because he said he could beat Michael Jordan one-on-one, and because he said Lonzo is better than Steph Curry. [In my best DJ Khaled voice: ASAHD put the Lonzo game on! I love you, my son!] They want you to hate LaVar because he said all three of his seeds are going to play in the NBA at the same time, because he's a genius, because he's a master marketer, because he's a black dad, and because they're afraid he may be right.

They're not used to seeing a plan come together like this. Not for a black family. Not for a black dad who never played a minute in the NBA or overseas. LaVar predicted all of this, and they hate that his train is running on schedule. Ultimately, they want him and his kids to fail.

He reminds me of my pops, a guy who believed his kids were capable of doing anything they put their minds to. A father who didn't want his sons to make the same mistakes he made, to be a better man than he was. He also reminds me of Spike's dad in Little Giants. LaVar is the Mike Hammersmith of basketball; he bred his sons for hardwood glory. Lonzo, LiAngelo, and LaMelo are the most hyped high school basketball players since LeBron James, and are handling everything with soft-spoken grace, the complete opposite of their father.
The Ball kids bring out their father's personality on the court with their Kevin Love-esque outlet passes and 30-foot 3-pointers. Tina Ball—a phys-ed teacher who helps with training and making sure the Big Baller Brand doesn't run out of merch—was a better basketball player in college than her husband. She's down with the plan and plays the cut, letting LaVar do all the talking for the cameras. So far it's worked. Over the years LaVar and Tina have sacrificed their time, money, and even themselves to make sure their kids are driving BMWs to school. Shit like that is honorable and admirable.

Could LaVar tone it down a little bit? Maybe. When you or I are in the position he's in, we'll handle it how we choose to handle it. He's not asking to be on TV with Stephen A. Smith and Skip Bayless (as far as we can tell), they're calling him to be on because he's good for ratings, liable to say some crazy shit. Should he turn the opportunity to push his sons and the Big Baller Brand on live television down because of how you feel about him? Fuck no, get over yourself, my dawgz. The Ball Family isn't going anywhere, so we might as well get used to it.
Whether you watch to see them fall or to see them ball, this basketball family has captivated the sports world. Whenever Lonzo and UCLA played, it was must-see TV. When LaMelo scores 92 points or makes a half-court shot, he goes viral. LiAngelo is more under the radar, but he puts 50 on the board consistently. Barring bad luck, all three will be in the NBA whether you like or not. They don't like when a plan comes together.