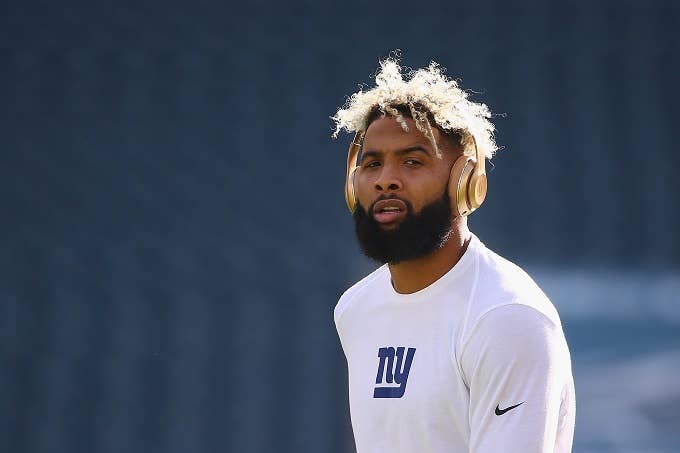 Odell Beckham Jr. isn't going to let a few fines get in the way of expressing himself. Though the wide receiver has already been reprimanded for speaking ill of his New York Giants, he didn't mince words in post-game interviews after the last-place team lost to their division rivals, the Philadelphia Eagles.
Beckham questioned the team's gameplan after the Giants offense flatlined in the second half of their game on Sunday. He said that he didn't know why the coaches didn't exploit the Eagles' depleted secondary with more long passes downfield.  
"Knowing they were struggling (with injuries) in the secondary, personally I would've loved to attack them. But that wasn't in our game plan," Beckham said, according to NFL reporter Ralph Vacchiano. 
Giants quarterback Eli Manning threw for just 58 yards in the second half, and the team scored just three points after halftime. Despite OBJ's issues with the game plan and their sputtering offense, rookie Saquon Barkley was asked if he felt disappointed at his lack of touches in the second half, and toed the company line.
"No," he answered. "I mean, the Offensive Coordinator and the Head Coach are coaches for a reason. I know everyone wants to be a coach and think what we should call, but they know what they are doing, and they're putting us in the position to win. Like I've said multiple times, if I carry the ball 20 times or carry the ball three times, no matter how many times it takes to win the game I'm willing to do. But we just didn't finish this game and that's the difference."
Beckham's words aren't likely to be well-received by Giants higher-ups. Team owner John Mara said earlier this year that he wished Beckham would focus on his playing and stop making inflammatory comments.  
"I wish he would create the headlines by his play on the field as opposed to what he says and what he does off the field, Mara said. "I think he needs to do a little more playing and a little less talking."