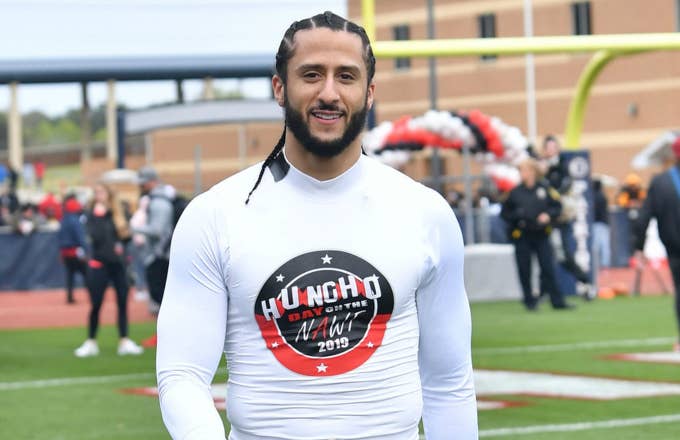 UPDATED 11/16, 2:10 p.m. ET: Colin Kaepernick's team has changed the time and location of Saturday's private workout session, as they believed the NFL's process was illegitimate.
"The NFL has demanded that as a precondition to the workout, Mr. Kaepernick sign an unusual liability waiver that addresses employment-related issues and rejected the standard liability waiver from physical injury proposed by Mr. Kaepernick's representatives," the statement read. "Additionally, Mr. Kaepernick requested all media be allowed into the workout to observe and film it and for an independent film crew to be there to ensure transparency. The NFL denied request."
The workout session was pushed back to 4 p.m. ET and will no longer take place at the Falcons training facility. According to the statement, team representatives and members of the media will be given the location upon request. Read the full statement below.
UPDATED 11/15, 5:35 p.m. ET: According to ESPN's Adam Schefter, 24 teams in total are now expected to attend the workout on Saturday.
See original story below.
The NFL shared that 11 teams have agreed to attend Colin Kaepernick's weekend workout. 
In addition to the names of the organizations that have RSVP'd, the league offered clear contours of what the workout would entail.
"We are looking forward to Saturday's workout with Colin," the league said in a press release. "Eleven teams -- Arizona, Atlanta, Cleveland, Denver, Detroit, Miami, New England, New York Giants, New York Jets, Tampa Bay, and Washington -- have already committed to attend, and it's only Thursday. With two days remaining until the workout, we expected additional teams to commit."
Of the 11 teams that have already committed to attending Kaepernick's workout, there are a few that could definitely benefit from having the 32-year-old quarterback on their roster for the remainder of this season with an eye on keeping him around for the 2020 campaign.
The Browns' willingness to give Kaepernick a look shouldn't come as a surprise since the organization hasn't been averse to signing other teams' controversial castoffs. Last Sunday, Kareem Hunt played his first game for Cleveland after serving an eight-game suspension for physically assaulting a woman, an incident that was captured on video.
We cannot forget to mention that when it comes to taking on controversial figures, the Patriots are the league's gold standard. 
In addition to the Browns, Tampa Bay, Denver, and Miami could be looking at Kaepernick as a legitimate starting quarterback next season. The Broncos' presence is quite interesting since the team's general manager and president of football operations John Elway publicly claimed last year that he offered a contract to Kaep, but was rebuffed. 
"You know what, and I said this a while ago: Colin had his chance to be here," Elway said. "We offered him a contract. He didn't take it," Elway said. "As I said in my deposition ... he's had his chance to be here. He passed it." What Elway failed to mention was that he wanted Kaepernick to take a pay cut in order to get a deal done.
The Dolphins are currently deploying the league's favorite band-aid quarterback Ryan Fitzpatrick, and will need a new signal caller next year. Since the Jameis Winston era appears to be coming to an end, Tampa Bay may look for a new QB that is better suited to run Bruce Arians' offense.  
It was noted that a few former coaches will be in Atlanta as the statement continued, "Former NFL head coach Hue Jackson will lead the drills, and former NFL head coach Joe Philbin will be in attendance as well. We will send video of the workout and interview to all 32 teams, including head coaches and general managers."
On Friday, ESPN Senior NFL Insider Adam Schefter revealed Kaepernick's workout will consist of wide receivers who personally flew out to Atlanta to practice with him.
The announcement comes after Kaepernick's camp and the league argued over whether the former QB was promised a list of all who would be in attendance.
"It is completely false that the NFL had agreed at any point to provide a list of personnel executives and coaches that would attend Colin Kaepernick's workout, simply we had interest as of yesterday at 4pm," an unnamed NFL source told TMZ Sports. "We only started getting confirmations after the memo was sent to all teams. We can confirm that multiple teams have agreed to attend and hope Colin Kaepernick will accept the opportunity."