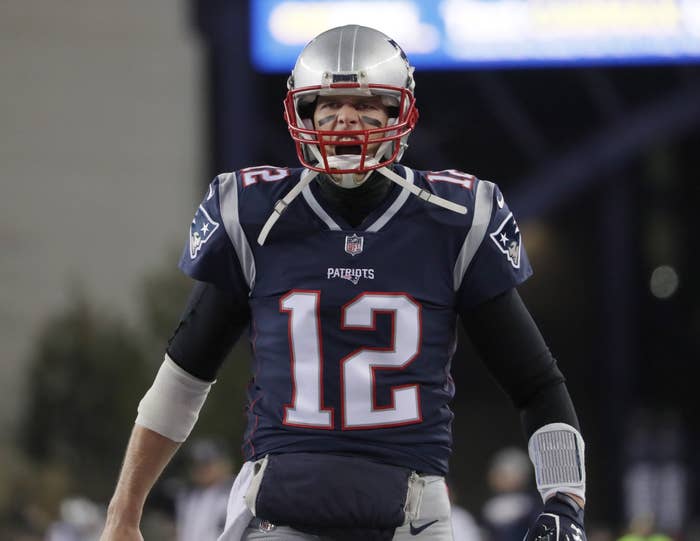 Jalen Ramsey is a gift we must protect. The Jaguars rookie cornerback is becoming a fan favorite for his play on and off the field. Last week, prior to the Jaguars playoff game against the Pittsburgh Steelers, Ramsey gave this incredible interview: 
The Jaguars went on to beat the Steelers, 45-42, and afterwards, Ramsey said this about the Steelers, which is amazing for many reasons: 
And when they landed back in Jacksonville, he made this bold proclamation (which I'm very much here for):
"We goin' to the Super Bowl. AND we gon' win that b---h"

-- Jalen Ramsey to the crowd of Jaguars fans at EverBank Field

pic.twitter.com/fE2jSx3Pj1
I'm all in for A. the Jaguars winning the Super Bowl and B. the confidence by Ramsey here, but the issue is reality, unfortunately. The Jaguars will take on the dreaded New England Patriots this weekend in the AFC Championship game. Obviously, the Patriots are favored in this game over the Jaguars for two obvious reasons: They have Tom Brady as their QB, and the Jaguars have Blake Bortles. No disrepect to Bortles, who played pretty well against the Steelers, but I'm not sold on him going into New England to take down the Evil Empire. Brady was obviously asked about the rookie's take on WEEI, and this is what he had to say:
"I think what I have learned for a long time is it's how you play, it's not what you say," Brady said. "Everyone has different ways of handling things—players do, coaches do. We do what works for us, other players do what works for them. The game is going to be decided by who plays the best, not who hypes the best or speaks the best. He's a really good player. I have watched a ton of film on him. He has a lot of strengths. He's obviously very confident. That is reflected in how he plays. I am more concerned about how he plays opposed to what he says.
Fair, Tommy, but for once it would be great to hear Brady say something along the lines of "Do you see who plays QB for the Jaguars?" Anyway, I hope the Jaguars beat the Patriots this weekend so we can see the National Treasure who is Jalen Ramsey display his talents at Super Bowl Media Day.