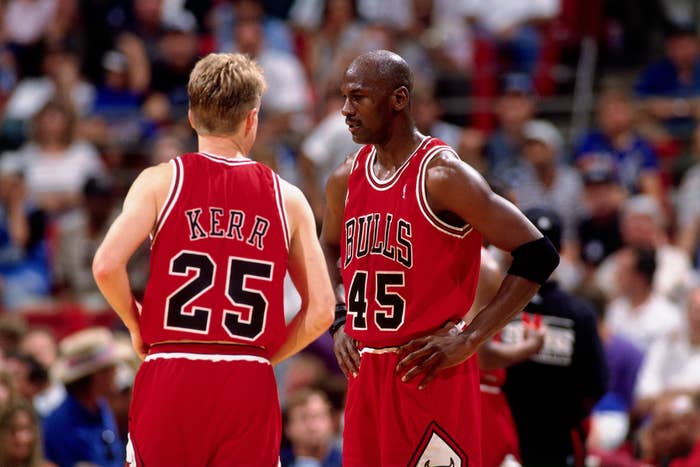 We've officially entered the stretch run since we only have one more night of The Last Dance after episodes VII and VIII dropped Sunday. This week's installments of the critically acclaimed 10-part docuseries dived into the storylines around the Bulls early run through the 1998 playoffs and, most interestingly, the real reasons why Michael Jordan retired from the NBA in 1993.
We also heard more stories about how brutal MJ was on his teammates and why Scottie Pippen wouldn't change a thing about how he handled the most controversial on-the-court moment of his career. Here are the 18 most memorable moments from Sunday's installments. 
Takeaways from The Last Dance episodes I & II | III & IV | V & VI
Episode VII
Only MJ's father knew he had played his last game following the '93 Finals
Jordan was getting fed up with the media critiquing his every move on and off-the-court. He had reached a breaking point during the 1993 playoffs when stories about his gambling exploded and instituted a media boycott. The controversy that ensued, the hit that his reputation took, and all the questions Jordan was forced to answer had completely soured Jordan on life as a basketball superstar. He wanted out. He wanted a mental and physical break at age 30. So he basically knew the 1993 NBA Finals was his swan song. 
"After we won the championship, and I sat in the gym with my father, and in the back of my mind I knew that it was probably my last game," Jordan said. "And no one really knew except for my father and myself."
James Jordan was MJ's confidant—they were incredibly close—and one of his strongest influences, including during his high school days when MJ, surprisingly, got into trouble frequently during his freshman year. The elder Jordan told his son that sports could be taken away if he didn't wise up and MJ steered clear of trouble from that point on. While MJ deserves all the credit in the world for becoming the most legendary basketball player in the history of the game, James Jordan needs his props, too, for always supporting his son. 
"He was a voice of reason who always drove and challenged me," Jordan said. "That's the type of father I had. Like a friend."
His father's death changed Jordan's perspective on life
The worst summer of Michael Jordan's life really began on July 23, 1993, when his father went missing. On a trip with some buddies to play golf in the Carolinas, James Jordan never returned home and never let his family know about his whereabouts. The news made national headlines, but James Jordan remained missing for weeks. 
"We tried to backtrack what his actions were. He left a certain day, he was driving back. He got tired instead of driving and pulled off and took a nap," Jordan said. "Next thing you know, things happened how they happened."
On August 13, 1993, the body of Michael Jordan's father was found near the border of North Carolina and South Carolina in a creek. As was later pieced together, James Jordan was driving late at night and pulled off the road to take a nap. He was awakened by two teenagers in an armed robbery attempt and shot in the chest. Two 18-year-olds were eventually charged with robbery and murder. They were later convicted and sentenced to life in prison. 
MJ had lost his confidant, one of his best friends, and father in the most gut-wrenching of public of fashions since news of James Jordan's demise was covered extensively. 
In his father's eulogy, MJ shared things about James Jordan that few knew. But thanks to his mother's words, his perspective on the most tragic and traumatic event of his life had changed along with his future outlook on life. 
"It was devastating," Jordan said. "My mother was so strong and the first thing she said was you gotta be thankful. And I started looking at the positive."
Allegations that his gambling was linked to James Jordan's death "hurt" Jordan
Considering the mysterious circumstances surrounding the death of the father of one of the most famous people on the planet, there were way more questions than answers floating around the summer of 1993. Soon enough, some media members and outlets wrote and posited that James Jordan's murder could've been linked to his son's penchant for gambling. 
It's an untrue conspiracy theory that many bring up when the discussion turns to James Jordan's murder. And all the wild and unfounded speculation that circulated that summer cut MJ to the core. He assumed it was those who held grudges with him or were shamelessly looking for attention that made the absurd connection. 
"It did hurt, but you had people throwing darts that wanted to hurt me anyway," Jordan said. "It was the people that got tired of me being on top." 
Jerry Reinsdorf didn't try to talk MJ out of retirement
With the 1993-94 season rapidly approaching, Jordan was 100 percent sure he didn't want to play again. 
"At that time, we were coming off three championships; I had fulfilled my responsibility to the city, to the Bulls, to my teammates," Jordan said.
He was completely at peace with walking away, even in the middle of his prime. When MJ's agent David Falk told the Bulls owner at a charity dinner that Jordan wanted to retire, Reinsdorf didn't believe him. 
"I did say to him you can't make a final decision until you talk to Phil," Reinsdorf said. 
The meeting was soon set up and went down in the Reinsdorf's office. It was just Phil Jackson and Jordan. While Jackson tried to convince MJ that he was "denying a gift to society" by leaving the game of basketball after only nine seasons, Jackson understood everything Jordan had been through, especially in the wake of his father's murder. 
"I told Phil, I'm about done. I have no more challenges. I have no motivation. I was done," Jordan said.
There would be no convincing Jordan to reconsider or last-minute attempts to change his perspective. 
News of Jordan's impending retirement broke during Game 1 of the 1993 ALCS between the White Sox and the Blue Jays on Oct 5. Jordan threw out the first pitch of the game, but word got out during the broadcast that he was going to shock the world and hang 'em up. All hell broke loose at the ballpark as reporters went searching for anyone with Bulls ties to confirm the report or get a comment. Jordan had to leave the stadium early to avoid the craziness and the next day the Bulls held a press conference to formally announce his departure from basketball.
"I was at peace with that decision. One hundred percent," Jordan said. "I felt ready."
Jordan was not kicked out of the league in 1993 for gambling improprieties 
The idea that Jordan would step away from the game at such an early age, and at the peak of his celebrity, and clearly still the dominant player in the NBA, was confounding. Coming off three straight titles and with three-to-four years of his prime still ahead of him, the public had a tough time buying Jordan's stance that he had accomplished enough in the game and wanted a new challenge. 
So what happens when you don't believe someone's explanation? People come up with their own speculative conclusions and the most popular theory—that's among the most legendary Jordan myths out there—is that MJ was secretly suspended by NBA commissioner David Stern because of gambling improprieties.
And it's 1,000,000 percent false. 
"The folklore, the urban legend that I sent him away because he was gambling [was] ridiculous," Stern said. "There was no basis and fact whatsoever. It's just not true" 
MJ and everyone around him has flatly denied the absurd allegation for years, but in case you needed a reminder, Jordan offered up a definitive one. 
"I didn't retire because the league kicked me out or they suspended me for a year and a half," Jordan said. "That is not true. There is no truth to that. I needed a break. My father just passed and I retired. I retired with the notion that I wasn't going to come back." 
Jordan knew he was going to walk away from basketball during the summer of 1992
The wear and tear of deep runs into the playoffs year after year and the mega-celebrity that he became started to wear on Jordan when he was playing with the Dream Team at the '92 Olympics. He looked exhausted. He needed a break. Sitting down with Mark Vancil, the author of the book "Rare Air: Michael on Michael" that would be released in 1993 just before he announced his retirement, Jordan was asked what the future held. 
"I'm going to shock the world," Vancil remembered Jordan telling him. "I'm going to quit and go play baseball."
A man of his word, Jordan did just that when he was extended an invitation to attend White Sox training camp in early February 1994. Reinsdorf, who also owns the White Sox, kept paying Jordan his basketball salary (around $3 million) because, Reinsdorf said, "he was underpaid his entire career. He made a lot of money for a lot of people."
Jordan loved baseball as a kid and his family, including his father, thought MJ was destined to play hardball instead of dominating on the hardwood. Jordan's last conversation with his father was spent debating whether he should really pursue baseball.
"All the things he was saying, 'Do it. Do it.' Cause he got me started in baseball," Jordan said.
Everything you need to know about Jordan's time in the minor leagues…
Can be found in Complex Sports' exhaustive and authoritative Oral History of Michael Jordan's Minor League Career written and reported by respected baseball scribe Rob Neyer in 2017. So instead of rehashing all the details lightly covered in The Last Dance, we encourage you to deep dive into what Jordan's life was like as a minor league ballplayer in Alabama. 
Jordan was brutal to teammates during the 1997-98 season
Since Jordan knew he was on his last run with the Bulls, he did not give a damn about openly challenging or criticizing his teammates. It was all in the name of toughening them up. 
"His theory was if you can't handle pressure from me you're not going to be able to handle pressure of the NBA playoffs. And so he talked trash in practice, he went at guys, he challenged guys," Steve Kerr said. 
Scott Burrell was a favorite target of Jordan—we saw it initially in the first episode—as he tried to build up the forward out of UConn from unknown commodity to trusted reserve.  
"Scottie Burrell was a talented guy. What Scottie was lacking was a commitment of determination, seriousness," Jordan said. "So he became my guy to keep pushing. I tried to get him to fight me a few times, in a good sense. I could never get him...he's such a nice guy. But I knew we were going to need him at some point in time and he's going to remember this and get out there and fight."
Burrell knew what Jordan was trying to do and while it may have seemed personal, Burrell recognized it as business. 
"You want to live up to that challenge. It's tough—tough love," Burrell said. "You gotta go out there and do your job."
But as Jordan grew wearier and way more ornery deeper into the season, he would sometimes cross lines and Phil Jackson would have to talk to him about cooling it with the bad cop routine and even apologize. 
"I'd have to talk a little bit about toning it down," Jackson said. "Making amends and keep that level of team camaraderie, that's your role, too, as a part of this and being a captain." 
His teammates, many admitted, kind of despised him during those days.  
"Let's not get it wrong. He was an asshole. He was a jerk. He crossed the line numerous times," Will Perdue said. "But as time goes on, and you think back about what he was trying to accomplish, you're like, 'Yeah, he was a hell of a teammate.'" 
Despite the insults and trolling, deep down the Bulls knew what Jordan had their best interest at heart. It was part of his manically competitive persona.  
"My mentality was to go out and win at any cost," Jordan said. "If you don't want to live that regimented mentality, then you don't need to be alongside me because I'm going to ridicule you until you get on the same level with me. And if you don't get on the same level it's going to be hell for you." 
Jordan isn't going to apologize for riding his teammates
None of his teammates—like BJ Armstrong or Perdue—would say Jordan was a nice guy in practice or during games. Being chummy or worrying about somebody else's feelings got in the way of MJ's ultimate goal. 
"Winning has a price. Leadership has a price. I challenged people when they didn't want to be challenged," Jordan said. "I earned that right because my teammates came after me. They didn't endure all the things I endured.
"Once you joined the team you lived [to] a certain standard that I played the game. And I wasn't going to take any less. Now if that means i had to go in there and get in your ass a little bit, then I did that." 
Steadfastly refusing to apologize for any of his behavior directed toward his Bulls teammates in the pursuit of their six championships, the episode ends with an intense, defiant, and emotional MJ telling the documentary producers he needs a break from filming.  
"You ask all my teammates, one thing about Michael Jordan is he never asked me to do something that he didn't fucking do," Jordan said. "When people see this, they're going to say, well, he wasn't really a nice guy. He may have been a tyrant. Well, that's you. Because you never won anything. I wanted to win, but I wanted them to win and be a part of that as well." 
Pippen would sit out again if Jackson didn't call his number
Before we turn our attention to episode VIII, we have to relive the big controversy that erupted following Game 2 of the 1994 Eastern Conference Semifinals against the Knicks. That's when Jackson famously drew up the final play for Toni Kukoc—and not team leader and superstar Scottie Pippen since MJ was off playing baseball that spring.

Kukoc had made a number of buzzer-beaters for the Bulls during the season so it made sense that Jackson entrusted the forward to nail one more game-winner. But when Pippen learned in the huddle that Jackson was calling Kukoc's number and not his in this pressure-packed situation, Pippen rebelled and refused to go back into the game. 
"I felt like it was an insult coming from Phil," Pippen said. "I was the most dangerous guy on the team so why are you asking me to take the ball out?"
Jackson confronted Pippen, asking his No. 1 player if he was in or out. Pippen said he was out. 
"I remember Phil said, 'Fuck him,'" Kerr said. 
Of course, Kukoc drained the shot, but the celebration in the locker room was muted. Nobody knew how to react.
"He quit on us," Kerr said. "We couldn't believe that happened. It was devastating." 
Unexpectedly, Bill Cartwright gave an emotional speech, admonishing Pippen for sitting out and turning his back on the team. It brought Pippen to tears and he quickly apologized. 
"We knew that wasn't his character and we knew it was going to be a stain on his reputation," Kerr said.
Jordan actually called up Jackson the next day and he said he wasn't sure if Pippen was ever going to live that decision down. 
"Pippen knows better than that," Jordan said. 
It's the biggest controversy that ever engulfed Pippen on the basketball court and if that happened in today's world of social media and debate shows, it would've been over for Pippen. While he hates the aftermath of his decision, 25 years later Pippen says he doesn't think he would necessarily do it differently if he could go back in time. 
"It's one of those incidents where I wish it never happened," Pippen said. "But if I had a chance to do it over again, I probably wouldn't change it."

Episode VIII
Jordan maniacally torched a rookie for audaciously telling him "nice game"
Scott Van Pelt alluded on SportsCenter last week that this story was coming and it's yet another example of how deranged and diabolical of a competitor Michael Jordan was. Poor LaBradford Smith of the Bullets never knew what was coming less than 24 hours after the game of his life. 
The forgotten guard out of Louisville who was the 19th selection in the 1991 NBA Draft by the Bullets (yes, they were called the Bullets before they switched it up to the more politically correct Wizards in 1995), Smith unexpectedly dropped 37 on MJ and the Bulls on March 19, 1993. It was the front end of a home-and-away/back-to-back and after the game, Smith had the audacity—and when we write audacity, our tongue is firmly implanted in our cheek—of telling Jordan "nice game" after the Bulls narrowly defeated the putrid Bullets. MJ was heated. 
And now knowing Jordan the way we know him through seven episodes, of course he used that remark from the unheralded second-year player, who only averaged 6.7 points per game during his brief career, to fuel the fire the next night.  
Less than 24 hours after Smith enjoyed one of his finest games, MJ absolutely annihilated him and the Bullets. Diabolically targeting Smith every chance he could, MJ entered halftime with 36 points and finished with 47 in one of his best individual performances of the season.
"I've never seen a man go after another player like [Jordan] did," BJ Armstrong said.
Predictably, the Bulls won the second-half of the back-to-back by 25. And all because the kid, supposedly, told MJ "nice game." But did it really go down that way? Maybe not. Jordan would later tell writers "I made it up."
Jordan's visit to Bulls practice in '95 ignited his return 
When the MLB strike seeped into the 1995 season and Jordan refused to be a replacement player, he decided to walk away from White Sox spring training and returned to Chicago. There, he dialed up Armstrong and one morning after breakfast, Armstrong invited MJ to go visit the Bulls during practice. 
With nothing else to do, and MJ low-key itching to play some ball, Jordan took him up on the offer. And before you knew it, MJ and Armstrong were going at it in an intense game of one-on-one. The seed of a Jordan return had officially been planted.  

"It started to come in my mind—maybe you can go back, maybe you can go back," Jordan said. 
Rumors and speculation started spreading like wildfire around the Bulls and Chicago that Jordan was nearing a return. During one game, cameras caught Scottie Pippen showing off the soles of a pair of 10s while sitting on the bench. Jordan logo prominently displayed, Pippen began beckoning with his finger for MJ to come back to the hardwood while grinning like a villain. 
Jordan wrote the legendary press release announcing his return 
Maybe the most famous two words in the history of NBA transactions came from MJ himself as he officially ended his 18-month retirement. 
Jordan's agent David Falk was tasked with coming up with three-to-four drafts for MJ's approval, but Jordan didn't like what he was reading. "He didn't feel comfortable that it captured what he wanted it to say," Falk said. So Falk told Jordan to write it up himself. Jordan's words were perfectly succinct: "I'm back."
On March 18, 1995, the press release hit, shocking the basketball world and even some of MJ's teammates. The next day Jordan was suiting up against the Pacers in Indiana. 
"It was shocking given that we were almost at the end of the season," Steve Kerr said. 
Jordan rocked the No. 45 in his return because of his father
MJ stans know this, but his first game back in 1995, Jordan didn't feel right wearing the No. 23 without his father no longer around. So instead of his signature digits, he donned the No. 45—his first number back in high school.
"I didn't want to wear 23 because my father wasn't there to watch me. I felt like it was a new beginning," Jordan said.
Here's why Jordan switched back to No. 23
Fast-forward to the playoffs where the Bulls took on the up-and-coming Orlando Magic featuring Shaquille O'Neal and Penny Hardaway. 
After an embarrassing final two possessions that cost the Bulls a chance to steal Game 1 in Orlando over the favored Magic, Nick Anderson—who picked Jordan's pocket in kind of embarrassing fashion in a key possession—made the mistake of saying after the game, "Forty-five isn't 23."
So what did Jordan, the pettiest competitor in NBA history, do? He came out wearing old No. 23 for Game 2. 
"When we met them in the next game, MJ just went off," Horace Grant, then with the Magic, said. 
MJ finished with 38 points in a Bulls win in Game 2 that tied the series. 
"I just felt like 45 wasn't natural," Jordan said. "I wanted to go back to the feeling I had with 23."
But Jordan wasn't quite his usual Superman self. He wasn't in the kind of shape it took to personally will Chicago to the upset. His year and a half away from basketball had changed his body. He had a baseball frame and had to work himself back into basketball shape late in the regular season and into the playoffs. The loss in the Eastern Conference semis would be the last time Jordan dropped a playoff series. 
Filming "Space Jam" helped Jordan get back into basketball shape
During the summer of 95, Jordan filmed his famous movie feature Bugs Bunny and company in Burbank, California. But one of the conditions of agreeing to due the film was Warner Bros. had to build him a place to workout and train. So they erected a gym for MJ, complete with brand new weights and a basketball court, that was dubbed the Jordan Dome. 
Jordan had a grueling summer schedule between spending his morning hours filming, a break in the middle for basketball work, before finishing up shooting. 
"The days would be Monday through Saturday, start at 7," Jordan said. "I would get a two-hour break and I would go workout."
Jordan and his trainer, Tim Grover, had to reconstruct MJ's body for basketball after concentrating on baseball since his retirement in 1993. It was an arduous process for the 32-year-old to undertake. But the most interesting aspect of Jordan's time filming Space Jam was most definitely the pick-up games at night.
The NBA's best players were invited by Jordan to come out to LA and ball with him. Many of the game's greatest gladly accepted and showed up for epic runs on the Warner Bros. studio lot. What they didn't know was Jordan was also scouting and sizing up all these guys during the runs and storing away the intel he would use later. 
"It was some of the best games," Reggie Miller said. "No officials, you're calling your own fouls so it was a little bit more rugged and raw."
Example No. 4,080 of MJ's intensity: He clocked Steve Kerr in practice (and is embarrassed by it)
Jordan's return to training camp with the Bulls for the 1995-96 season was testy because so many of his teammates were new and MJ didn't know if he could trust them yet. So he rode them hard and talked a ton of shit. He quickly got under the skin of guys like Steve Kerr who had never played with Jordan before. 
One practice, Jordan got pissed at Phil Jackson for calling a foul on him while guarding Kerr. MJ thought it was "ticky-tack." He was incredulous because calling something like that would never happen against the rugged Knicks in the playoffs. How was babying the new guys going to get the new Bulls prepared for the spring, Jordan thought?
"Now I'm getting mad because for you to be protecting this guy that's not going to help us when we play New York," Jordan said. "That's not going to help us when we play these teams that are very physical. Next time he did it, I just hauled off and when I fouled Steve Kerr [I said], 'Now that's a fucking foul.'"
Kerr, normally a patient man, snapped. The competitive fire burning deep inside of him, and frankly fed up with MJ riding his ass and being a tyrant, Kerr wound up and hit MJ in the chest. Jordan immediately responded by clocking Kerr in the eye. Jackson immediately threw Jordan out of practice and Jordan was embarrassed by the episode. 
"I'm in the shower saying, 'Look, I just beat up the littlest guy on the court.' I felt small," Jordan said. 
Jordan got Kerr's number from the Bulls and called him up later to apologize and tell him it wasn't personal. 
"We talked it out and, in a weird way, it was probably the best thing I ever did was stand up for myself with him," Kerr said. "He tested everybody he played with and I stood up to him."
"He earned my respect," Jordan said. 
George Karl royally pissed off Jordan before the 1996 Finals
While having dinner with Ahmad Rashad before the Bulls met the Sonics in the 1996 Finals, the friends just happened to be in the same restaurant as George Karl, Seattle's coach and a UNC alum like Jordan. MJ and the Sonics head honcho knew each other and had even played golf together. But owning up to their impending showdown in the NBA Finals, Karl committed a massive sin by never coming over to say hello. He walked right by Jordan and Rashad on his way out of the restaurant. In typical MJ fashion, it added fuel to the fire that was already burning inside him. 
"Oh, so that's how you're going to play it?" Jordan said. "I said that's a crock of shit. We went to Carolina. We know Dean Smith, you know, I've seen him in the summer. We played golf. You're going to do this? Ok, fine. That's all I needed. It became personal for me."
Jordan gave it good to the Sonics. 
"The first three games Mike ripped a hole in us. Ripped a hole in our ass, really," Sonics point guard Gary Payton said.
Karl switched Payton onto MJ after the Sonics got into a 3-0 deficit and Payton was able to get under Jordan's skin with tenacious, physical defense and tire him out to prevent an extremely talented Sonics squad from getting swept. At least that's how Payton remembers it. MJ, of course, remembers things differently...
"I had no problem with The Glove," Jordan said. "I had no problem with Gary Payton."
Jordan's reaction to hearing Payton's testimony that he dogged and tired MJ out when he was allowed to guard him during the '96 Finals—and how if Karl had kept Payton on him the entire time the outcome of the series could've been different—will be all over your timeline. Jordan averaged 27.3 points per game in the Finals, easily leading all scorers. Rather than worrying about Payton's tenacious defense, Jordan revealed he was way more focused on a specific day on the calendar that was rapidly approaching.
On June 16, 1996—Father's Day—Jordan and the Bulls closed out the series in Chicago and when he retreated to the locker room to celebrate his fourth title, the emotions came pouring out of Jordan. Splayed out on the carpet, the game's best player cradled the game ball in a secluded area of the Bulls locker room and started sobbing uncontrollably. James Jordan wasn't there to celebrate like always with his son and it hit MJ like a ton of bricks.