The Biggest Takeaways From Night Three of 'The Last Dance' Documentary
On the third night of "The Last Dance," Michael Jordan talked about his relationship with Kobe Bryant and the exclusion of Isiah Thomas from the Dream Team.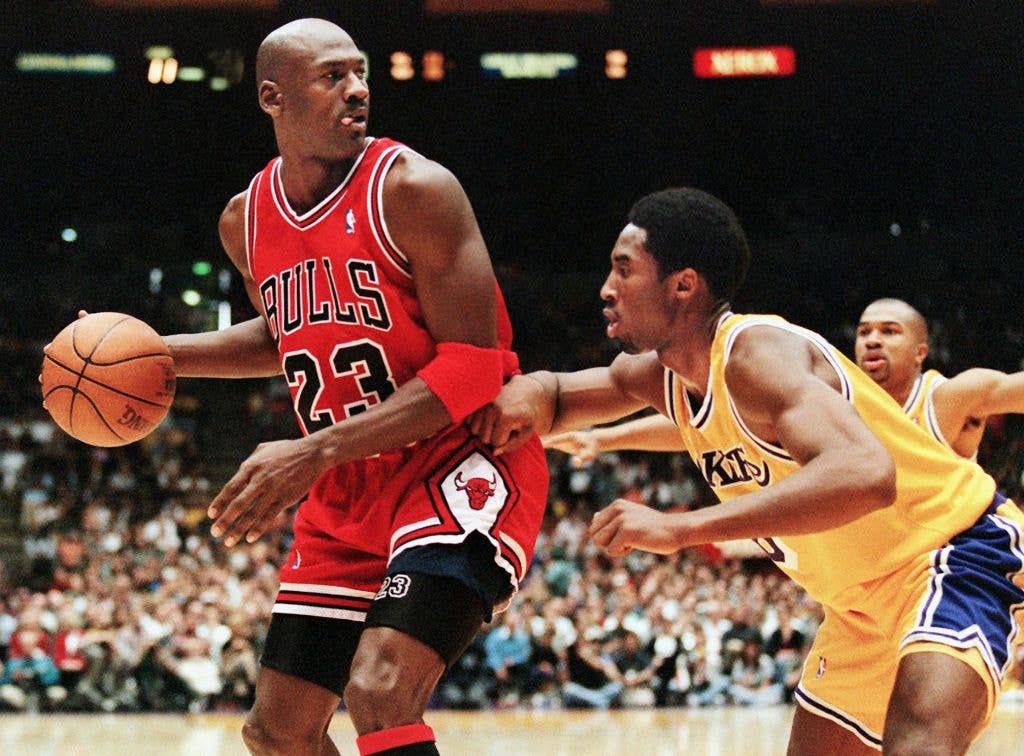 Getty
Michael Jordan of the Chicago Bulls (L) eyes the basket as he is guarded by Kobe Bryant of the Los Angeles Lakers during their 01 February game in Los Angeles, CA. Jordan will appear in his 12th NBA All-Star game 08 February while Bryant will make his first All-Star appearance. The Lakers won the game 112-87. AFP PHOTO/Vince BUCCI (Photo by VINCE BUCCI / AFP) (Photo credit should read VINCE BUCCI/AFP via Getty Images)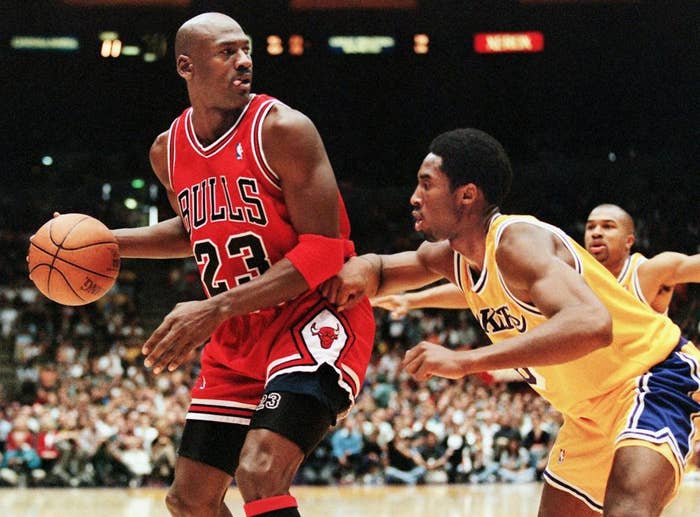 The third night of The Last Dance begins with a dedication to Michael Jordan's little brother.
We didn't know MJ and the late, great Kobe Bryant shared such a close bond and were in constant contact until Jordan revealed the depths of their relationship at Bryant's memorial back in February. Luckily, we got a glimpse of the origin story of how the two legends grew to be so close that Jordan told the world he considered Bryant to be a little brother. 
"In Loving Memory of Kobe Bryant," episode V, starts with MJ wanting to cook up Kobe at the 1998 NBA All-Star Game before tackling the controversy surrounding Isiah Thomas' exclusion from the 1992 Dream Team. More questions and fallout will surely come from Jordan's answers and Thomas' reaction. Meanwhile, episode VI of the documentary dives into the epic gambling stories that tailed Jordan during the Bulls first three-peat as well as what motivated him during the 1993 Finals. 
Takeaways from The Last Dance episodes I & II | III & IV
Episode V
Jordan wanted to bust up Kobe at '98 All-Star Game
You wouldn't have guessed MJ and Kobe would consider each other brothers 20 years later thanks to the awesome behind-the-scenes footage and audio captured before the 1998 All-Star Game at Madison Square Garden.
That's because the manically competitive Jordan, who pretty much knew it was his last season and last All-Star Game in his favorite building, wanted to bust up the young hotshot from the Lakers who was named an All-Star starter at age 19. There was plenty of shit-talking going on in the Eastern Conference locker room from MJ directed at Kobe, who already had a reputation for playing selfishly on the court. Jordan promised to make it a "one-on-one game" and make the teenager play some defense for a change.  
Jordan played like the legend he was and ended up earning MVP honors. He led all scorers with, appropriately, 23 points while Bryant had 18. But the teenager learned a lot that day and around that time he was looking for advice on NBA life. MJ obliged.
"At that point, Michael provided a lot of guidance for me," Bryant said. "I had a question about shooting his turnaround shot and he asked about it and he gave me a great detailed answer. But on top of that, he said if you ever need anything, give me a call. That's like my big brother." 
Kobe said without MJ he doesn't win his championships
Jordan's eloquent speech at Bryant's memorial illuminated for many just how close the two really were. Episode V was Bryant's turn to reveal the depths of the relationships when he credited Jordan, the player he was always compared to, and his advice as being a big reason why he became one of the game's most revered scorers and winners. 
Just know he hated those questions about who would win a mythical one-on-one game. 
"I truly hate having discussions about who would win one-on-one," Bryant said. "You're a fan saying, 'Hey Kobe, you'd beat Michael one-on-one.' I feel like, yo, what you get from me is from him. I don't get five championships without him because he guided me so much and gave me so much great advice." 
In his last MSG appearance, Jordan played in a pair of 1s
Everybody knows MJ's reverence for Madison Square Garden and, like clockwork, he would always abuse the Knicks every time he played there. In a nod to his respect for the Mecca of Basketball, on March 8, Jordan went old school and rocked a crisp pair of Chicago 1s—instead of Chicago 13s—for his final game in a Bulls uniform in front of the New York crowd.  
The white, red, and black kicks still looked perfect on MJ's feet, even 13 years after they made their celebrated debut. But the 1s he first rocked when he was 21 were absolutely destroying a 34-year-old Air Jordan since they were a pair from the shoes original run. They weren't an updated retro. SoleCollector wrote about it in 2015. 
"By halftime my feet are bleeding," Jordan said. "But I'm having a good game, I didn't want to take them off."
In his final MSG performance with the Bulls, Jordan poured in 42 points, crushing the hearts of Knicks fans like always. While he may have looked incredibly fly doing it, Jordan couldn't wait to get back into the locker room and take the sneakers off because his socks were "soaked in blood."
Jordan wanted to go with Adidas instead of Nike
Again, if you're familiar with the Jordan origin story then you know Nike wasn't his preferred choice when it came time to secure a sneaker deal. Michael's mom, Deloris, made him go to meet Nike in Oregon despite his reservations. After the meeting concluded, Michael's father, James, told his son he would be a fool not to take the Nike deal since they were offering the most money. 
Jordan really wanted to go with Adidas and also took a meeting with Converse, at that time the official shoe of the NBA. Converse reps told Jordan it couldn't envision him being put ahead of its big endorsers like Magic Johnson and Larry Bird at the time. Adidas reps couldn't make him his own shoe at the time since the company was experiencing financial turmoil. 
Nike offered the rookie the most money (around $250,000) and as part of the deal they would give Jordan a signature they dubbed Air Jordan. MJ had to go with the Swoosh. The upstart company hoped his sneaker sales would total $3 million over four years. According to Jordan's former agent David Falk, Nike sold $126 million worth of 1s in the first year. 
Comparisons to Clyde Drexler bothered Jordan 
The 1991-92 Bulls returned to the NBA Finals to defend their crown and met the Trail Blazers, led by the dynamic shooting guard Clyde Drexler. There were obvious comparisons between two of the top shooting guards in the league at the time, but since we're talking about Jordan here, you know he wasn't having any of it. 
"Clyde was a threat. I'm not saying he wasn't," Jordan said. "But me being compared to him I took offense to that."
Magic Johnson, then retired, was broadcasting the 1992 Finals for NBC and said the night before Game 1, while playing cards with his pal MJ, that Jordan guaranteed he was going to give it to Drexler. In Game 1, Jordan authored one of the most scintillating performances in Finals history, knocking down a then-record six 3-pointers in the first half and scoring a record 35 points in the first half. The Bulls rocked the Blazers in Game 1 and went on to win the series in six games and become back-to-back champs. 
"Based on the way I was playing at that time, it wasn't even close," Jordan said. "So I attacked him every night." 
Jordan says he isn't to blame for Isiah Thomas being left off the Dream Team 
At least according to MJ. When Jordan was invited to join the historic 1992 US Olympic team, the first to feature pros, he asked organizers who else would be on the team. His former GM with the Bulls, Rob Thorn, who was the USA Basketball Selection Chair, thought Jordan was asking about Isiah Thomas' potential participation. Thorn told Jordan, "Well the guy you're talking about, who you're thinking about, is not playing."
One of the best point guards in the game at the time, Thomas had a resume worthy of being on the team but was conspicuously left off the most celebrated roster in the history of basketball that featured 11 future Hall of Fame players. Many assumed it was Jordan who had Thomas nixed from the squad. 
"It was insinuated I was asking about him," Jordan said, "but I never threw his name in there."
Thomas had too many rivalries with those on the team—Bird, Pippen, Magic all had various beefs with the original IT over the years. Jordan described a Dream Team without Thomas as "the best harmony." The Pistons point guard, he said, would've killed the vibe. 
"Would Isiah have made a different feeling on that team? Yes," Jordan said. "You want to attribute it to me, go ahead, be my guest. But it wasn't me." 
It became Jordan's NBA during one legendary Dream Team practice 
The Dream Team held a scrimmage in Monte Carlo before the Barcelona games kicked off and it's become the most mythical practice in basketball history. 
"That was the greatest basketball I think we were all involved in," Johnson said. "All-NBA players going back-and-forth at each other."
That's because it pitted legends against legends and Jordan was at the peak of his basketball powers. But MJ was losing that day to Johson's and Charles Barkley's squad. 
"There was real trash talking going on, particularly from Magic and Charles toward Michael," Thorn said. 
Magic taunted MJ one too many times—"If you don't turn into Air Jordan, we're going to blow you out," Johnson told him. Jordan morphed into a superhero and scored every possession and single-handedly led his squad to a narrow win that meant nothing yet absolutely everything to MJ. 
That performance quietly ushered in the era of Jordan being the top dog in basketball. He had no peers in the NBA. 
MJ wanted to embarrass Toni Kukoc in the '92 Olympics
Jordan is cool with his former Bulls teammate, and certainly became cool with him when he was part of the second Chicago three-peat. But when Jerry Krause drafted the 6'10 lefty prospect out of Croatia in the second-round of the 1990 NBA Draft and proclaimed him the future of the Bulls, Jordan relished the opportunity to show up Krause and annihilate his prized pick in the 1992 Olympics. MJ told the Dream Team teammates that Kukoc was off limits for anybody except Jordan and Pippen. 
The duo hounded Kukoc in the group stage matchup with Croatia and held him to just 4 points. Kukoc had no idea what happened or what he did to piss off his future teammates.  
"They didn't know me, I don't see a reason why they would take it at me," Kukoc said. 
"It wasn't anything personally about Toni. But we were going to do anything to make Jerry look bad," Pippen said. 
"Toni Kukoc became a great teammate and I love Toni Kukoc for who he is. But the way he was introduced to me and Scottie I didn't appreciate it. It drove my energy," Jordan said. 
Kukoc redeemed himself in the gold medal game, playing much more confidently and earned the respect of many NBA observers.
Jordan did, and didn't, say "Republicans wear sneakers, too"
Jordan was pretty good about avoiding controversies early in his career—at least up through 1990. But he stepped into something when, asked for the reason why he wasn't openly supporting Democrat Harvey Gantt's historic run to become North Carolina's first black US Senator, Jordan was quoted as saying, "Republicans buy sneakers, too."
It's become one of his most famous lines although Jordan says he made the comment in jest. When the quote got out, Jordan was criticized for putting money over politics considering Gantt's adversary in the race was the morally repugnant Jesse Helms. MJ's mother asked him to do a PSA for Gantt, but Jordan said he wouldn't talk about someone he didn't know. He contributed money to the campaign instead and doesn't deny he said what he said about Republicans.  
"I don't think that statement needs to be corrected because I said it in jest on the bus with Horace Grant and Scottie Pippen," Jordan said. "It was thrown off the cuff."
Many in the black community were critical, wishing Jordan would've followed in the footsteps of Muhammad Ali. But Jordan never viewed himself as a social trailblazer. 
"I never thought of myself as an activist," Jordan said. "I thought of myself as a basketball player. I wasn't a politician when I was playing my sports. I was focused on my craft. Was that selfish? Yeah, but that's where my energy was."
While former president Barack Obama wishes Jordan had been more vocal politically considering the platform he had, the former Chicago resident also fully understands why MJ wasn't comfortable doing so.  
"For somebody who at that time was preparing for a career in civil rights laws and public life and knowing what Jesse Helms stood for, you would've wanted to see Michael push harder on that," Obama said. "On the other hand, he was still trying to figure out how am I managing this image that has been created around me and how do I live up to it."
Jordan will not apologize. 
"The way that I go about my life is I set examples," Jordan said. "If it inspires you, great. I will continue to do that. if it doesn't, then maybe I'm not the person you should be following." 
Episode VI
Jordan wanted to win EVERYTHING
Micahel Jordan gambling stories have become a thing of legend. It didn't matter where or when, but Jordan wanted to win and enjoy the satisfaction of taking your money and putting it in his pocket. It's a little diabolical, but that was MJ. 
Will Perdue exemplified that core MJ characteristic with a story about gambling on the team play. The center and a bunch of other Bulls players would play blackjack in front of the plane for a few dollars while MJ, Scottie Pippen, Ron Harper and others would play poker like a bunch of high rollers for thousands in the back.  
One time, MJ strolled up to the front of the plane to play some dollar blackjack with the conservative crew. When asked why, Jordan didn't mince words. 
"Because I want to say I got your money in my pocket," Jordan told Perdue.
Horace Grant says he did not leak sensitive team information 
Bulls beat reporter Sam Smith's controversial book "The Jordan Rules" revealed a lot about the inner workings of the Bulls and more specifically Jordan. For the first time, it shined a light on how petty Jordan was before the Bulls became a dynasty when MJ would worry more about how many points he scored a night than what was good for the team, refusing to get his teammates involved in the offense. It also reflected poorly on Jerry Krause and the Bulls front office. 
Released in 1991, it was a bombshell and everyone wondered who was Smith's prime source for the salacious intel and the pointed shots at Bulls management—not to mention painting MJ as a tyrant behind the scenes. Many pointed the finger at Bulls forward Horace Grant for the most intimate, inflammatory stories since he was known to be chummy with Smith. Grant denies it.  
"Not one thing did I ever divulge to Sam Smith," Grant said. "Lot of people use me as a scapegoat. So be it."
MJ opened up about infamous gambling stories and accusations
Finally the doc dived into some of the notorious Michael Jordan gambling stories. MJ's trip to an Atlantic City casino after the Bulls lost Game 1 of the 1993 Eastern Conference Finals to the Knicks made headlines because the game's best player playing cards two and a half hours away from Manhattan in the middle of a playoff series sounded really 
Well, after a disappointing performance in Game 1 where MJ shot 37 percent and the underdog Bulls found themselves in an early hole to the Knicks, Jordan's father suggested they get away from basketball and New York for a little and duck down to AC for a quick trip.
"It's going to take my mind away from this pressure," Jordan said.  
But it didn't take long for stories about Jordan's late-night trip the night before Game 2 to make the rounds and stir up a massive controversy in the paper and sports talk radio. For the first time, many fans learned about Jordan's penchant for gambling—whether it was cards games, rounds of golf, or other inconsequential nonsense with teammates during practice. 
There's the tale of Jordan writing a check to a golfing buddy—a southern businessman named Slim Bouler—for $57,000. What Jordan didn't know at the time when he paid up was that Bouler was really a major drug dealer and the check he didn't think too much about was brought to light during Bouler's 1992 trial on money laundering and drug trafficking charges. Jordan was actually called to the witness stand to explain it. That was arguably the first dent in Jordan's previously prestigious image.  
Then came the rim-rattling accusations in the book "Michael & Me: Our Gambling Addiction... My Cry for Help" by Richard Esquinas, dropped right around the 1993 NBA Finals, that revealed Jordan owed the former manager of the San Diego Sports Arena more than $1.2 million from losses on the golf course. Jordan said it was bullshit—the book claims they settled on Jordan paying Equinas $300,000—but MJ took another hit to his image. Many assumed he had a gambling problem. But Jordan, with plenty of money thanks to his numerous endorsements, saw things differently. He loved putting a few bucks on anything competitive. And during the early 90s, with his celebrity, he played golf with a ton of different people he didn't really know or couldn't vouch for their true character. "If they wanted to gamble we gambled," Jordan said. 
He would pick his golf partners much more carefully after 1993.
"The characters of those individuals I find out later, what kind of people I was playing with, I learned that lesson," Jordan said. "But the act of gambling? I didn't do anything wrong."
Concerned that its biggest star was making headlines for the wrong reasons, the NBA dialed up Jordan to get his side of the story. Jordan told them what the deal was. He liked to bet on his golf games. He liked to play blackjack. But it wasn't really that concerning, according to former NBA commissioner David Stern, given his massive annual earnings. The league was satisfied. 
"Given Michael's earnings, it never reached epic crisis levels, in my opinion," Stern said.
After falling in an 0-2 hole to the Knicks, Jordan and the Bulls reeled off four straight victories to end the Knicks's season—yet again—and were off to a third straight NBA Finals. 
Jordan was upset he didn't win the 1992-93 MVP 
So what did the most ruthless competitor in NBA history do? He took it out on his opponent—"Ok fine, you can have that. I'm going to get this," Jordan said. Charles Barkley, the MVP that season, and his Phoenix Suns never really stood a chance in the 1993 NBA Finals. 

Using another perceived slight to rev up his competitive engine, Jordan sliced and diced the Suns over the course of six games. Averaging an absurd 41 points per game—including a 55-point performance in Game 4—scintillating doesn't even begin to describe how good Jordan was. He lived for the times when Dan Majerle, the Suns 3-point specialist, would match up with Jordan since he was adored by Jerry Krause. And of course, Jordan took great pleasure in embarrassing anyone Krause admired so Marjele took the brunt of Jordan's abuse during the Finals. 
"Just because Krause liked him was enough for me," Jordan said. "I put it in my mindset that that if I don't do this then they're going to consider him on the same level as me. And that motivated me."
Barkley was a beast during the regular-season and it carried over into the Finals where Charles averaged 27.3 points, 13.0 boards, 5.5 assists, and 1.2 steals per game. But it wasn't nearly enough to overcome MJ and his supporting cast. It was a sobering series for Barkley. 
"That was probably the first time in my life that I felt like there was a better basketball player in the world than me, to be honest with you," Barkley said. 
In one last hilarious Jordan tale, MJ told his teammates to only pack one suit for their trip back to Phoenix for what were supposed to be Games 6 and 7. But with the Bulls up 3-2 in the series after winning Game 5 in Chicago, Jordan didn't want to spend an extra few days in Phoenix so he wasn't going to let the Bulls see a Game 7. MJ had 33 points in the close-out game. John Paxson's 3-pointer with 3.9 seconds left—the only bucket in the fourth-quarter not scored by Jordan—gave the Bulls a one-point lead and their third straight title.