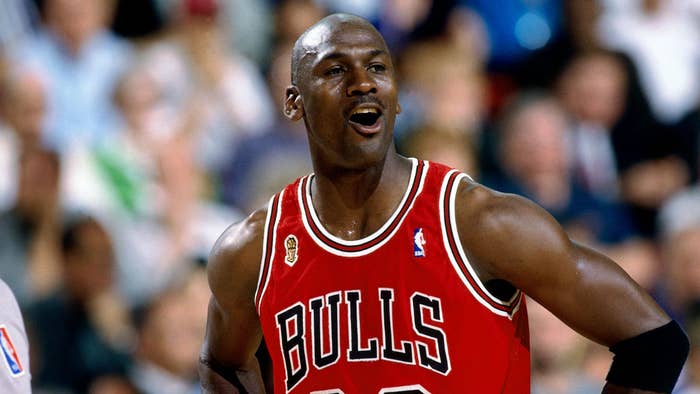 It's been brutal without basketball, but ESPN did fans a huge favor by finally dropping The Last Dance Sunday. The highly anticipated project chronicling the life of Michael Jordan and the final run of the Bulls dynasty during the 1997-98 season absolutely lived up to the hype.
The 10-part documentary series is filled with star-studded recollections, look backs, and behind the scenes access as the Bulls chase their last title while it weaves in a definitive telling of the rise of Jordan from a kid trying to compete for the attention of his father to heralded basketball recruit to top-tier college player to NBA superstar to living legend. It's full of awesome anecdotes and stories about MJ from the man himself, his family, and all his famous friends and contemporaries. 
If you're an MJ expert, chances are you probably know a lot of these tales—like how being cut from for high school's varsity squad as a sophomore was a seminal event in his life. But considering we're hearing it all from MJ's perspective and close confidants in an utterly raw and unvarnished way, it hits way harder.   
ESPN will air two episodes every Sunday night beginning at 9 p.m. ET and each will document a month of the Bulls run—starting with October 1997 and running through the team's sixth championship with Jordan in June 1998. After every one of 'em, we'll offer up the episode's biggest takeaways through the series finale on May 17. So rejoice that the most hyped sports documentary in recent memory is here to rescue us from the wasteland that is today's non-existent sports scene. And soak up all the glory of the GOAT like never before.  
Episode I: October 1997

The doc's title comes from Phil Jackson 
The Hall of Fame coach was known to motivate, educate, and inspire his players—both with the Bulls and later the Lakers—in truly unique ways. When he was running the show in Los Angeles, the stunts Jackson would pull became the thing of legend, like the time Shaquille O'Neal and his teammates thought Jackson was burning marijuana during one of the Zen Master's team meditation sessions. But his motivational tactics started in Chicago where Jackson would distribute handbooks to his players before the start of the season, outlining what he expected and what would be required to win. 

"Phil always looked for a theme for every season," Steve Kerr said. "In typical Phil fashion he had a name for it." 

The 1997-98 season was going to be unlike any other thanks to off-season turmoil between Jackson and GM Jerry Krause, the uncertain future of Scottie Pippen, and the prevailing theory that Krause was going to tear it all down after the season. Jackson was told by Krause before the season started he would not be returning as the coach—even if he went 82-0 and won a third straight title—and Jordan was adamant he wasn't going to play for another coach. Jackson had to balance an incredible sense of urgency with a desire for everyone to appreciate the process and what had already been achieved. 

At their first official team meeting, he passed out the handbook. It was titled "The Last 'Dance.'"

Jackson didn't have to do much explaining to his veteran squad. "Enjoy what's happening because this is it," Bill Wennington said. 
Jordan may have been the most famous person in the world from 1997-98
The spotlight on Jordan during his final run with the Bulls was intense and the media attention he received on an almost daily basis was the kind only LeBron James can relate to. Throngs of reporters would cover Bulls games and practices. Everyone wanted a piece of Jordan, especially fans who would freak out at the sight of Jordan in the arena or out in public where drivers would stop their car in the middle of traffic if they recognized MJ was idling beside them to ask for an autograph. 

The number of cameras and recorders shoved in front of Jordan's face skyrocketed during the playoffs and NBA Finals, but it was nothing compared to the attention Jordan received when he went overseas to France before the start of the 1997-98 season for a bunch of exhibition games. Dennis Rodman joked with us last year that he was briefly more famous than MJ, but The Worm's celebrity was never compared to The Pope's. Cameras followed Jordan's every move around the French capital, garnering the attention worthy of a rock star. During the Bulls' stay, one Parisian newspaper compared Jordan to the Pontiff, declaring MJ was bigger than the Holy Father.
Jerry Krause didn't have many fans
The diminutive Krause, who Bulls owner Jerry Reinsdorf inherited as a scout when he purchased the Chicago White Sox before Krause eventually moved over to basketball and became the Bulls general manager, was not exactly beloved. Whether it was his cold-hearted view of players as commodities, his belief that he deserved more credit for putting the championship teams together, or a Napoleon Complex, Krause wasn't necessarily a bad guy, but hardly respected by the biggest names associated with the Bulls. 
Sure, he put together the team that won six titles in an eight year span, but Jordan and some of his teammates weren't afraid to taunt him. And it was laughable that Krause wanted to tear apart one of the game's great dynasties after the 1997-98 season all in the name of ego.
Krause's greatest rivalry may have been with Phil Jackson. That wasn't always the case when Krause brought Jackson to the organization as an assistant in the 80s. But later in the championship years, the Zen Master felt like he was never compensated like he deserved and it was bitter enough between Jackson and Krause that Jackson didn't get an invite to the GM's wedding unlike most of the Bulls' organization.  

There were legitimate reasons for Krause's toxic status among Jordan, Jackson, Scottie Pippen, and others. But he caught a ton of heat for a comment he made in trying to bestow credit upon himself for the Bulls' titles. "Players and coaches don't win championships; organizations win championships," he once said, later claiming his comment was printed while missing a very important word.

Predictably, the statement did not sit right with Jordan.

"For him to say that was offensive to how I approached the game," Jordan said.  
It should be noted that Krause died in 2017 so there are no new interviews with him in the documentary. 
Jordan was just another broke college kid
Once upon a time, Mike Jordan was like most of us: a kid in college with no dough in his pocket. We all know he's now a billionaire, but during his days at North Carolina, MJ was so broke that in a letter he wrote to his mother, Deloris, he lamented he only had $20 to his name and asked her to deposit money into his bank account. 
MJ almost stayed for his senior season at North Carolina
By the time Jordan's junior campaign at UNC was over, he was arguably the best player in college basketball. But he loved college life so much that he said he was planning on staying for his senior season before the late, great Dean Smith recommended he go to the NBA. Jordan was selected by the Bulls with the No. 3 pick in the 1984 Draft. He "dropped" to the Bulls because big men were all the rage in the 80s and the Rockets (justifiably) took Hakeem Olajuwon with the first pick and the Blazers (justifiably) took Sam Bowie No. 2 ahead of Jordan because they already had a dynamic shooting guard named Clyde Drexler.

But what if Jordan had stayed for one more season at North Carolina? What if he went off and left campus as the consensus best player available in the 1985 NBA Draft. You know who would've been in position to draft Jordan then? The Knicks. New York took Patrick Ewing with the first selection in '85 and the Hall of Famer had a nice career with the Knicks. But we all know Jordan absolutely tormented Ewing and his crew basically the entire decade of the 90s.
As a rookie, Jordan wasn't into the party scene
Drugs were rampant in sports in the 80s, cocaine especially. The NBA had a problem.

Before Jordan joined the Bulls in 1984, many Bulls players had a reputation for partying—one outlet dubbed them the "Traveling Cocaine Circus"—and it was widely assumed many were recreational drug users. Jordan was never a partier in his early days to begin with—he said he never drank when he was younger, but we all know he eventually changed his ways. Just look at the glass sitting next to him during the documentary interviews. 
One of the most vivid scenes from his rookie season happened during an evening in Peoria, Illinois, in the preseason when Jordan got his first look at what a professional athlete's life could be. Looking for his teammates at the Bulls hotel, he walked in on a bunch of his teammates hanging in a room filled with lines of coke, weed smoke, and women.

"First thing I said, 'I'm out,'" Jordan remembers. The 21-year old rook from North Carolina was afraid if the room got raided by police he would be considered guilty even if he wanted nothing to do with the drugs. Jordan was more into playing cards or watching movies during his early NBA days. He mostly kept to himself. 
Episode II: November 1997

Scottie Pippen was Jordan's "best teammate of all-time"
That's not exactly a massive revelatory statement. But Jordan did play with other Hall of Famers on the Bulls like Dennis Rodman, Robert Parish, Artis Gilmore, and George Gervin at various points. Obviously, Pippen was in his prime during the same years Jordan was and Pippen was similarly named one of the 50 Greatest Players in 1996 and honored with the other living legends at the 1997 NBA All-Star Game. Just don't forget Jordan played with another member of the 50 Greatest Players squad  at North Carolina—James Worthy. 
But we all know who Jordan won all those rings with. 
"Everybody said I won all these championships, but I didn't win without Scottie Pippen and that's why I considered him my best teammate of all time," Jordan said.
Pippen started off as the equipment manager at Central Arkansas
MJ's future running mate wasn't good enough to earn a scholarship when he enrolled at his alma mater in 1983. He was a skinny, 155-pound guard who stood at 6'1". But hard work in the weight-room and gym, fortuitously watching some teammates fall off academically, and a massive five-inch growth spurt between his freshman to sophomore seasons allowed Pippen to snag a scholarship. He soon blossomed from a forgettable guard to a formidable forward with guard skills who would go on to be the No. 5 pick in the 1987 NBA Draft. 
Pippen was comically underpaid
GM Jerry Krause offered Pippen what amounted to an 8-year deal worth $18 million after he played like a stud in the 1991 NBA Finals. Pippen accepted the deal because he wanted the security knowing if he got injured he would still be able to take care of his family. But he was also leaving a ton of potential money on the table.
"I do recall that it was a longer contract than I thought was smart for him," Bulls owner Jerry Reinsdorf said.
It didn't take long before Pippen out-played that contract and entering the 1997-98 season he was the 122nd highest paid player in the league. 
"It was embarrassing because he was maybe the No. 2 player in the NBA," Phil Jackson said. "His value was immense."
For years, Pippen grumbled about his contract since he made an average of $2.6 million. Meanwhile, Jordan's deal for the 1997-98 season was worth $33 million ($53 million by today's standards). Reinsdorf refused to renegotiate with any player after they signed their original deal. Following the 1997 Finals, Pippen's "frustration bubbled over," Steve Kerr said.
To spite Bulls management, Pippen put off surgery
After Pippen helped the Bulls with their fifth title and second straight in 1997, he needed ankle surgery. But in order to stick it to the front office that wouldn't pay him and almost assuredly wasn't going to bring him back, he put off having the operation until October so he could enjoy himself rather than spend his downtime rehabbing. 
"I was like, 'You know what? I'm not going to fuck my summer up trying to rehab for a season," Pippen said. "They're not going to be looking forward to having me so I'm going to enjoy my summer and I'll use the season to prepare."
Delaying the surgery caused him to miss almost half the regular season. "Scottie was wrong in that scenario," Jordan said.  
Jackson, on the other hand, wasn't angry at Pippen. "Scottie probably needed to have this to justify what his salary was," Jackson said. Considering Jackson and Krause never got along, that shouldn't be a surprise the Zen Master sided with his player. 
Krause was harassed by Pippen
Krause looked into trading Pippen, without ever tipping off the superstar, after the 1997 NBA Finals. Krause wanted to get something for Pippen before letting him leave the Bulls following the 1997-98 season. But Reinsdorf 86ed that idea in order to chase one more title while Jordan was still around. 

"That really what sort of tarnished my relationship with Jerry," Pippen said. "He tried to make me feel so special but yet he was, like, willing to trade and do all that stuff. But never would tell me to my face." 

Pippen felt "insulted" and started "disrespecting" Krause. "I couldn't tolerate him anymore. I didn't respect him," Pippen said. 

The relationship was so toxic that Pippen would openly taunt and berate Krause on the team bus. 

"We had to say, 'Hey, hold it down,'" Jackson said.

The relationship between Pippen and the organization beyond repair, Pippen did the unthinkable and requested a trade in November.

"I felt like Scottie was being selfish," Jordan said. 
With Pippen absent, Jordan took out his frustrations on his other teammates
The quote from Jordan that made the rounds before the documentary's debut...the one about how he's afraid he's going to look like to the public after this…
"When people see this footage I'm not sure they're going to be able to understand why I was so intense, why I did the things I did, why I acted the way I acted, and why I said the things I said," The Last Dance director Jason Hehir remembered Jordan telling him. 
Well, the quote starts to hit in the second episode. 
Because the Bulls, who were without Pippen for the first few months of the season, got off to a slow start and struggled mightily on the road. They desperately missed Pippen and Jordan was exhausted physically, mentally, and emotionally trying to carry the extra workload. 
"Scottie was so key for us. He tied us together in many ways," Kerr said. 
Jordan started taking his frustrations out on his teammates—in practice and even during games. He needed them to step up in Pippen's absence and would yell at guys when they didn't grab boards, demand better box outs, and implore the Bulls to play harder defense. 
"He's not worried about hurting your feelings," Bill Wennington said. "He would gladly tell you 'Get out.' You don't want to play hard, get out." 
Jordan's legendary competitiveness began as a child
Jordan grew up in Wilmington, North Carolina during the 1960s and 70s with five siblings and James and Deloris Jordan tried to instill toughness in their children. 

"Don't wait for somebody to give you something. You're strong. You're intelligent. Go out and earn it and work for it," Michael's mother said. 

The Jordans got their children involved in sports early on so they could learn life lessons, but Michael really credits his brother Larry for bringing out his famous competitive fire. For a time, Larry was better at basketball than Michael. Their competitions would get so intense they would end up fighting each other and, for a time, Michael felt like he was "fighting Larry for my father's attention."
There's more to the infamous story about him being cut from varsity as a sophomore
When Jordan was cut from Laney High School's varsity squad a sophomore, we went home and cried with his mother. "He was devastated," Deloris said.

Jordan became maniacal about getting better from the slight. He played like crazy during the summer, but a growth spurt from 5'10" to roughly 6'4" made him a significantly better player when his junior basketball season started the next fall.  

Mike Jordan, as he was known then, quickly caught the attention of recruiters from the University of North Carolina. They invited him to their basketball camp and couldn't bear to see him play somewhere else.   

"We thought he was pretty good, five days later when he left here we thought he was the best player in America," said North Carolina coach Roy Williams, who was an assistant on the Tar Heels staff back in the 1980s. 
Was MJ the godfather of load management?
After breaking his left foot early in his second season in the NBA, Jordan was out of commission for 64 games. He had never missed a game before at any level. 

"I was anxious and I'm sure I was irritable to a lot of people," Jordan said. 

A restless MJ finessed the Bulls into letting him return to Chapel Hill to rehab the injury and while there—unbeknownst to the front office—he was playing pickup games earlier than doctors recommended. When he returned to Chicago, the team could tell. And they weren't happy about it.   

Still, doctor's were 90 percent confident that he wouldn't reinjure the foot. But there was still a 10 percent chance he could break it again and a re-break was potentially career-ending. The Bulls wanted to play it cautiously. 

"In my mind, he should not risk coming back because we weren't going to win a championship anyway," Reinsdorf said. "He didn't see it that way. " 

Jordan was repulsed by the idea of the Bulls tanking the season and positioning itself for a lottery selection in the 1985 NBA Draft. Jordan and Reinsdorf reached a compromise where the team would allow him to play only 7 minutes of each half. In today's game, that's called load management. 

He made the most of his nightly 14 minutes and somehow carried the Bulls to the playoffs despite the team only winning 30 games. Jordan, the ultimate competitor who vowed to be in the postseason every season as a pro, was forever soured on the organization after it orchestrated such a conservative return to action for him and valued tanking over winning. 
A bad round of golf led to the greatest single-game playoff performance 
The minutes restrictions were relinquished once the Bulls met the mighty Celtics in the first-round of the 1986 Eastern Conference Playoffs.

"It was like unleashing a wild dog," Jordan said. 

In Game 1, Jordan wowed the basketball world by going for 49 points in a Bulls loss. The next day, MJ played golf with Celtics forward Danny Ainge. The two of them were jawing the entire round and Jordan played terribly. 

"I took a few bucks off of Michael that day and we were talking trash to each other," Ainge said. "That might've been a mistake." 

In Game 2, Jordan was unstoppable. He abused every Celtics defender thrown at him and finished with a playoff record 63 points in 53 minutes in a double-overtime loss. 

"That wasn't Michael Jordan out there. That was God disguised as Michael Jordan," Larry Bird said.