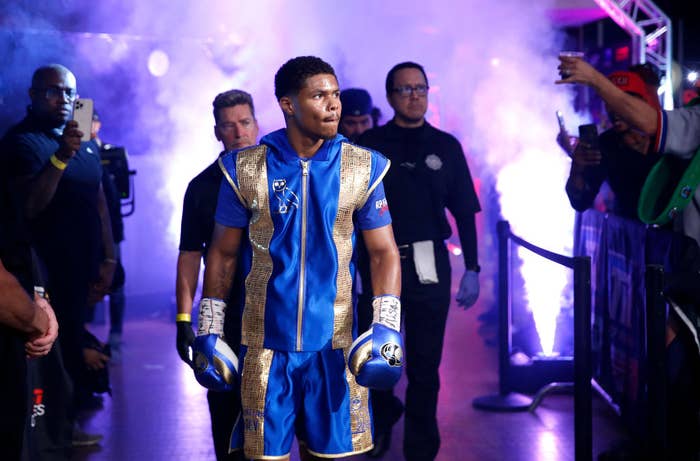 Whether it was the confidence of youth or owning a pair of brass balls since he's a Newark, New Jersey native, when Shakur Stevenson introduced himself to Terence Crawford he didn't shake the champ's hand, nor did he ask for an autograph. Stevenson didn't think the occasion called for any formalities. So he started talking shit. 
This was 2013 or 2014—Stevenson, then just a teenager a few years away from becoming an Olympic silver medalist in Rio, can't remember which year precisely. But he was at a boxing tournament and spotted Crawford, who was beginning his run of dominance at 140 pounds. Stevenson just couldn't help himself so he bounded up to Crawford and unloaded.  
"I told him I'll beat him up," says Stevenson. "I don't know what made me just do that, I just felt like doing that because I knew who he was, I knew he was a world champion. By then I knew he had fought in one of them big fights and I knew he was somebody. So I went up to him and I started talking shit and he started talking shit to me back and telling me like he'll beat me up. He felt like I was cool and liked the way I approached him." 
Crazily enough, that was the start of a beautiful bond between the boxers that today more closely resembles a brotherhood. Stevenson, one of the most gifted young fighters in the sport, and Crawford, the 34-year-old WBO welterweight champion of the world and unquestionably one of the best pound-for-pound boxers, are boys. They train together and travel together. When Crawford swung by Complex's Los Angeles office for an interview two years ago, Stevenson tagged along. They're big brother, little brother. Mentor, mentee. Confidants successfully navigating a clusterfuck of a sport. 
But that bond's taken on a different dimension leading up to the biggest fight of Stevenson's career Saturday. That's when the 24-year-old undefeated defensive dynamo at 130 pounds steps into the ring to face Jamel Herring for the WBO super featherweight belt (ESPN, 10:30 p.m. ET). Herring, the 35-year-old ex-Marine and 2012 Olympian whose last loss came the same year Stevenson made his professional debut, trains and spars with Crawford. 
So saying loyalties will be tested Saturday night would be a bit of an understatement. Who Crawford is genuinely pulling for is arguably the biggest subplot to a very intriguing and consequential fight.  
Stevenson says communication with his big brother hasn't quite been the same leading up to this one. Which is understandable. Plus Crawford's training for one of the biggest fights of the year when he takes on Shawn Porter next month. So the conversations haven't been deep. Crawford will tell Stevenson how sharp he's looking preparing for Porter while Stevenson tells Crawford how sharp he looks prepping for Herring. Before they hang up Stevenson has to get in one last jab. "I end up telling him like I'll fuck him up right now and he says he'll fuck me up right now," says Stevenson. 



"I'mma be real with you. Bud probably going to say a little stuff for the media, but deep down I feel like he knows what it is. He wants me to win."
The ball-busting between the two that started something like eight years ago is never going away. But turning serious for a second, just as Stevenson starts to explain how this week is war and, yes, loyalties will understandably be strained, his Zoom screen turns black. Someone's interrupting his interview. 
"Damn, this so crazy. Bud calling me right now," says Stevenson.
Almost always referred to by his nickname, Stevenson's pretty sure his big brother will be pulling for him come fight night in Atlanta. Herring, who hired Crawford's respected trainer Brian "Bomac" McIntyre in 2018, has credited Crawford's support and praised their sparring sessions for helping him become champion at super featherweight after spending most of his career at lightweight. 
"I'mma be real with you. Bud probably going to say a little stuff for the media, but deep down I feel like he knows what it is. He wants me to win," says Stevenson, a former featherweight champion who moved up to 130 last year. "He cheering me on. He can't do it publicly, But me, how I look at it, I'm a lot closer with Bud than that dude. He's just around Bud. Me, I'm close to Bud. Bud low-key can't say it because his team is working with Jamel, but I feel deep down he really want me to win."
Crawford declined comment, preferring to stay neutral since he's tight with both boxers.