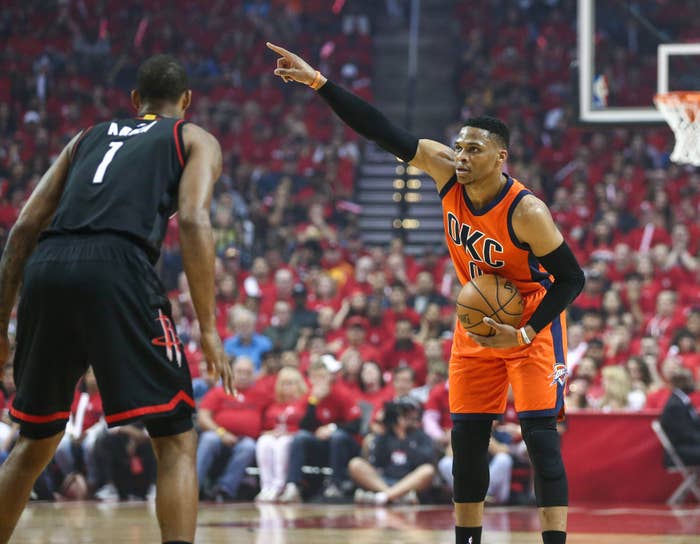 Going for 51 points, 10 boards, and 13 assists would nine times out of 10 get your squad a win, but there's only so much Russell Westbrook can do an any given night.
So Oklahoma City wasted a huge performance out of its star, blowing an early 15-point lead, as the Rockets took a 2-0 series lead with a 115-111 win over the Thunder in the best-of-seven first-round series between the Western Conference rivals.
Westbrook's stat line will get all the attention—deservedly so when you put up the highest scoring triple-double in NBA playoffs history. If you were watching closely, Westbrook's erratic fourth quarter, in which he was 4 of 18 from the field, might be the most obvious reason the Thunder finds itself in a hole early in the series. But it absolutely wasn't the only reason.
So what he witnessed Wednesday was yet another example of Westbrook balling like an alpha dog with a bunch of puppies serving as his supporting cast.
The MVP candidate, or likely MVP, depending on what camp you fall into, was helpless as the Thunder defense was trashed in the final frame by that other MVP candidate James Harden, who finished with 35 points while Eric Gordon chipped in with 22, and Lou Williams finished with 21.
Harden had help Wednesday night as he played through foul trouble and a relatively poor shooting performance (41 percent from the field). Westbrook was basically all alone.
You could tell that Westbrook was going to have to do something ridiculous—like go for 50—to steal home-court advantage from the Rockets. Superman tried, in his own unique way, hoisting bad shots and pressing his way to gaudy numbers that he gave no fucks about in the postgame. Basically, he did what Russ does when he's struggling from the field—he shoots ridiculous shots, drives through insane traffic, and painfully forces everything. When it was all over, Westbrook launched 43 (!!) shots, nailing just 17 of them. And you can easily argue that it hurt the Thunder.
We regularly saw him pass up opportunities for his teammates, which, we get it—they aren't on his level. If you've been paying close attention to the Thunder and Westbrook this season, Wednesday was a case of déjà vu. The trust issues between him and his boys remain and won't be solved any time soon. But he's got to make a bigger effort of getting them shots and letting them take some of the scoring burden off his shoulders. Thunder coach Billy Donovan said afterward that he thought Westbrook was tired down the stretch. Westbrook, of course, denied it.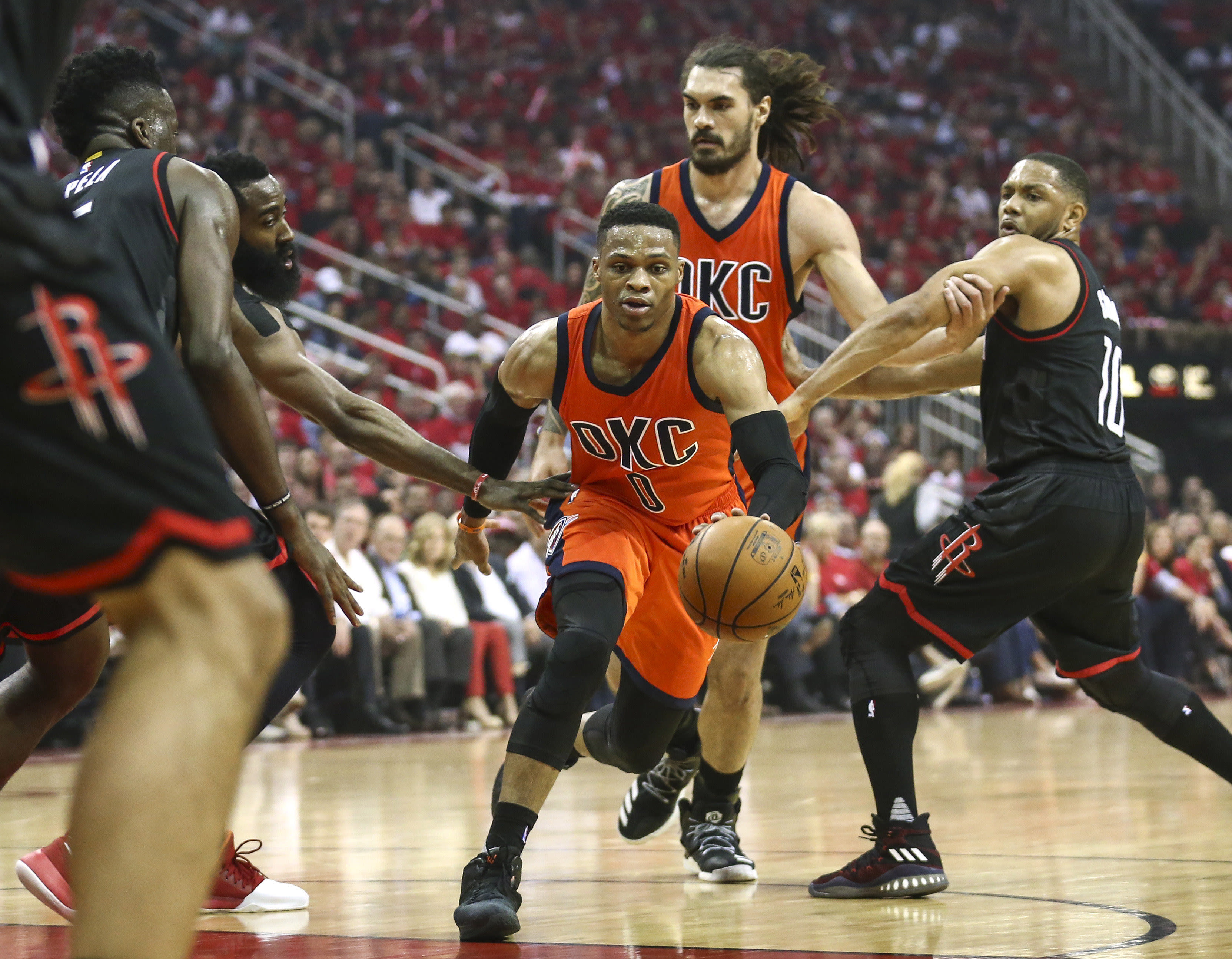 The Thunder can't pull off the upset over the third seed in the West with Westbrook barreling his way through traffic or launching prayers from beyond the arc every possession. He obviously needs more from his Thunder teammates. The second leading scorer for OKC last night was Anthony Roberson, who only managed 12. Victor Oladipo, who is supposed to be the Thunder's second-best scoring option, could only muster 11. Only two other Thunder players managed to reach double figures. Oklahoma City missed 23 3-pointers with Westbrook responsible for nine of those misses. And defensively, they allowed the Rockets to shoot 48.7 percent from the field, with an effective field goal percentage of 55.8. So much for that great start in the first quarter.
So what he witnessed Wednesday was yet another example of Westbrook balling like an alpha dog with a bunch of puppies serving as his supporting cast. We're not breaking any news or offering up some exclusive analysis here saying that Russ can't do it all by himself and that he desperately needs his boys to step it up. It was just as obvious and, depending on your individual tastes, ridiculous as his pre-game fit.