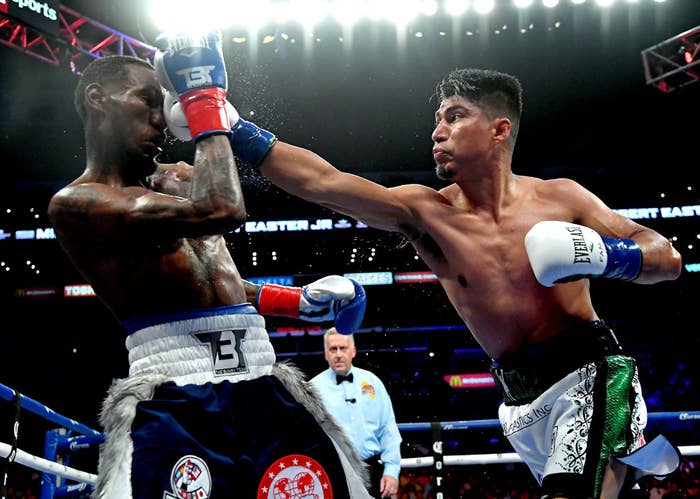 The storyline you're going to hear over and over again leading up to boxing's biggest fight so far in 2019 isn't about skills, shit talking, or the setting. This one's all about another "s" word.
When Mikey Garcia and Errol Spence Jr. step into the ring at AT&T Stadium Saturday (9 p.m. ET, Fox PPV) size will be the dominant theme, since Garcia is moving up two weight classes to challenge the IBF welterweight champion for his belt. Garcia is a highly skilled and respected pugilist, who is a four-division champion, that will be noticeably smaller than Spence. That's a big reason why many aren't giving him much of a chance in a fight hardcore boxing fans want to see. Garcia, however, would like to remind the doubters the undefeated Spence (24-0, 21 KOs) will have his hands full facing a fellow top-10 pound-for-pound boxer.   
"He hasn't fought anybody the caliber of me," says Garcia (39-0, 30 KOs). "He hasn't fought anybody who has the same tools as I have."
Garcia's right. Spence, who is aiming to be boxing's next pay-per-view star, is challenging himself by facing the technically sound Garcia, who's known to surgically dismantle opponents. Before the biggest fight of his life, the big Cowboys who hails from Oxnard, California, where America's Team holds training camp every year, talked to us about headlining his first pay-per-view, the strategic challenges of fighting someone bigger, and if he plans to keep fighting at welterweight.
(This interview has been edited and condensed for clarity.)
Tell me how different the buildup to this fight feels, because obviously this one is on different level.
Well, we are working a lot more with media and promoting. We're involved with the promotion behind it. So it's a little different. It's more work, but that's what it needs. That's the kind of attention this fight needs. This is a fight that deserves this buildup and this attention. It's that [kind of] magnitude. It's huge. It's one of the biggest fights of the year. It definitely deserves more media coverage.
Is it fun for you, is it daunting? Give me an idea of what the work has been like building up to it.
I enjoy it. I've been doing a lot in recent fights, so it's helped me prepare myself for this. We need this kind of marketing and buildup. A fight like this doesn't come often. You're getting two undefeated champions, fighting in their prime. It deserves a home like AT&T Stadium. It deserves all of it. I'm very honored to a part of this.
"I never had a dream to be a boxer. I never dreamt to be where I am. I never dreamt to be headlining a pay-per-view card. That was never a goal. Now, where I am, this is definitely where I want to be."
Break it down why this is the biggest, most important fight of your career.
This will be the biggest challenge for me because I'm going to be fighting at a welterweight limit against an undefeated champion, the man in the division. Not just anybody. It's not an easy task. I'm not just fighting at my weight class. I'm moving up. That takes another challenge. At fight night he's going to be well over the weight limit, and that's challenging itself.
What weight do you expect to be fight night?
It's hard to say. I don't think I'm going to be gaining a lot of weight. I'll probably be walking in around 150. I'm not expecting myself to be huge. I'm not trying to be bigger than Errol, or the same size as Errol. I'm not that weight naturally. I'm not that big. But we have been training to gain a little bit of muscle. But that's not the goal—to be the same size. I want to be fast, I want to be explosive, and just be to use the tools that I have.
What changes can we expect from you with the additional weight?
I don't think you're going to see major changes. I think you're going to be surprised how effective I am, even at this weight class. There's a lot to my game that people haven't really seen and that's what I'm trying to show. I can do a lot more. Even though Errol is big and strong and much heavier than me, you know, I can still overcome all of that because I have so much more in my tool[box]. This is the opportunity to show everybody.
Does it get tiresome rehashing the size difference between you guys?
I know Errol is the bigger guy, and he's a great fighter. He reminds me a lot of me; he does everything well. It's not going to be easy. But that's what I want—that's what motivates me, that's what pushes me. I need someone like him to bring the best out of me. I'm expecting a tough fight. I'm expecting a tough Spence. That's what I really want.
The strategy we see from you compared to the strategy we've seen from previous Spence opponents, how different is that going to be?
He hasn't fought anybody the caliber of me. He hasn't fought anybody who has the same tools as I have. He is a complete fighter. I can definitely see his skills. Even though he hasn't fought anybody like me you still have to give him credit. Everything he does he does well. I think that's what makes this fight such a good fight.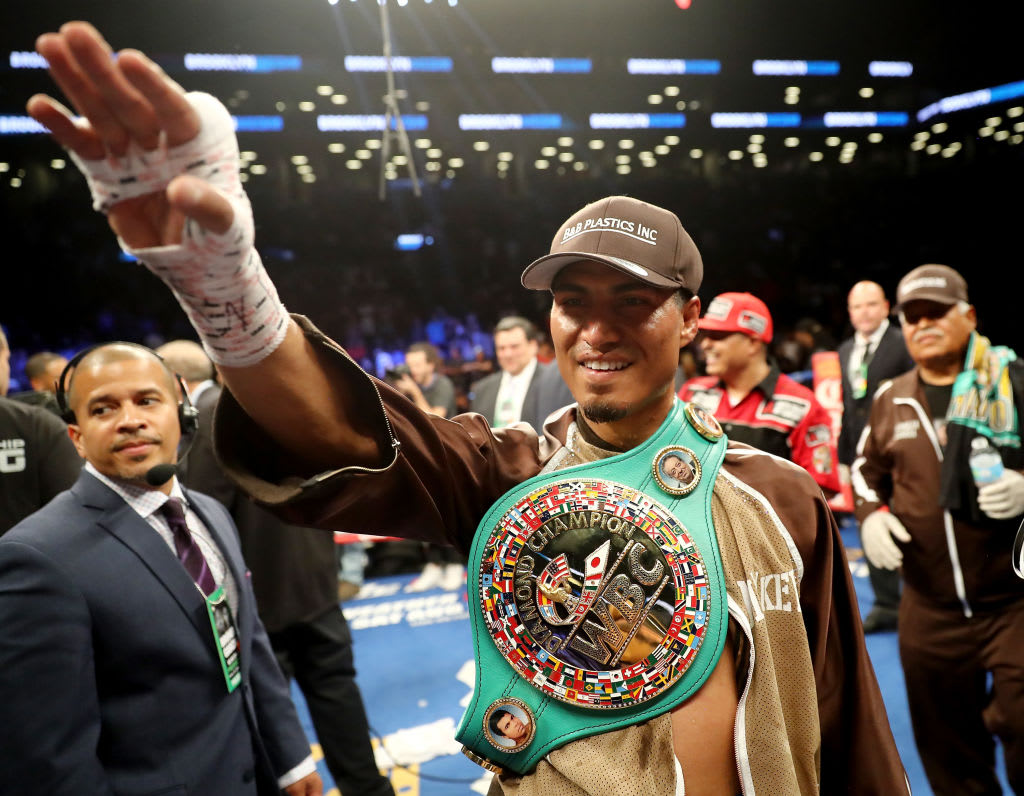 Are you one of those guys who always dreamed of headlining a pay-per-view?
Not really.
Why wasn't being a headlining pay-per-view star something you dreamed about?
I never had a dream to be a boxer. I never dreamt to be where I am. I never dreamt to be headlining a pay-per-view card. That was never a goal. Now, where I am, this is definitely where I want to be. These are the fights that I want. This is a fight that I wanted. And this type of fight deserves to be on pay-per-view and get all the attention it's getting. It's not often you get fights like this.
How many scenarios do you have mapped out about what the next fight is and the fight after that?
I'm really focused on Errol Spence right now. I will have a lot of options after this fight. But my main focus is Errol Spence and nobody else. I've heard names being tossed around once in a while, and that's fine. That's the game, that's boxing. Everybody moves forward and looks ahead. I get it.
I guess the counter is are you intrigued by staying at welterweight, or do you see yourself moving back down where you've spent most of your career?
I'm not sure. I'll have to wait and see after my fight how I feel. See what opponents are available. The good thing is I do have options and I will be able to make a decision on who is available. I could come down to 135 and fight someone there or go up to 140 or stay at 147. I'll have a lot of options. That's a good position to be in. I can do a lot of things that other fighters can't.
How big of a Cowboys fan are you?
Growing up in Oxnard you're a Cowboys fan, bro. I remember when I was like six, seven years old my cousin gave me a sweatshirt that said "Cowboys" on it and ever since then I said I'm going to support the Cowboys.
As a Cowboys fan do you have faith that Dak Prescott and Jason Garrett can lead the team on a deep playoff run?
Look, we've had the guys, had the team, and unfortunately it doesn't always go the way we want. But we have the talent. They're young, they're hungry, and that's what it takes. That's the recipe for achieving great success. Sometimes it doesn't go our way. It happens in boxing all the time.