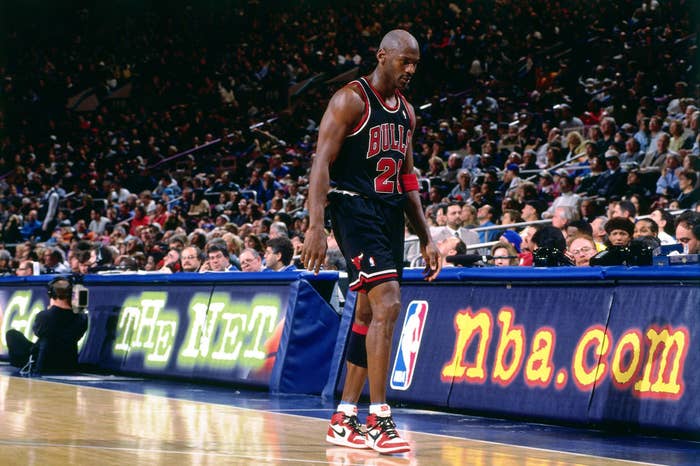 Anyone who knows Michael Jordan knows Madison Square Garden was his favorite place to play. So during his final regular-season appearance at the World's Most Famous Arena as a member of the Bulls, where MJ would regularly torch the Knicks and tear their hearts out in the most agonizing of fashions, Jordan decided the occasion called for something special.
That meant turning back the clock and flexing like no one else. It was March 8, 1998, and instead of rocking a fresh pair of Chicago 13s that was MJ's signature pair that season, the GOAT ran out of the MSG tunnel and onto the hardwood in an ultra-crisp, eye-catching original pair of Chicago 1s. Not a special pair of retros, as NBC's Ahmad Rashad reported before the Sunday matinee tipped off, but a real-deal pair from 1985 when one of the most iconic sneakers in history made its debut. 
The shoes Jordan first rocked when he was 21 were back for one night only 13 years later on basketball's biggest stage. One of the most classic silhouettes in the history of sneakers still looked like they belonged on a court a decade after NBA players stopped wearing them. Jordan just had one problem with 'em. 
"By halftime my feet are bleeding," Jordan said. "But I'm having a good game, I didn't want to take them off."
Why would he change things up when he was in the middle of smoking one of his favorite adversaries for the umpteenth time like a Cohiba stogie? In this exclusive clip from ESPN that you'll see in Sunday's latest installment of the 10-part docuseries The Last Dance, 34-year-old Jordan was cooking up the Knicks while looking like the kid who took the NBA by storm starting in the 1984-85 season.
"By halftime my feet are bleeding, but I'm having a good game, I don't want to take them off."

In his final game at MSG as a Bull, MJ put on 14-year-old 'Chicago' Air Jordan 1s that were a size too small. He dropped 42.

#TheLastDance pic.twitter.com/KQMP2G4Ajg
Jordan finished with 42 points that Sunday, thanks in part to finishes like his stupefying reverse, no-look layup over Chris Mills that wowed his teammates. Easily the game's top scorer, Jordan almost out-scored the combination of Allan Houston and Larry Johson (44 points) himself and filled out the stat sheet with 8 rebounds, 6 assists, and 3 steals as the Bulls cruised to a 102-89 victory. It was arguably his most complete performance during the Bulls' 62-win regular-season campaign.
Many will remember his final time in a Bulls uniform at MSG for the scintillating performance. It was vintage Jordan, after all. MJ was feelin' it that day and was caught on camera talking smack to Spike Lee. The award-winning director Jordan paired with on the Mars Blackmon ad campaign starting in 1989 hated watching his buddy smoke his favorite squad. Others will remember it for what MJ was rocking on his feet.
As SoleCollector wrote in 2015, Jordan never planned to wear the 1s for every single one of his 43 minutes played.
The technology in the 13s was infinitely superior to what Nike created in the first pair of Air Jordans so the 1s were an occupational hazard that day. But sometimes you have to opt for fashion over function and the iconic sneakers didn't stop MJ from putting on a show at the Garden. He just couldn't wait for the final horn.

"I couldn't take those shoes off fast enough," Jordan said in The Last Dance. "When I took the shoes off, my sock was soaked in blood."