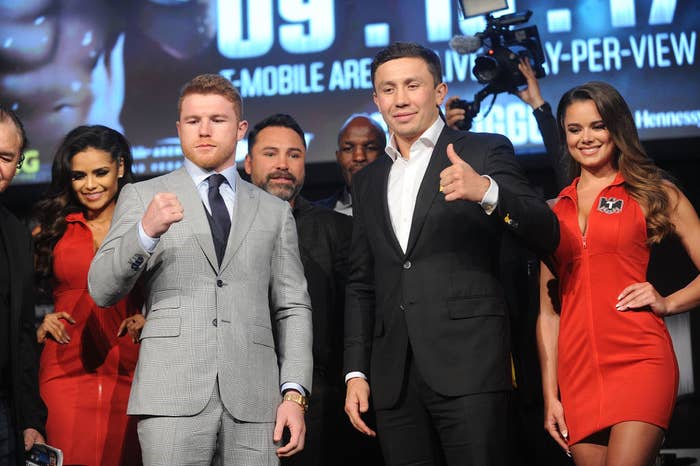 The way Bernard Hopkins sees it, you were robbed.
Floyd Mayweather was the culprit. The scene of the crime was T-Mobile Arena late last month. And the giveaway was the ski mask he wore on his way to the ring.
"I'm from Philly, I know what the stick-up boys look like," says the boxing legend.
While we can argue all day about whether Mayweather-McGregor was an actual fight or a farce—in our humble opinion, it was ultimately more entertaining and satisfying than we ever could have expected—when you ask Hopkins about the summer's biggest sporting event and the $100 it cost on PPV, not surprisingly, he has hot takes.
Because what he's promoting this weekend is more substance than style compared to Mayweather-McGregor and, in the 10-time world champ's estimation, should provide a much bigger bang for your buck.
Boxing's next big event will deliver everything Mayweather-McGregor couldn't when Gennady "GGG" Golovkin and Saul "Canelo" Alverez touch gloves Saturday in Sin City. The best fight the sport can put on in 2017 has all the makings of a classic when two of the most dominant and devastating fighters step into the same ring that hosted Mayweather-McGregor. More than money will be on the line. This weekend we'll find out who is the best middleweight and possibly the best pound-for-pound boxer in the world.
"This fight doesn't need to be over-hyped," says Hopkins. "Canelo and GGG is going to have the world of boxing understanding and recognizing how they got stuck up [three] weeks ago."  
A quick crash course if you haven't been paying attention:
GGG (37-0, 33 KO) is the unified middleweight champ from Kazakhstan who operates like a robot in the ring, barely flinching when his opponents touch him, then pulverizing them with his breathtakingly powerful punches. Before going the distance with Daniel Jacobs this past March, the 35-year-old reeled off 23 straight knockouts. His 18 consecutive title defenses leave him two short of tying Hopkins' record of 20 straight.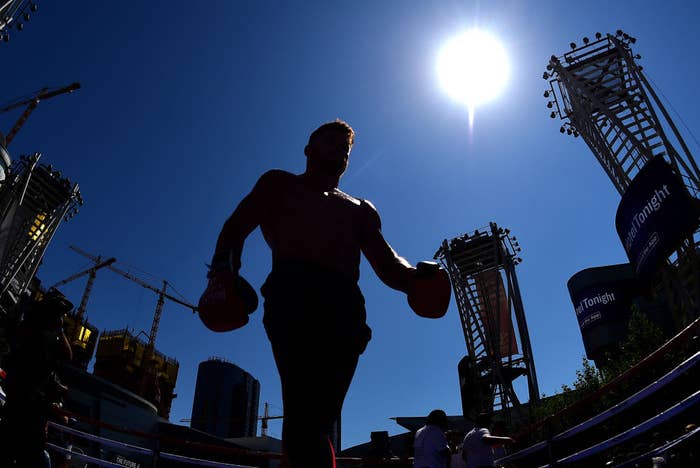 Canelo (49-1-1, 34 KO) is the lineal middleweight champ from Mexico, eight years younger than GGG, whose only professional loss came at the hands of Mayweather back in 2013. Some boxing fans would say he's been ducking GGG, at the behest of Golden Boy Promotions and its chairman and CEO, Oscar De La Hoya. But at age 27, Canelo's more mature and polished, now seemingly ready to take on Golovkin when boxing fans were dying to see the fight as early as three years ago.   
And because boxing matches are all about fighting styles, expect the epic. GGG is ultra aggressive, constantly coming at his opponents and almost always slugging them until they hit the canvas. Canelo is a natural counter puncher who is superbly adept at waiting for the right moment to dodge and duck before unleashing his fury. Both fighters are known for their fireworks in the ring, lighting up adversaries. If you watched Mayweather play coy for a few rounds against McGregor, holstering his fists, expect the opposite from GGG-Canelo. Punches will be thrown from the start.
"I guarantee you when this fight is over with they're going to understand why Mayweather did something he never did in his career and that's come out in a costume," says Hopkins. "When they seen that ski mask they were trying to figure out…no he wasn't trying to be 'The Executioner.' No, he's sticking you up, don't you understand?"
Hopkins, of course, isn't a neutral observer in all of this. One of the all-time greats is a minority owner of Golden Boy Promotions these days. So he has a stake in the fight, and thinks Canelo, a slight underdog in the fight that's basically a toss up in the eyes of bookmakers, will win. Just like De La Hoya, Hopkins has thrown shade at Mayweather-McGregor, basically calling it a farce more than a fight. This Saturday, he guarantees, will be the opposite. "You're going to see history and a good fight," he says. "Probably one of the greatest fights."
The fight won't be as popular as Mayweather-McGregor. Four million people aren't going to buy it (HBO, 8 pm ET, $69.95). There's no crossover appeal, no four-city world tour, no problematic shit talking between the fighters to satiate the "embrace debate" shows.
But GGG-Canelo should be a slugfest; a true showcase for what boxing still can be despite its diminished standing in the sports landscape. Legacies and championships are on the line, and, at its peak, this fight promises to offer the kind of drama you can't get anywhere else in sports. Instead of getting robbed Saturday, the world of boxing and its fans will be richly rewarded.