Following the Mayweather Model, Errol Spence Jr. Wants to be Boxing's Next PPV Star
In the most important year of his career, one of the best pound-for-pound boxers in the world is hoping to take his stardom to the next level.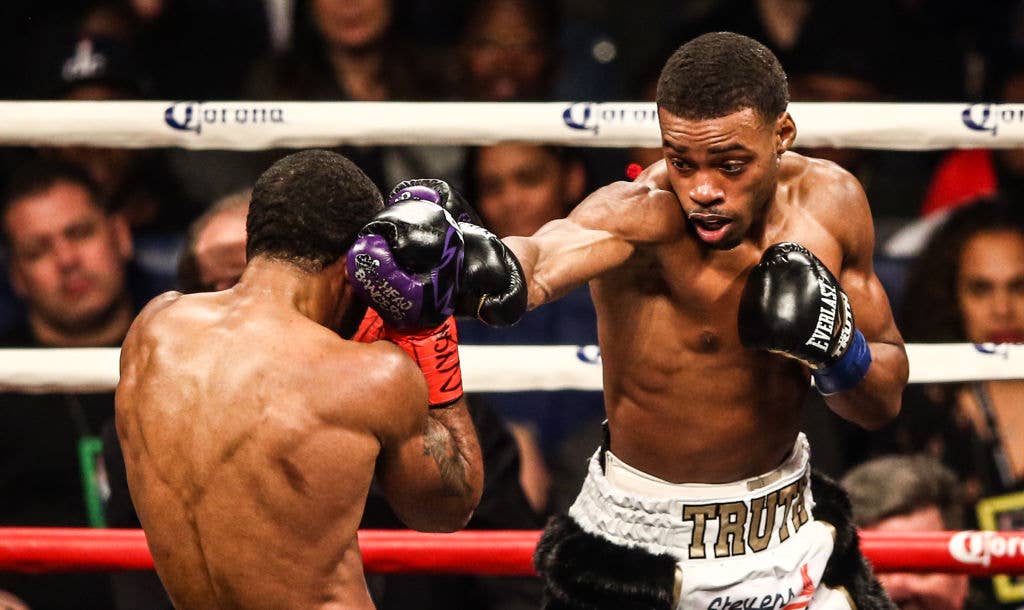 Getty
NEW YORK, NY - JANUARY 20: Errol Spence (white trunks) fights Lamont Peterson (purple trunks) on January 20, 2018 at the Barclays Center in Brooklyn neighborhood of New York City. Spence won in the 8th round by technical knockout. (Photo by Anthony Geathers/Getty Images)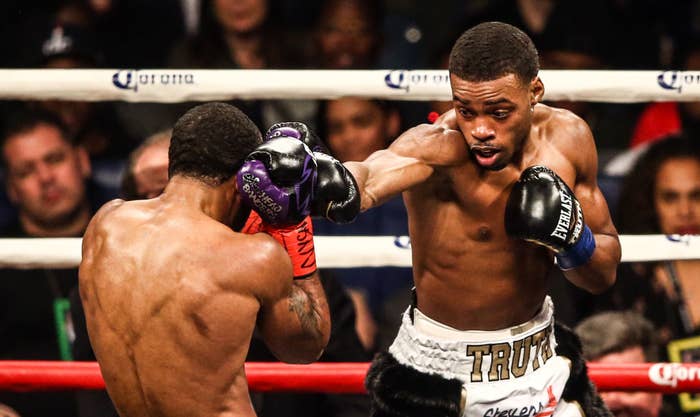 When you block off almost an hour to sit down and chat with Errol Spence Jr., the first question you ask yourself is: How can it possibly go the distance?
For the briefest of seconds, you're almost (and I can't stress almost enough) in the same shoes as the IBF welterweight champion's overmatched opponents. One of the best pound-for-pound boxers in the world hasn't seen the final round of a fight since 2014. He's too good, too fundamentally sound, too devastatingly powerful for his bouts to last all 12 rounds these days. But as much noise as he's generated inside the ring the last few years, outside of it, the 28-year-old from Desoto, Texas, keeps it quiet.
"This man talks with his action," says Lennox Lewis, the former undisputed heavyweight champion of the world. "He doesn't need to do much talking."  
It's an atypical rainy winter day in downtown Los Angeles when Spence, the best boxer in the sport's best division, rolls up to the Presidential Suite of the NoMad Hotel. With only two pals in tow, the reserved and soft-spoken champ, rocking designer duds and an absurdly expensive watch that glistens every time he moves his wrist, doesn't attract too much attention. And that's just fine with him. One of his idols might be Floyd Mayweather Jr., but you'll never confuse the two, since Spence doesn't take social media too seriously, keeps the bragging to a minimum, and almost never calls out another fighter.
But entering the most important year of his career, Spence might have to change his ways. For starters, the mild-mannered pugilist needs to endear himself to a bigger audience than boxing's hardcore fans before his highly-anticipated fight with Mikey Garcia on March 16 at the AT&T Stadium in Dallas. That's because the bigger goal, for him, is to become boxing's next pay-per-view star. "I don't think I've officially arrived yet," says Spence. But entering 2019, he'd like everyone to know he's on "the brink of my superstardom."
"When you watch him you're pleased because he's doing everything you want a boxer of his caliber to do. He can be a really big superstar." - FORMER UNIDISPUTED HEAVYWEIGHT CHAMPION LENNOX LEWIS
If you haven't been paying attention, Spence has rapidly become one of the baddest men on the planet. His fists either put opponents on the mat or make their corners throw in the towel. A southpaw who is bigger than many welterweights, Spence bristles when people label him a brawler because he prides himself on being a well-rounded fighter. He can counterpunch. He's a sound defender. His body work usually leaves his opponents buckled. You see the brilliance as he strategically takes them apart.    
"He's a great fan-pleaser. He's technically gifted and also his ringmanship is solid," says Lewis. "When you watch him you're pleased because he's doing everything you want a boxer of his caliber to do. He can be a really big superstar."
The ironic part is you're not going to find a more docile and genuinely good guy who shuns the flashy lifestyle perfectly curated for Instagram, like Mayweather or Adrien Broner. He doesn't do entourages and the stuntin' is subtle. Sure, Spence's tastes have gotten more expensive as his bank account and notoriety have skyrocketed. His biggest vice is probably his love of watches, but he often rocks $45 joggers with a designer sweater and a massive Rolex. He laughs like a kid at your jokes and admits his sweet tooth can be a problem because right now, a month before he enters the gym to gear up for Garcia, he's not even close to the 147 pounds he fights at. "I could see myself moving down to 160," Spence jokes.
Boxing wasn't necessarily his favorite sport to follow growing up—being of Jamaican descent, he paid attention whenever Lewis had a fight—but Spence grew to love the adrenaline rush of fighting and would count down the minutes until he was done with school so he could train. When he started in his teens, he went to the gym with friends. They all eventually dropped the sport, but Spence's father made sure he didn't. "My dad told me, 'You're not going to quit. You quit at this then you'll quit at anything,'" Spence remembers.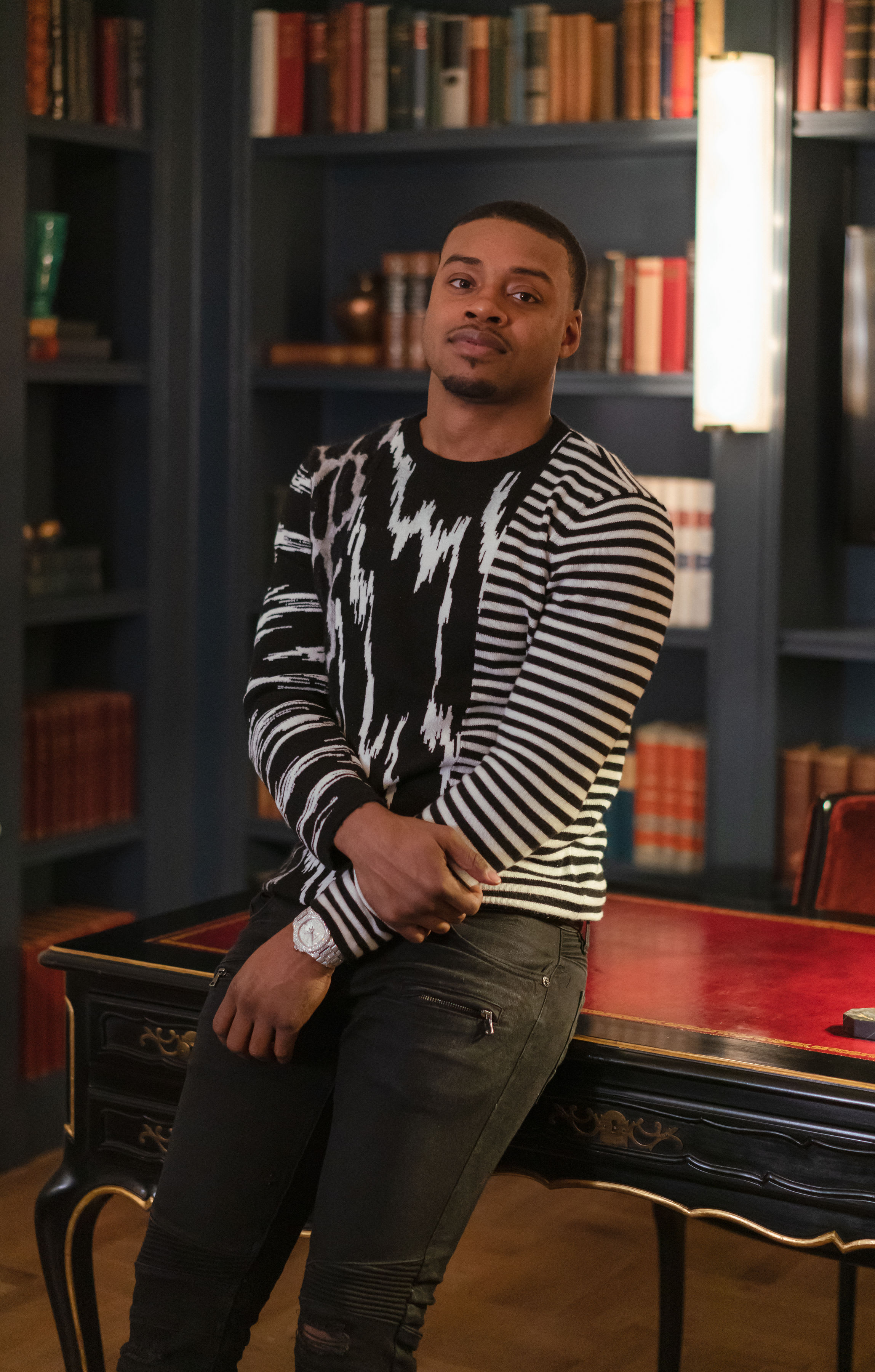 Since then, he's won three straight U.S. National Amateur championships, repped the States in the 2012 Olympics, and captured his first professional belt in 2017, when he stopped Kell Brook for the IBF title. With that, his fame took off. While he has plenty of celebs in his phone nowadays, he's not about that life. "I'm just a guy that hangs around my friends," he says. "I don't really go out with celebrities." But about the one admires...
Floyd Mayweather, the living legend with a 50-0 record, 22 million Instagram followers, and a net worth that's more than mere mortals can fathom (reportedly upwards of $500 million), is one of Spence's idols. He also considers him a friend. To hear Spence explain it, the admiration isn't reserved for the flashy lifestyle Floyd's famous for or the circles he runs in. It's for the work he put in to become one of the greatest welterweights and richest athletes ever.  
"Seeing how this dude has this much amount of money and this amount of stardom, he trains like he's dead broke," says Spence.
Early on in his professional career, Spence lived a dream when he took a trip to Las Vegas in May of 2013 to spar Mayweather. It's kind of become a thing of legend for hardcore boxing fans that the two got in the ring together. Like the man of few words that he is, Spence refuses to divulge what went down. "You spar with somebody, you don't go around bragging, saying I knocked this guy or I gave him a black eye," he says. Mayweather won't spill the tea, either, but he'll tell you Spence brought it.  
"What's crazy is this: He gave me some helluva work," says Mayweather. "He gave me what I needed."
Mayweather's been a sort of big brother to Spence. The two talk on a somewhat consistent basis—although, truth be told, it's Floyd who is usually doing most of the talking. Mayweather imparts his wisdom on the forever fucked up business of boxing and how to properly navigate it.
"He's like a storyteller. He can talk," says Spence. "He tells me a lot of stories about the business side and how they got over him. I'm a listener, anyway. When he talks to me, I'm taking out the good and bad of everything he says. He helps me out a lot. He called me randomly out of the blue the other day. Just to chat, rant. What he does, his cars…I just ask him, 'What do you do all day?' Because I know you're bored."
Spence isn't shy about his desire to follow the Mayweather model of boxing superstardom. While Spence will promote his fights way differently than Mayweather, he's teamed up with the same advisor, the mysterious string-puller Al Haymon, who helped Floyd become Floyd. Sure the television landscape for boxing has drastically changed with more fights than ever on cable TV and streaming services. Doesn't matter. Spence and Haymon agree pay-per-view is where it's at. It made Mayweather staggeringly rich. In 16 pay-per-view fights, many against Latino fighters with huge fan bases, Mayweather generated well over $1 billion in revenue, earning him his "Money" nickname. Spence will likely never come close to those figures because there's only one Floyd and he doesn't have it in him to be something he's not. Spence hates the double standard that still exists in boxing pressuring black fighters to always play the role of villain. Why should he have to talk crazy and act ridiculous just to drum up publicity for a fight when others don't?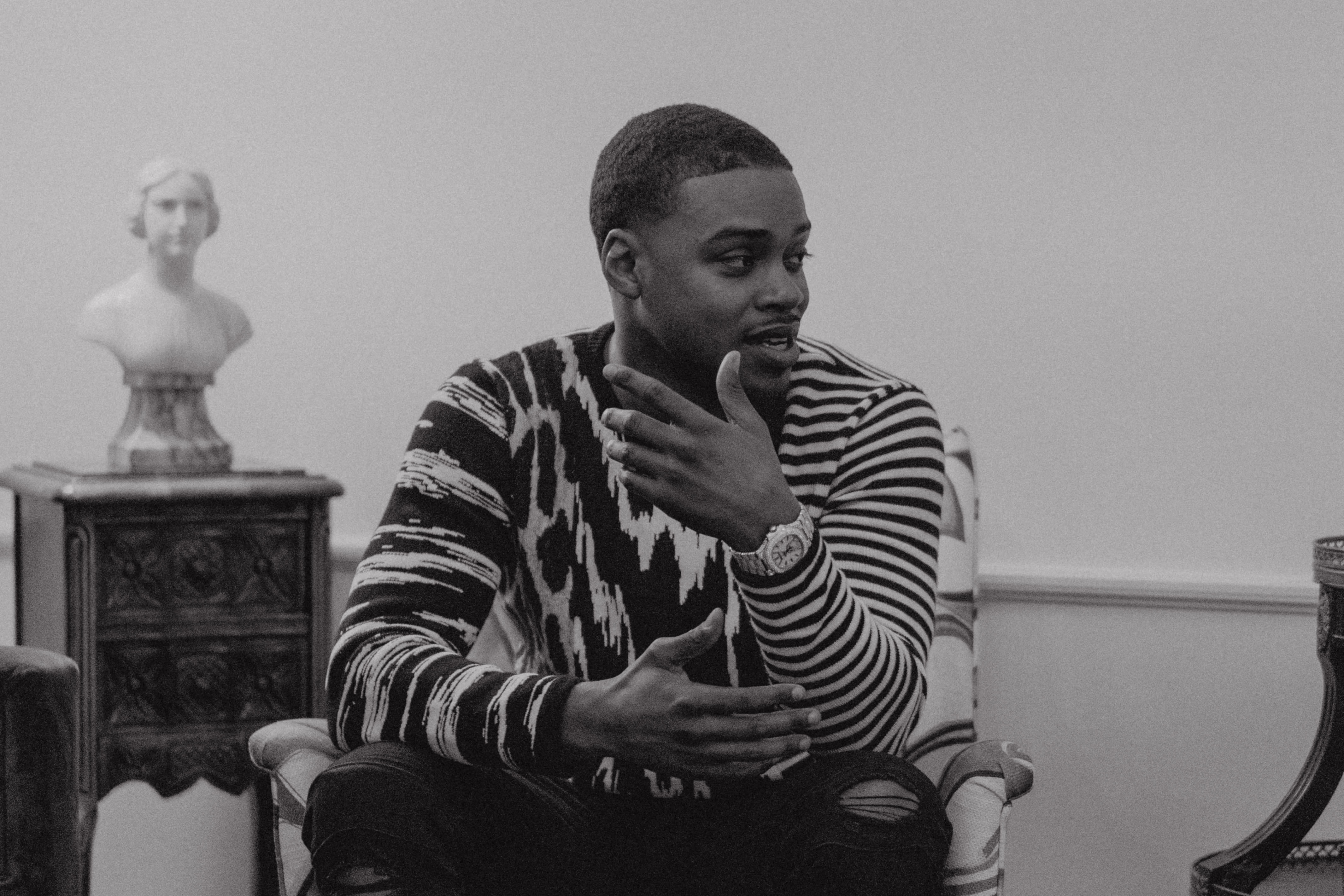 "You look at a guy like GGG [Gennady Golovkin], or you look at a guy like [Vasyl] Lomachenko, they don't talk," says Spence. "Even if you have a white fighter, they don't say he needs to be more brash or need to be more like Floyd. But with a black fighter, it's like he needs to talk, he needs to be more brash, he needs to be more disrespectful."
Of course there's a bit of a language barrier with GGG and Lomachenko, but the point's taken. Spence wants to do it his way. It starts by handsomely headlining his first pay-per-view against Garcia. In a bout between two of the top 10 pound-for-pound boxers in the world, Spence will be favored since Garcia is making the jump up to welterweight from 140 pounds. With Garcia's large Latino fan base and Spence's Texas ties, the two should fill up Jerry's World. It should be wildly entertaining and possibly earn the winner consideration for the mythical pound-for-pound best boxer crown. But how many people will buy a pay-per-view between two guys the majority of casual sports couldn't pick out of a lineup? Floyd thinks he'll be fine.
"I only want the best for Errol Spence," says Mayweather. "Just gotta be smart. Everything takes time. He's got a helluva trainer. Now all he needs is Mayweather Promotions."
Spence has his own promotion company so he's good. But in boxing, the talk is always about the next fight and then the fight after the next fight. Beat the well-respected and highly skilled Garcia and Spence most likely gets a crack at Manny Pacquiao, if Pacman can't secure a lucrative rematch with Mayweather. Keith Thurman is another intriguing option. "I've been wanting that fight since [I was] 15-0," says Spence. Regardless who it is, it'll almost assuredly be on pay-per-view so he can continue to stack his paper—just like Mayweather. Maybe we eventually see a showdown with the sensational Terence Crawford.
"I don't see that being a bigger fight than me fighting Pacquiao or me fighting Keith Thurman," says Spence. "It's not like Terence Crawford is a Floyd Mayweather. I see it being a huge fight if I keep doing what I'm doing. When I beat Mikey Garcia and I either fight Pacquiao, Shawn Porter, or Keith Thurman, and then maybe fight Terence Crawford in 2020."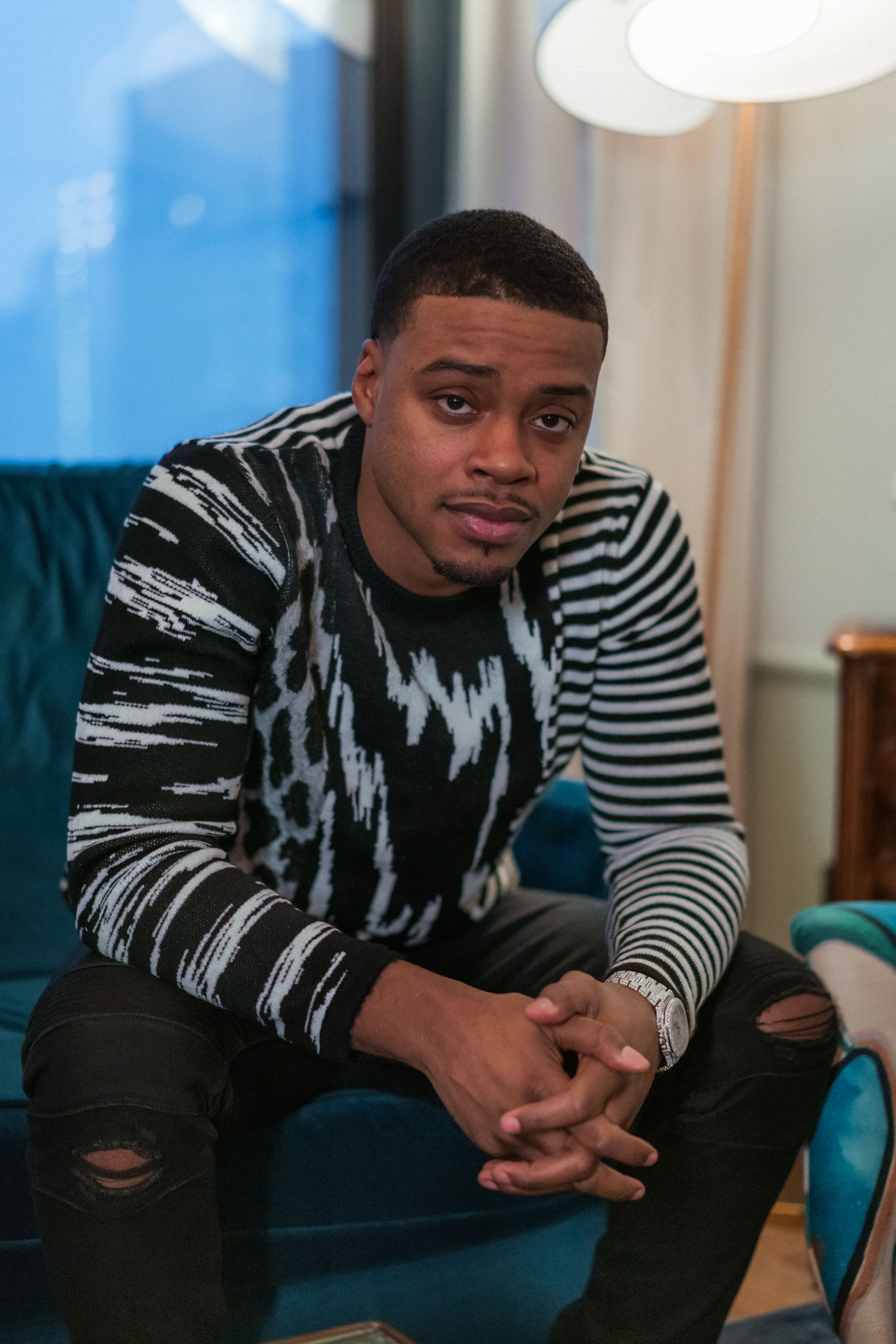 That's music to boxing fans' ears, but the chances of Spence-Crawford happening are slim to none. Now a welterweight, Crawford is among the best pound-for-pound boxers and some have called him the "boogeyman" of the division. Spence laughs when he hears that. The two found themselves in the same arena this past November and a brief verbal sparring session broke out with Crawford, shockingly, doing practically all the talking. "The only reason he's calling me out is he has nobody to fight," says Spence
Which is true. Crawford's signed to Top Rank promotions, which has a deal with ESPN and far less talented roster of welterweight contenders than the Premier Boxing Champions promotions Spence is associated with. Top Rank's boss, Bob Arum, doesn't exactly get along with Haymon, who oversees PBC, so hell would have to freeze over before they fight. Which sucks for the fans. But that's boxing.
The plan, for now, is for Spence to remain at 147 pounds and then possibly move up to 154 then 160. He could see himself ducking out of boxing in as little as four or five years, which is crazy considering Mayweather and Pacquiao are still fighting into their 40s. But Haymon told him from a young age to properly plan for his exit from the sport and he's listened. Still, he can't help but indulge in a little self-care when the time is right.
The third goal of 2019—unstated, but understood—is to unify the welterweight division. And while that's almost assuredly not going to happen thanks to Crawford owning the WBO world welterweight belt, Spence already has his reward picked out. It's another watch. A beautiful new Patek Philippe that can easily cost over $1 million sounds about right. If he's the pay-per-view star he believes he's destined to be, the price tag won't matter.
"It's pretty pricey. I'll get that when I'm the undisputed welterweight champion of the world," laughs Spence