Adrien Broner has a really tough task ahead of him Saturday when he faces Mikey Garcia. But he's also been thinking long and hard about his next fight. And if all goes according to plan, he'd like to lace up the gloves again Aug. 26 when the summer's biggest fight goes down in Las Vegas. 
"If I can weasel my way through this fight without getting touched, no injuries, at the end of August I will fight a Nate Diaz on the undercard. I'm deadass serious," says Broner. 
Always outlandish, and never boring, Broner swears he's not clowning around. He sees the kind of money his boy Floyd Mayweather will reap from his mega fight with Conor McGregor and he wants in. So in the lead up to his super-lightweight bout with Garcia, he seemingly joked about squaring off with a mixed martial arts star who lost to McGregor back in 2016. Only Broner swears he's game if Diaz is down. 
"All I need is four rounds. Come on," he pleads. 
Broner-Diaz isn't happening but Broner-Garcia just might be the best fight of the summer from a boxing purist's perspective. Certainly better than the spectacle that will be Mayweather-McGregor since the fight in Brooklyn at Barclays Center features two skilled boxers with drastically different styles and personalities. 
Before he steps into the ring with the highly respected and skilled Garcia, airing on Showtime starting a 9 pm ET, Broner stopped by Complex to talk about his matchup with Garcia, how he's preparing for this fight differently, his real opinion on Mayweather-McGregor, and how much money he could make fighting Kyrie Irving. Yes, you read that right. Kyrie Irving. 
(This interview has been edited and condensed for clarity.) 
You've talked about how we're going to see a more serious Adrien Broner in this fight. So tell me what that means.
Just more focused and locked in. The performance will tell it all. 
You had some fun at the press conference back in June—you had that funny line, "All respect to the Garcias, but fuck ya'll"—so tell me what kind of respect you have for Mikey and his crew?
It's a lot of respect with Robert Garcia and Mikey. But, you know, this a business and I'm in the hurt business so once that bell rings it is "fuck them."
Garcia said that he has the edge when it comes to boxing skills, technique, timing, and distance. How do you feel about that first and second what edge do you have in this fight ?
I think he's on the edge. That's what I think. He's fucking crazy. He ain't got no edge when it comes to boxing and me. 
Your particular set of skills, what do you have that gives you a distinct advantage in this match?
I don't like to talk about it, man. July 29th I'll show.
You making weight has been a major theme leading up to this fight because of some issues in the past so give me an idea of whether there will be any issues of you making weight at a catch weight of 140.
It's really not a catch weight. Just a solid 140.
Any new wrinkles you're incorporating into the training?
Just staying focused. No shortcuts. 
Would there be any financial penalties if you came in overweight for this one?
I'm not going to come in overweight. 
What is the path to victory?
Staying focused.
You're the more powerful puncher in this one.
I think so. But we'll see July 29th.
And you're a heavy underdog in this one. Why don't you like that? Why are people selling you short?
Probably because of what I have going on outside of boxing, which is fucked up because what goes on outside of boxing you should keep that outside of boxing. Because when it comes to boxing, I'm a bad motherfucker. 
"This a business and I'm in the hurt business so once that bell rings it is 'fuck them.'"
We've covered some of those things outside of boxing that you've done, so how much does it bother you that so much of that coverage comes up with your name?
Nope. Of course, I'm trying to do better and make better decisions and stay in a positive mind frame. None of the stuff bothers me. 
Do you think you have more people rooting for you now because of your antics, because many people champion your outlandish personality? Or do you think you have more people rooting against you?
With me and my persona, the way I carry myself in the boxing game, I just take the bitter with the sweet. I've got people that love me, I've got people that like me, and I've got people that hate me. It's a gift and a curse, but I've just got to keep everything bottled up. 
Is it easy to get distracted?
It is on this level. Fame, the money comes, lifestyle change. Everything changes. You just have to keep your eyes on the prize. 
You came out with Kodak Black your last fight. Who are you coming out with Saturday?
I have a couple of crazy ideas. If I run them by people they'll say stuff that will make me change my mind. I like nobody knowing. It's all about entertaining. That's was boxing is.
On Instagram, you're boys with a lot of rappers. Who are you closest to?
Lucci, A Boogie, Meek, Ross, me and Waka actually very close. My brother, Durk. He's actually one of the closest to them. Mostly all of them will be there. I'm very close with French, too. Kodak. I'm close to everybody.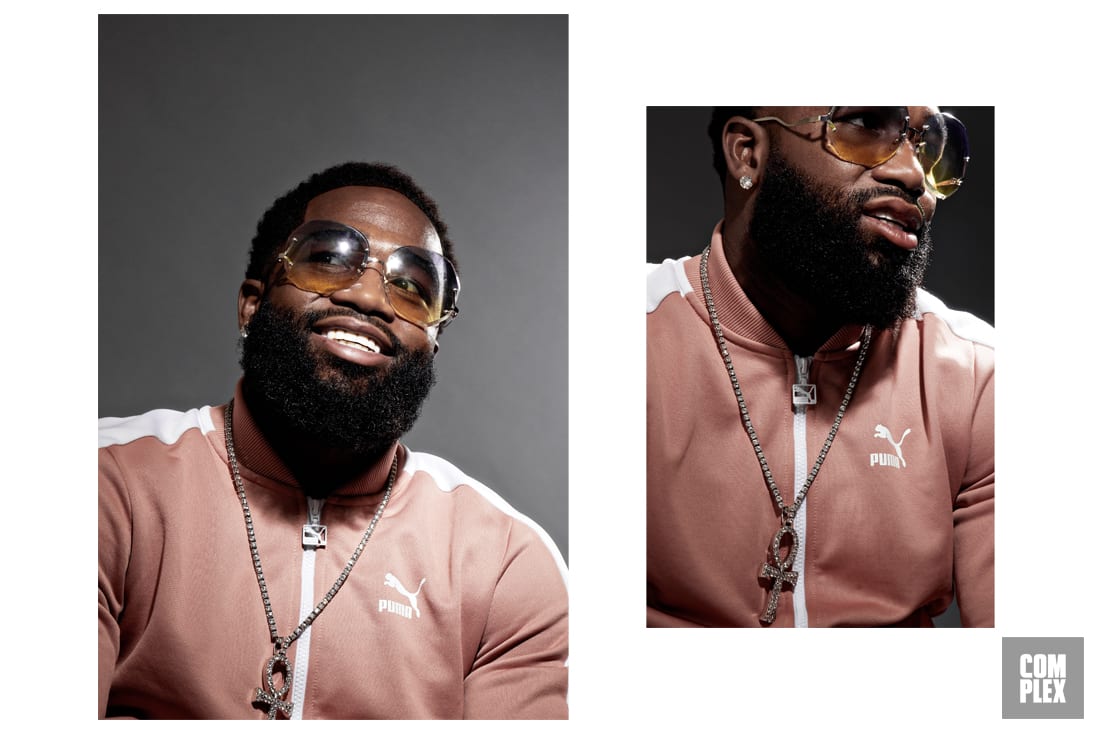 Everything's cool with you and Floyd right now?
He called me when I put that video up of me sparring. He was like, "Man, you're sharp as shit." He's like, "Don't show 'em too much." 
Do you feel differently coming into this fight compared to others?
I've started back jumping rope and the speed bag. I haven't jumped rope and done the speed bag since I was a kid. 
You had that Instagram post with you playing basketball with Floyd. Who as the better game?
Me. Of course me.
You can take him off the dribble?
What? That's not even…I don't care if he was my age, he couldn't one-on-one guard me. I've got game.
So what's the basketball scouting report on Floyd?
He's very sneaky. He's going to get every call. He's going to cheat. That's why I like being on his team. You get every call. He just gets his way. I love being on his team. When he plays basketball, everybody's like, "Oh my God, that's Floyd." So they don't really play defense. They let him go to the rim, if he missed, let him get the rebound. I don't care if I'm 6'8", let him get the rebound and put it back up. But I'm so good and the people I play with, we really play. I'm in a real game. 
What do you think about Mayweather-McGregor?
Do you want my answer to help the promotion? 
Well, I can ask it another way: Is it good for boxing?
In my eyes, no. From a boxer's point of view, it's a joke. I'm happy for Floyd. I promise to God that I'm happy for him to get away with it. They're going to give him hundreds of millions to fight a guy that's never boxed a day in his life. I'm just like, can I get some of this money? Congrats, Floyd. You're blessed. 
How long is Mayweather-McGregor going to last?
However long Floyd want it to last. If he wants to stop it in the first round, he can stop it in the first round. 
If you're an casual sports fan or casual boxing fan, would you buy that PPV for $100?
Yes. Not to watch the fight. I would buy it to see if McGregor is going to kick him. Let's say he elbows him or kicks him and knocks Floyd out. Then he knocked Floyd out. I'm just saying, let's say Kyrie Irving picks up boxing one day then we can make a mega-fight. 
What percentage of the cut would you give Kyrie?
Probably 80-20. It would be the most he ever made in one night. 
Back to you. The one message you want boxing fans to know heading into this fight?
This AB ain't about billions this fight. I'm about boxing.