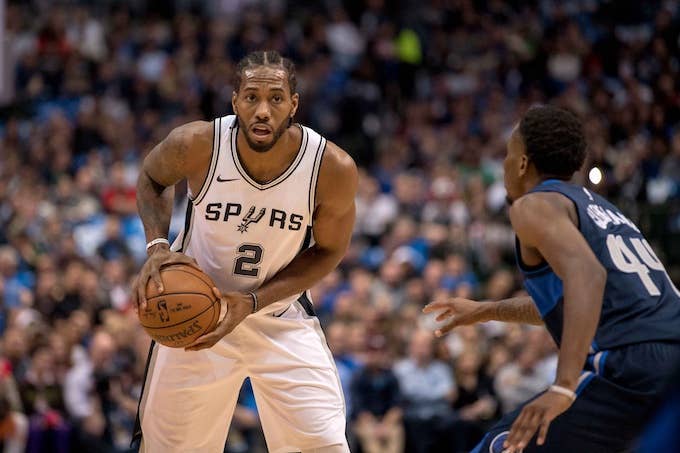 Though the Los Angeles Lakers were the frontrunners to land Kawhi Leonard not too long ago, the Philadelphia 76ers have recently gained steam and become the likeliest apparent suitor for the disgruntled star. The trade talks between the Spurs and Sixers have hit a snag, however, because the Spurs reportedly "keep trying to raise the ante."
This bit of information comes from Keith Pompey of the Philadelphia Daily News.
"The Spurs keep trying to raise the ante for Leonard, saying that another team is offering more, according to sources," Pompey writes. "The Sixers' most realistic package to submit to San Antonio could involve Dario Saric, Robert Covington, and the Miami Heat's 2021 unprotected first-round pick. However, the Spurs want two players—again, believed to be Saric and Covington—and three future first-round picks."
That's quite a lot to ask. But then again: consider what San Antonio was reportedly hoping to receive from the Lakers: Brandon Ingram, Kyle Kuzma, Josh Hart, two first-round picks, and two pick swaps. 
Lonzo Ball's name has also been mentioned in trade rumors, but it was recently reported that he has a torn meniscus—a piece of news that the Lakers reportedly believe came from Lonzo's camp, as the Balls don't want Lonzo to be traded.
It's no secret Kawhi once (like, earlier this summer) really wanted to join the Lakers, but his interest in the team appears to have dropped since LeBron James announced he was joining L.A. Kawhi, pundits have noted, may now be more interested in joining the Clippers or Sixers.