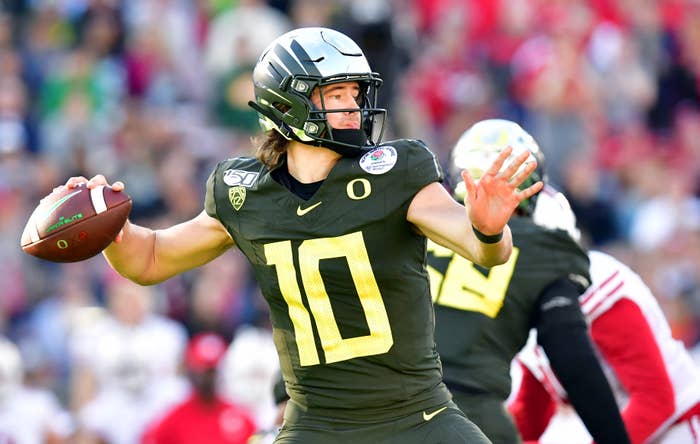 Following the buildup of perhaps more anticipation than ever before—given the state of sports—the NFL Draft will commence Thursday and run through Saturday. 
Some outcomes seem like givens. The Bengals, at No. 1, are practically a lock to take QB Joe Burrow. It would also be shocking if new coach Ron Rivera and the Redskins (No. 2) passed on Ohio State pass-rushing force Chase Young.
But what will happen after that is anyone's guess. Will Tua Tagovailoa, despite his injury history, be the next QB off the board—and, if so, when? Or is Oregon's Justin Herbert really rising on draft boards? Will a team desperate for a QB move up? What will the Dolphins do? Could the Patriots, Saints, or Packers go for a QB?
These are just a few of the questions circulating around the NFL cosmos as we speak. Here's the latest intel on the biggest draft rumors.
Lions dealing No. 3?
The Detroit Lions hold the No. 3 pick in the draft, which could mark when things start to get interesting.
Prognosticators have speculated the Lions have their eye on Buckeyes corner Jeff Okudah, but according to an ESPN report Friday, Detroit is considering trading the pick. Lions GM Bob Quinn said he won't be making his decision while on the clock.
"I've had a few of those conversations over the last week or so. Had a few of those conversations, honestly, as far back as the combine," Quinn said. "And then there will be more substantive talks next week if people are interested."
He continued: "If I'm going to do something, I think we'll have a pretty good idea Thursday afternoon of kind of where we stand. I don't think I'm going to be making a huge decision on trading the No. 3 overall pick while I'm on the clock, while I'm virtually talking to our head coach and our other personnel."
Dolphins passing on Tua?
It's been widely expected for a long time that the Dolphins, who have three first-round picks and 14 in total, are eyeing Tagovailoa. But injury concerns continue to follow the former Crimson Tide QB, despite claims of a clean bill of health.
According to Adam Schefter, the Dolphins tried to set up a visit with Tua prior to the NFL's ban on teams meeting with prospects, but they were unsuccessful. Thus, they couldn't fully inspect his medicals.
There is growing speculation that Oregon's Justin Herbert is also a strong consideration for Miami, which has the No. 5 pick.
"They're both interesting kids," Dolphins GM Chris Grier said during a conference call. "I've gotten to know both of them through this process. They're really good people."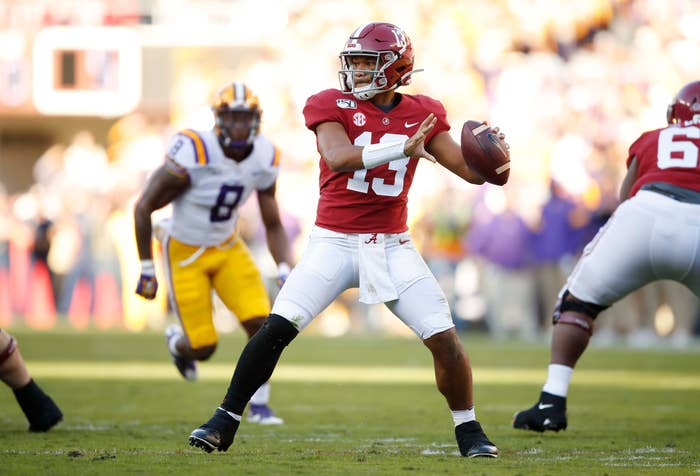 Mel Kiper's latest mock draft has Herbert going to Miami at No. 5 and Tua slipping to the Chargers—who parted ways with Philip Rivers this offseason—with the next pick.
There's also the potential that the Dolphins address another position (say, offensive tackle) at No. 5 and then use their later first-round picks (Nos. 18, 26) to pick a QB.
Pats picking Brady's successor?
Jarrett Stidham, whom the Pats took out of Auburn in the fourth-round of last year's draft, is expected to start for New England in Year 1 of the post-Tom Brady era. But he could have some competition from both Brian Hoyer and another young signal-caller.
On a conference call Monday, Bill Belichick didn't commit to a starter for the upcoming season and had some nice things to say about the incoming rookie QBs. He said it is "an interesting group" and "probably one that has some decent depth to it."
The Pats have the No. 23 overall pick but 12 selections in total, so they certainly have the ammunition to move up if they want. There is potential for them to stay put and take Jordan Love out of Utah State or Herbert.
"There are always a variety of things you have to try to put together and look at," Belichick said. "Certainly there's a lot of interesting players—guys that have really good arms, can really throw the ball. Some really athletic players. Some players that have won a lot of games and shown their competitiveness and instinctiveness."
Saints or Packers looking for their next QB?
New England might not be the only longtime contender searching for its next franchise QB. Drew Brees is headed back to New Orleans and Aaron Rodgers to Green Bay, but the Saints or Packers might look to take a QB in the draft.
According to ESPN's Jeremy Fowler, those are two of the teams considering Love, who has generated polarizing opinions (kind of like Josh Allen in 2018). Fowler adds that sources have told him the Patriots, Dolphins, Redskins, and Chargers are also in the mix. The team that Kiper has selecting Love, the Raiders, is also presumably in that group.
The Raiders own pick No. 19. New Orleans has the No. 24 pick and Green Bay is at No. 30.
Rogers is 36. Brees is 41 and already reportedly lined up to join NBC Sports once he retires. 
Falcons, Broncos looking to move up?
Denver has the No. 15 pick and Atlanta is at No. 16, but there's noise that both teams are looking to get up higher in the order.
Reports are the Broncos are in talks with the Browns, who have the No. 10 pick. The Broncos are rumored to desire another budding receiver to join Courtland Sutton and Drew Lock.
Meanwhile, the Falcons recently released Desmond Trufant and are reportedly looking for a new corner—in particular, they could have their eye on Florida's C.J. Henderson. 
NEW episode of Load Management w/ the legend

@RapSheet

!

He joins the crew to discuss:

- Tom Brady's decision

- Worst fans on NFL Twitter & the trolls

- Getting big scoops & what your favorite team might do in the next couple weeks.

Episode:

https://t.co/uPA8I0ktTJ pic.twitter.com/V9RpZ3czmD
Jets pass on top wideout?
The Jets have the No. 11 pick in a draft loaded with potential star wideouts. According to ESPN's Rich Cimini, "the Jets could have their choice of any wideout in the draft, but the sense around the league is they are leaning toward an offensive tackle."
This would make sense given the team's struggles to protect QB Sam Darnold. Kiper's mock draft has the Jets taking Alabama tackle Jedrick Wills Jr., as the top two tackles—Mekhi Becton and Tristan Wirfs—are expected to already be off the board. 
If all three top tackles have been selected, however, the Jets could take the flashier route and pick CeeDee Lamb, Henry Ruggs III, or Jerry Jeudy, all of whom are expected to be game-breakers.
Kiper has Lamb as his top WR, but Cimini reports that "the Jets' scouts have been smitten with Ruggs and Jeudy since the fall."
Swift the next McCaffrey?
Listen up, fantasy managers (particularly those of you in dynasty leagues).
Georgia's D'Andre Swift is projected to be the first running back off the board, though he could slip to the second round and some think OSU's J.K. Dobbins should go first. In a recent interview with ESPN's Maria Taylor—conducted remotely, of course—Swift compared his skillset to that of Panthers all-world RB Christian McCaffrey.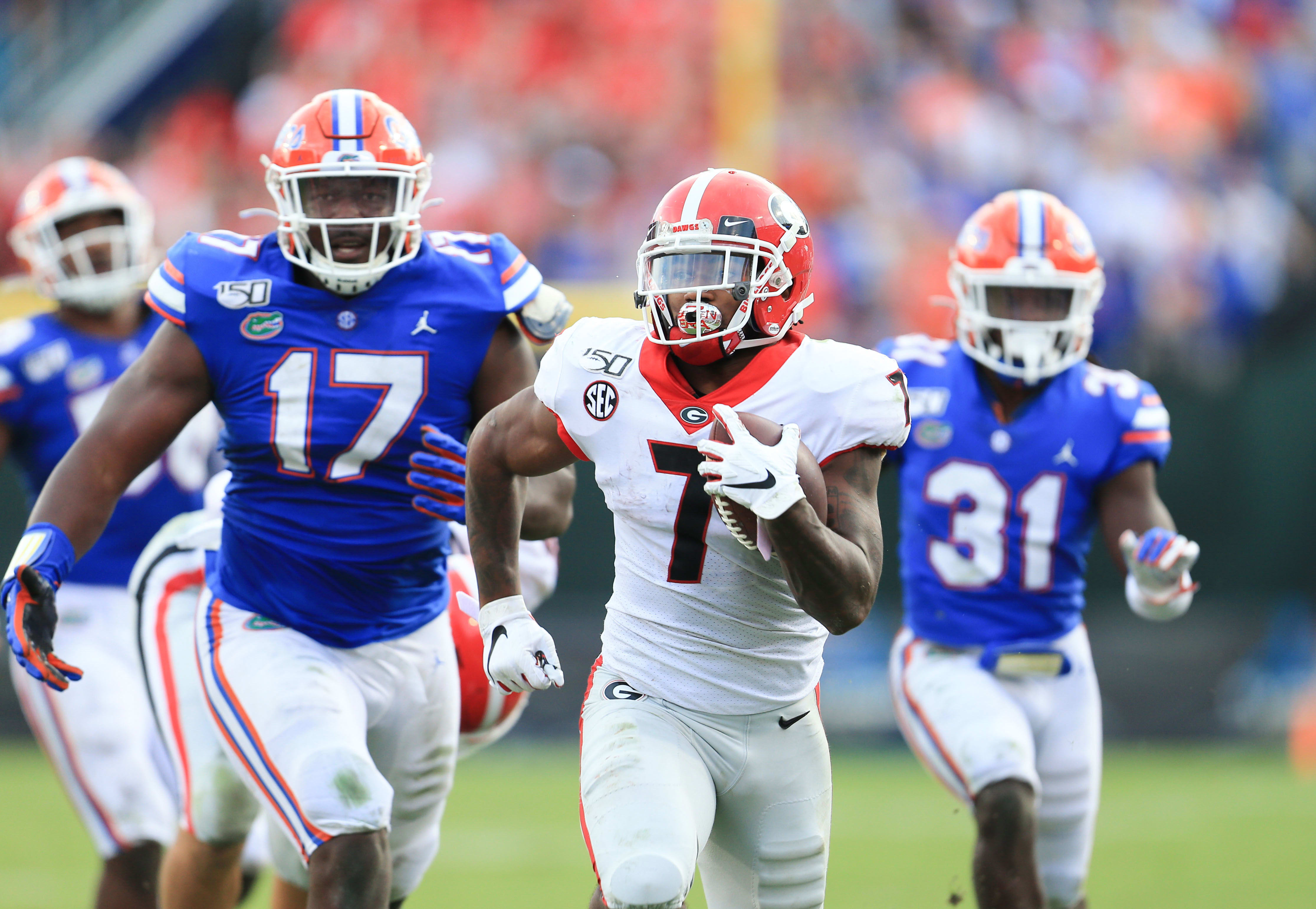 "God blessed me with a lot of ability," Swift said. "My versatility, just being able to do lots of things, whether that's running inside, outside, picking up blocks, getting to the slot...I could definitely be used how Christian McCaffrey is being used: being put in space, being put in position to win. I think they use him in real smart ways."
Kiper has Swift going to the Chiefs at No. 32. If this guy really is the next McCaffrey and he teams up with Pat Mahomes and that KC offense...hoo, boy!
Dalton Back to Cincy?
The Burrow-to-Cincy train has seemingly left the station. Given that he's all but certainly being replaced as starter, Andy Dalton—the team's second-round pick in 2011, marking the last time the team spent a first- or second-rounder on a QB—seemed to clearly be on his way out. But so far, the Bengals haven't found a trade partner.
And in a recent interview with NFL.com, the former TCU QB said there's a possibility he could come back to the Bengals.
"I truly believe they want what's best for me, but I understand it's a business, and you know how that goes," Dalton said. "With the first pick, if they take a quarterback like everyone expects, that could trigger something. There's even a scenario where I go back there."
The Bengals don't have the cap space to pay Dalton the $17.7 million he's owed in 2020, and he had previously said he's focused on being a starter. But maybe he's realized that isn't in the cards; maybe they'll restructure that deal and bring Dalton back to mentor Burrow. Maybe the two will even compete for the starting role.
49ers Trading Dee Ford? 
This one is a bit of a surprise, but it looks like the 49ers might be open to trading Dee Ford. Per Michael Lombardi, the team has made both Ford and Kwon Alexander available via trade. This is a bit surprising since they're coming off a Super Bowl appearance, but John Lynch has proven before that he knows what he's doing. 
Giants Have Met With Justin Herbert
The NFL Draft is all about smokescreens and the Giants are clearly trying to drive up some interest in thier 4th pick with the report that they've met with QB Justin Herbert. Dave Gettleman has already said he's open to trading back and this is just another indication that they're ready to deal.