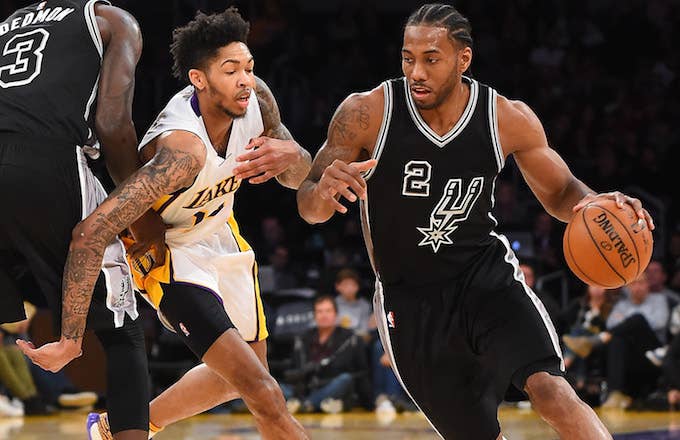 At different points of the Kawhi Leonard saga this offseason, it seemed the San Antonio Spurs superstar would definitely head to either the Los Angeles Lakers or the Clippers. Though the Toronto Raptors ended up acquiring Kawhi in a deal centered on the disgruntled star and DeMar DeRozan, Leonard may still eventually end up in Los Angeles.
He is only under contract for one more season—he has a $21 million player option next summer—and it appears likely his heart is still set on Los Angeles.
"Most around the league still expect that Leonard will look to return home to Southern California, either to join LeBron James with the Lakers or bring his star power to the Clippers," writes Sean Deveney of Sports Illustrated.
Kawhi is from Los Angeles and attended college at San Diego State. He made it clear he wanted to be traded to a warm climate—preferably the Lakers—but the Spurs did essentially the exact opposite, shipping him to Canada. Pop is not to be messed with.
The Spurs and Lakers engaged in trade talks, but San Antonio reportedly asked for too many of the Lakers' promising young pieces in return. L.A., of course, signed LeBron James, and per a new report, LeBron's camp is very high on Brandon Ingram, who was considered the centerpiece of a possible deal with the Spurs. Perhaps for that reason, Rob Pelinka and company elected to back out of the negotiations.
The Spurs also reportedly had a massive asking price from the 76ers, who also backed out.