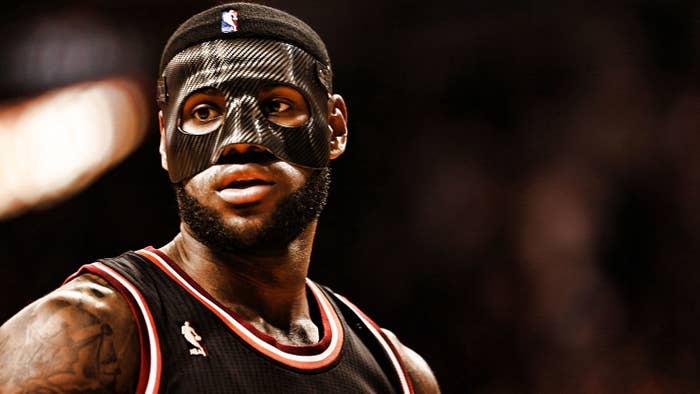 Since LeBron James entered the NBA twenty years ago, he has consistently wowed crowds with his world-class athleticism, explosiveness, and power. The man isn't just an elite basketball mind but also a physical marvel, a specimen at 6-foot-9, 250 pounds who can still jump out of the gym and could probably perform thrusters with Zion Williamson for reps. At 38 years old, he's averaging nearly 30 points a game this year.
Impressiveness aside, a growing chorus of ex-players have suggested that he was nobody worth worrying about during their times in the league. For example, James' former Miami Heat teammate Mario Chalmers recently drew headlines when he boldly claimed that "Nobody fears Bron."
Chalmers said opponents are not intimidated when they think about playing against James, contrasting it with the way opponents felt about facing Michael Jordan in MJ's heyday.
"You hear anybody from that era talk about going against Jordan, there's a fear," Chalmers said.
Chalmers isn't alone in holding that opinion among former NBA foes. Gilbert Arenas said LeBron isn't feared because he's an "all-around player" instead of merely an explosive scorer. Chandler Parsons said he was more fearful of guarding Kevin Durant than LeBron. And Shaq said "nobody was ever scared of LeBron."
These testimonies notwithstanding, there is video evidence of James at least occasionally eliciting fear in opponents throughout his career. We've seen multiple examples over the years of players cowering away from the league's top dog. Given how much pestering and physical abuse he has endured—there was a stretch between 2005 and 2016 where he spent every season among the NBA's top 10 free throw attempters—it's a wonder we've never really seen him lose his cool…and his opponents are probably lucky.
Below, check out seven times LeBron James was genuinely frightening on the court.
Chris Paul Makes a Business Decision
Run, Lonzo!
John Lucas Never Stood a Chance
Taking Souls for the Redeem Team
Austin Rivers Makes it Clear He Didn't Mean It
Switch!
I'll Take The Jumper, Thanks