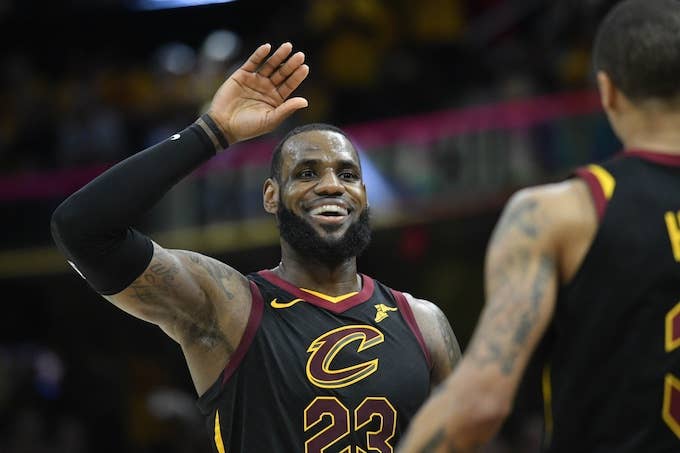 LeBron James is not only the most gifted basketball player, and perhaps athlete, we've ever seen. He's also a hoops savant. Thus, he probably had the same thought we all did for most of this NBA season: this year's Cleveland Cavaliers squad is too inconsistent to compete for a title.
They're clicking, however, at the perfect time. Cleveland swept the East's No. 1 seed, the Toronto Raptors, emphatically closing out the series with a 128-93 beatdown in Game 4 Monday night.
Cleveland.com's Joe Vardon noted that after the game, LeBron discussed competing for a title—for the first time in months.
LeBron just mentioned competing for a championship. Can't remember the last time that happened
"We're excited about being part of the Eastern Conference Finals once again and having an opportunity to compete for a championship," Bron said. "That is what our goal is, so we are excited about that, we're humbled about it, and we're going to continue to get better throughout this week."
Of course, just two weeks ago it looked like the Cavs could fall in the first round to the Indiana Pacers, who pushed the series to seven games. Few expected, even with LeBron's historic dominance of Toronto, that Cleveland would cruise into the Eastern Conference Finals. LeBron's supporting cast stepped up in the second round, but his Herculean performance remains the primary reason they've made it this far. He's won over even his harshest critics.
LeBron James is playing the best all-around offensive basketball of his career.
Cleveland will likely square off with the Boston Celtics, who lead Philly 3-1. Game 5 of that series will take place Wednesday at 8 p.m. EST.