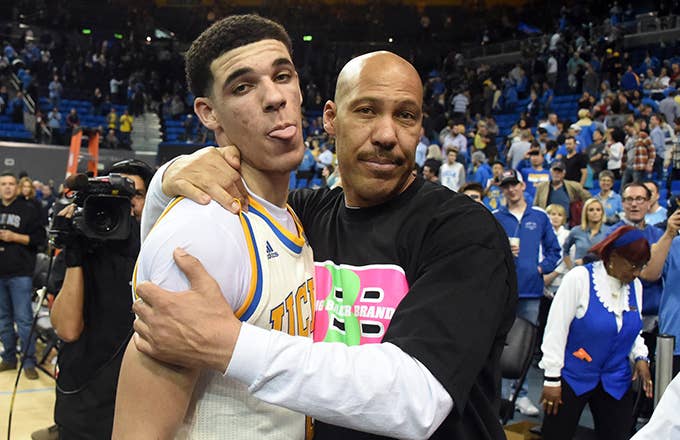 LaVar Ball has become a household name among sports fans in the past few months because his oldest son, Lonzo Ball, has been tearing it up as a freshman guard at UCLA. LaVar has three sons—his other two sons, LiAngelo and LaMelo, are both in high school and have both committed to attend UCLA.
As you probably know by now, LaVar is a larger-than-life figure. He's said audacious things about Lonzo like "my son will only play for the Lakers" and "Lonzo should be No. 1 because he's the only player in the draft that could make everyone else around him better."
The dude thinks big and believes in his sons.
LaVar's next "did he really say that?" quote comes courtesy an SC Featured video narrated by ESPN's Scoop Jackson.
"I've told my boys this: Somebody gotta be better than Michael Jordan," LaVar says. "Why not you?"
That's right: LaVar thinks his kids could be better than the G.O.A.T. LaVar has already said he thinks Lonzo is better than two-time reigning NBA MVP Stephen Curry, but now he's mentioned his sons in the same breath as His Airness. That's some real confidence. 
Does LaVar seem like an overbearing father? Definitely. But it also seems like basketball is the boys' life and something they really enjoy.
Regardless of how you feel about LaVar's parenting, it seems inevitable that these kids are going to be dominating in the NBA soon enough. Will they go down among the best ever? There's a lot of ball left to be played before we'll have any idea.
Go check out the documentary. It's worth 7 minutes of your time.