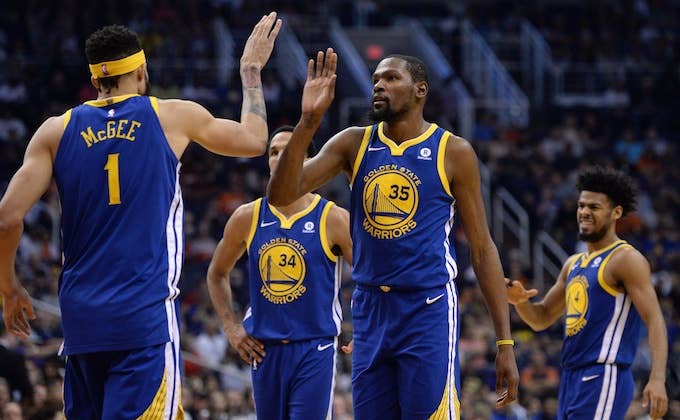 The Golden State Warriors' front office and Kevin Durant sent a message to the league last summer: we're in this thing for the long haul. The Warriors shelled out cash for Durant, but not as much as one would expect—he accepted a two-year, $51.25 million deal, though he clearly could have garnered a max contract elsewhere.
The contract included a player opt-out provision after the 2017-18 season, and it appears Durant will exercise his option. ESPN's Chris Haynes has reported Durant will restructure his deal with Golden State this offseason.
"A nine-time All-Star and the reigning NBA Finals MVP, Durant will be turning down a salary of $26.2 million, a figure well below that for a player of his caliber, in order to restructure a new deal with the Warriors, sources said," Haynes reports. "It has yet to be decided what contractual route Durant will take, sources say, but there are no real incentives—for himself or for the team—to take such a drastic reduction in pay this time around."
Durant could very well be looking at a four-year, $158 million contract—or something shorter if he wants to afford himself more flexibility.
Durant, who won the 2014 NBA MVP with the Oklahoma City Thunder, signed with Golden State in July 2016. He went on to help the Warriors win the 2017 NBA title, and he was named Finals MVP.
He's having a great season this year, but he hasn't been at peak form. In 68 games, he is averaging 26.4 points, 6.8 rebounds, and 5.4 assists per game. Perhaps most impressively, he's protecting the rim for Golden State and averaging 1.8 blocks per game.