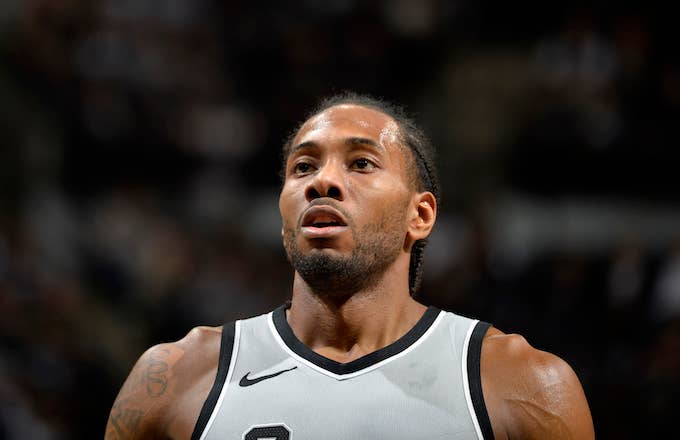 The San Antonio Spurs' season came to an end Tuesday with a 99-91 loss to the Golden State Warriors. The defending champs finished off the Spurs in five games, and it was surprising that the series even went that long.
As expected, Spurs star Kawhi Leonard did not play in the series. Kawhi, nursing a quadriceps injury, has played in only nine games this season. He wasn't with his team in the playoffs, as he is working toward recovery with his own team of doctors in New York.
Many believe that Kawhi's time in San Antonio is coming to an end, but no one seems to really understand what's exactly going on. A new report from Frank Isola of the New York Daily News, however, may shed some light on this weird situation. Isola quotes a "rival executive" who says Leonard wants coach Gregg Popovich and the Spurs organization to "tweak" the way they do things.
"From what I understand, he wants Popovich to lighten up a little with practice and tweak some things," the executive is quoted as saying. "The Spurs may not want to change their ways, but this is Kawhi Leonard we're talking about."
In his piece, Isola advocates for the New York Knicks and Brooklyn Nets to take a long look at Leonard. Other rumors have linked him to the Boston Celtics and Los Angeles Clippers.
He is, however, under contract for one more year, and the Spurs have the opportunity to offer him the most money with a "super max" deal worth $219 million. Will he stay or go? It will be fascinating to see how this plays out in the offseason.