The good vibes, the chumminess, the good-natured verbal jabbing we heard from Tyson Fury and Deontay Wilder leading up to their fight in 2018 that ended in a draw? Remember those? Yeah, they're long gone.
Instead, as we inch closer to the most highly anticipated rematch since Canelo-GGG II, pointed trash talk and extremely bad intentions have dominated the rhetoric between the undefeated fighters.
Wilder, the charismatic Alabama native with hammers for hands, thinks Fury, the gregarious and quick-witted giant from the UK, is nervous and a fugazi champ since he never heard anybody call themselves the lineal heavyweight champion before. Fury, who beat the man who used to be the man (Wladimir Klitschko) in the heavyweight division in 2015 to earn the mantle of lineal champ, is only kind of joking when he says Wilder needs to watch out when and where he shouts his signature "BOMBZ SQUAD" sound bite.
"One of these days he's going to scream it behind me and I'm going to turn around and swing at him with a right hook and knock him out," says Fury.  
But can Fury (29-0-1, 20 KOs) knock out the knockout artist when it really matters—in the ring—February 22 (FOX & ESPN+ PPV) in Las Vegas? That's the Gypsy King's intentions when he squares up with Wilder (42-0-1, 41 KOs) in the biggest heavyweight bout in 18 years.
"This time I want to knock him out and nail him to the canvas," says Fury.
Before a special promotional appearance at FOX Studios in Los Angeles this past weekend, we sat down with Fury to ask why the rematch feels different from the first fight, how he plans to beat the WBC heavyweight champion of the world, and if we'll see him back in the WWE for WrestleMania.  
(This interview has been edited and condensed for clarity.)
"Before, I wanted to give him a boxing lesson. This time I want to knock him out and nail him to the canvas. Having that mindset has already changed the fight completely."
Deontay has said there was a different energy around this fight. Do you feel the energy is different?
Yes. I think this is a lot more serious this time. I think both fighters are taking it a lot more serious. They know what they're in with since they've already been in with the guy before. There's not much laughing and joking this time. It was all a big game last time. We were both having fun last time. We know this time it's going to be deadly serious. No time for fun and games.
There was a narrative in the first fight that you both deep down liked each other. At one point, you even said you wanted to get a beer with Deontay after the fight. Do you think there's still affection between you two?
I don't know him as a person. I've never met him for a beer. I only know him as a business associate. As for anything else, it doesn't go any further than that. There's no personal relationship between us at all. Zero. Zero.
Deontay has described you as nervous. Why would he describe you as nervous?
No idea. I suppose it's something for him to say to make him sound more intelligent than he actually is. Or a lot more intelligent than he looks, that's for sure. He's got to say a few things to sell this fight because he's a big stiff so he's got to do more than just stand there and look pretty.
You said this is the most important heavyweight fight since Mike Tyson and Lennox Lewis in 2002. Tell me why.
Because you have two undefeated giants and two guys putting it on the line that's in their prime. You rarely see this, especially in the heavyweight division. Usually one guy is past his best. Just like when Tyson fought Lewis. Lewis was probably in the prime of his life and Mike Tyson was over the hill. He's 34, I'm 31, we're both active, both winning. It's a fantastic time. One British. One American. One WWE superstar. One big-mouth lunatic. Does it get any better than that? Both controversial characters, out-spoken. Do I need to continue?
What are the fans and media making a bigger deal out of that they shouldn't?
I have not see anything made a big deal. Depends on what you consider a big deal.
Well, if people are going to continue to ask about you not taking headshots while sparring or hiring a new trainer.
I think that's quite ludicrous, don't you? I don't think there's been much made about [sparring]. People ask about the trainer thing, people ask about the cut healing. It's about even, to be fair.
Will it be weird not taking those shots while sparring?
Not really since it's a natural thing to punch a man in the face when you're in a boxing ring. Even if you don't spar to the head at all ever, as soon as you get into a real fight the first thing you do is go and punch him in the face.
There are different theories in boxing about who has the advantage in a rematch. Why do you have the advantage in the rematch?
I don't think it matters whether you've had a rematch or it's the first fight or the third. Different fight, different night. You never know what you're going to get in there with an opponent. We saw the [first] fight with Rocky Balboa and Clubber Lang [in the 1982 movie Rocky III]. Second one was totally different. You never can tell what's going to happen in a boxing ring. That's why it's a fascinating sport.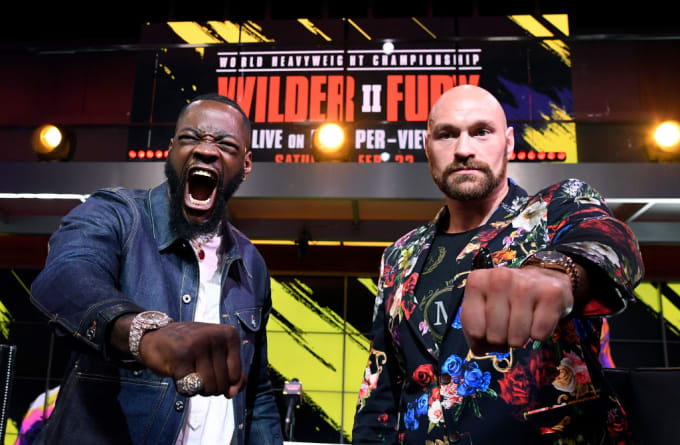 You survived Deontay's power in the first fight and you've praised it. What I want to know is did it live up to the hype?
I didn't know what to expect going into the first fight. The guy's knocked every single person he's fought out. Really in a boxing fight, you don't really feel the punches, especially with a massive puncher. You just get hit with them and wake up on the floor or whatever. You don't feel power in the fight. And if you do, you're probably in the wrong game because you're thinking about it too much. He's a great puncher, obviously. His power is a good asset to have. It's called an equalizer. It's a good weapon to have, for sure.
What do you bring to the ring that isn't as pronounced as Deontay's power?
The thing about me is I'm an adapter. It doesn't matter what opponent I've got in front of me, when I've been in the ring with him for three minutes I'll know what to do. That's my best ability. Some people have power, some people have speed. Mine is brain power. Brain power over everything. Brains beat brauns 100 times out of 100. The pen is mightier than any iron first. I'm a thinking fighter and I adapt to different situations.
Are we going to see a different fighter than we've seen before in a month?
You're going to see an animal in a month. An absolute animal.
I feel like with the tone you're setting, there's more aggressiveness leading up to this fight than the first.
I think you'd be right. I want to knock him out. He wants to knock me out. Before, I wanted to give him a boxing lesson. This time I want to knock him out and nail him to the canvas. Having that mindset has already changed the fight completely. When two people are aiming at each other, standing in front of each other, it's going to make for an exciting fight.
Can you do that? The strategy you're talking about heading into this fight is to stand in front of Deontay and fight him. Is that feasible because we know the danger of his power?
The thing is, how you beat a puncher is you push a puncher backwards. Because a puncher already has momentum coming forward. You beat them backing them up. I'm going to knock out the knockout artist.
Did you have as much fun doing WWE as it looked?
Hell yeah. It was so much fun because it wasn't as serious as a boxing fight. I was there to enjoy myself. And I've been a lifelong fan. It was an amazing experience for me to be involved in such a big fight and such a big stage.
Did you have a favorite moment?
I remember being down under the floor and coming up and thousands of fireworks got let off. I felt like, "This is fantastic. This is the ring walk to remember, for sure."
What parallels do you draw from the worlds of boxing and professional wrestling?
The same thing is the entertainment factor. We're there to entertain. I think the WWE really grasps the value of entertainment. And the thing is I love to entertain the fans, I love to entertain the crowd, and put on good shows and that's what it's about.
Any chance we see you at WrestleMania?
One event at a time. I have a massive event February 22 and then we'll go back to the drawing table to see what else is available after that.