Most kids RJ Hampton's age just arrived on a college campus, ready to start their freshman year. But Hampton isn't like most kids and these days the 18-year-old basketball prodigy from Texas can be found halfway around the world, where he's playing professionally instead of subjecting himself to the archaic ways of the NCAA. 
If you're unfamiliar with Hampton, allow this to be your introduction to the 6'4" guard who has a bunch of Instagram followers and, just like fellow teenage baller LaMelo Ball, has taken his talents to the Australian basketball league (known as the NBL) where he plans to play one season before declaring for next year's NBA Draft. He announced in June that he'll lace 'em up for the New Zealand Breakers, betting that a year abroad will better prepare him to enter the NBA than another year in school.
"I mean, you can always go back and get your degree, but you can't always…you only have one shot at this, basically, to make it to the NBA and make it to be a professional basketball player," says Hampton.
It's a bold move, but Hampton's talented enough to be a lottery pick in next year's draft—nbadraft.net currently has his as its No. 17 prospect on their Big Board—so it's a gamble that will probably pay off. Plus, why not pick up a paycheck while playing against grown men in order to better gear your game for the world's best basketball league? 
We caught up with Hampton last month in Los Angeles before he appeared at the ESPYs to talk about his decision to forgo college, what it's like talking to companies about about a sneaker deal, and why playing in the NBL is the best move to be ready for the 2020 NBA Draft.  
(This interview has been edited and condensed for clarity.)
For you, obviously, the big news that came out in June is that you're foregoing college to play professionally overseas. Why go that route? 
I think that I just wanted to experience something different than what everyone else was doing. Everyone goes to college. Everyone plays in March Madness. I kind of wanted to do something different. And I felt like the best route for me was going overseas and playing professionally to get me ready for the NBA. Because, I mean, you can always go back and get your degree, but you can't always…you only have one shot at this, basically, to make it to the NBA and make it to be a professional basketball player.
Did you grow up a college basketball fan at all, though? Did you watch the game? Did you really study it, or were you more into the NBA?
Oh no, for sure. I've always loved college basketball. I mean, I think every kid loves March Madness and loves watching those games because I think they're honestly more fun than watching NBA games. 
I know that this is just a small pit-stop in my career, and I know that that's what they think, too.
If you were going to go to college it was between Memphis, Kansas, and Texas Tech. Did you get a chance to interact with coach Penny Hardaway at all at Memphis?
Yes. I had one of my official visits in, I think it was August of 2018, and it was me and another guy, Jalen Green. And we were down there, and I mean Penny is great, Penny, Mike Miller, both of them. I loved them as coaches and as people when I was down there. But he was a great guy.
What was Penny pitching? What made it so appealing that it made it to your final three?
Just because Penny was one of my favorite players just growing up. I mean, I never really got to watch him like that, but just going on YouTube, watching his highlights, seeing him on ESPN, I always wanted to be like Penny Hardaway. And then when he finally started recruiting me, he was kind of pitching, "Well, I've been one of the best point guards that ever played the game. I know what it takes to be a point guard at the next level. You would be a great point guard in college." So that's what really was really appealing to me is I get to learn from arguably one of the best ever to do it.
But in the end, the NBL, or the Australian Basketball League, was where you decided you wanted to take your talents. Was it something that you and the family were really deciding and agonizing over for a while, or was it a quick decision?
Oh, it was not just like a quick decision, but it wasn't like a long process of really deciding. It was kinda just my dad would bring it up here and there, and I would kind of be like, "Yeah, that's kind of cool." And then as the season, my high school season, started ending, and as the AAU season started getting closer, I was kind of thinking about it a lot more. And I think it just made sense just because, I mean, that's what I wanted to do. I didn't want to do it because my dad wanted me to do it, or because my mom wanted me to do it, or my little brother. I think that's what I wanted to do, so that's what really was good for me. And they let me decide. They didn't tell me what I had to do or what I couldn't do. They really let me decide. And I think it was around May, late May. I really was like, yeah, that's it.
When is it going to hit you that this is your decision?
Probably when I get over there, like the first day because I mean, I'm still at home mostly every day training and working out. And I see some of the guys that I went to high school with, and I see my friends, and my family that lives in the States. But probably when the first day I get over there because my mom, my dad, and my brother are going with me so it's going to be us four.
Give us an idea of what's the difference between the NBL and the NBA?
I think just the level of talent. I feel like professionalism-wise, I feel like everyone's a pro. People have families. People have to provide for their families, so I think that doesn't differ. But I feel like the money for sure, the level of talent, the fan bases, stuff like that, I feel like that's really the biggest differences from the NBA and the NBL. Because, I mean, at the end of the day, they're both jobs. And I mean, I'm 18 and there's going to be a guy 27 on my team, that has a family, that has provide for his family. So I think that's the same as when you get to the NBA.
And physically speaking, are you prepared for the step up in terms of the bodies and the caliber of talent you're going up against? What have you been doing to prepare for that?
I mean, I'm just trying to get my diet right. I mean, I've never ate bad, but trying to...I can get away with it a little bit, but I'm just trying to eat more protein, not necessarily put so much weight on, but just get a lot of muscle. I've been lifting a lot more this summer and just training real hard because I know that it's going to be physical over there. And that's why I've been lucky and fortunate to play with the French National guys because I mean, those guys are big. So I mean, just getting bigger and stronger every day.
Are there any of the preparations, besides the physical aspect, that you are kind of gearing up for with this move over to the NBL?
Probably just that you have to know it's really all a business because, I mean, when you go to college, you're going to be on campus and playing with teammates that are not…when you're in college, your teammates are 19, 20, 21, kind of in the same age range. And when I go to the NBL in New Zealand, I'm going to be the youngest guy on my team probably by a couple, maybe five years. So just knowing that it's all a business and you're there for one common goal and that's to win the championship.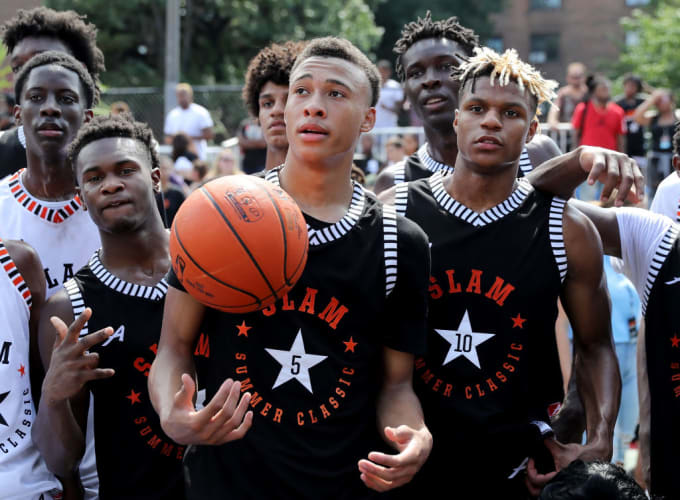 And you signed a unique contract. You had the one and one option with the team, right?
I think I'm just ready. I think after this year in the NBL, I'm definitely going to be ready to take my talents to the NBA. And just, I know that this is just a small pit-stop in my career, and I know that that's what they think, too. So with everybody behind me, I think that was just the best decision.
What gives you the confidence to say that you know right now that you can be ready to take your talents to the NBA next June?
Because I feel like the NBA is a lot about skill. NBA is, like I said, a lot about skill. You have Steph Curry, Kyrie [Irving], that aren't the biggest guys, that aren't the fastest guys, the strongest guys, but they have a lot of skill and skill, most of the time, takes over strength and quickness and all that kind of stuff. So I feel like if I were to get my skill right and then combine that with practicing with grown men every day, and taking the physicality, and being mature, and being professional, I feel like I can do it.
Who do you pattern your game after?
That's a tough one. There's a lot of people I pattern my game after. I take bits pieces from a lot of people, but probably Steph Curry. Just the way he moves without the ball, the way he can get open when people are guarding him, face guarding him, holding him, grabbing him. And then probably LeBron [James], that's another one. Just the way he can just read a defense so easily. I feel like the game is really in slow motion for him sometimes.
Who do you admire most in the NBA now? Obviously, you pattern your game after few guys. Is there one player that you really admire the most whose game maybe you love watching more than anyone else's?
I've really started to like watching Paul George's game. He's not really in the media like that. He's not really the flashiest guy. But every night you're going to hear, "Oh, Paul just had 28, 6, and 9," so that's really the guy I really admire the most. And then he plays defense at the same time, so probably him. And then I'm starting to like Kawhi [Leonard] too because he's just like no talking. He's just out there for business purposes only.
When you got a chance to interact with them, was it a sense of being star struck? Was it a sense of being overwhelmed? Give me an idea of when you got a finally chance to ... I'm assuming that you obviously look up to these guys.
I think Kyrie and Kevin Durant, that was probably two years ago when I first interacted with them. And then D. Wade was probably two weeks ago. But it was like the end of my freshman year when I first interacted with K.D. and Kyrie, so I was kind of star struck. I was like, I'm a freshman, about to be a sophomore high school. K. D. and Kevin Durant follow me on Instagram. I DMed them, they DMed me back. It was just like, that's crazy. And then with D. Wade, it was kind of like I'm closer to my goals. I'm getting there, and he's really just giving me good advice.
You're a big "Sneaker Shopping" fan. So shout out to Joe La Puma and the crew. Your favorite sneakers of all time are 1s?
For sure.
Why?
I don't know. I feel like they just…you can wear them with shorts. You can wear them with jeans. They just look good with everything and all the colorways are just crazy. And they're obviously…I think they're the most comfortable Jordans they have. I feel like Jordan 11s are just way too hard. I can't wear them for a long period of time. And Jordan 4s, the same thing. But Jordan 1s, those are the best just because you can wear them with anything.
Where do we stand on a sneaker deal? 
We were trying to do it before I get over to New Zealand. We're just really just weighing all the companies' options and seeing what is going to be the best fit, if it's a long-term deal, if it's a short-term deal. So that's really it.
And you've been having conversations with companies. What has that been like?
It's kind of fun, honestly. You get to see how they plan to market you, what they plan to do for you, what kind of shoes you can wear on the court. Because with a shoe deal, basically you have to wear their stuff all the time. There's an apparel deal, too, kind of. So what kind of off-the-court stuff do they have? What kind of on-the-court stuff do they have? So it's been really fun.
Is it kind of surreal that you've reached this point in your life where it's like, "Damn, I'm having these conversations with shoe companies, and I could be a face and a promoter of these really cool brands"?
For sure because I mean, I was just sitting at the lunch table with my friends in high school. So we used to always, like these last three years, we always talk about everyone in high school is like, "Oh, I'm going to be a professional this and be a professional that," always talking about we're going to sign with this company and that company, just dreams. So now, two months removed from high school is really crazy.