Steph Curry, Draymond Green, and DeMarcus Cousins Speak Out After Raptors Fans Applaud Kevin Durant's Injury
Kevin Durant's teammates had his back after some Toronto fans cheered when he was injured during Game 5.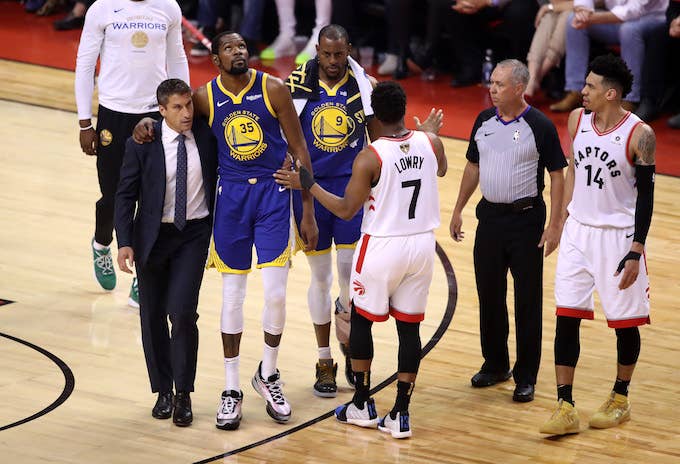 Getty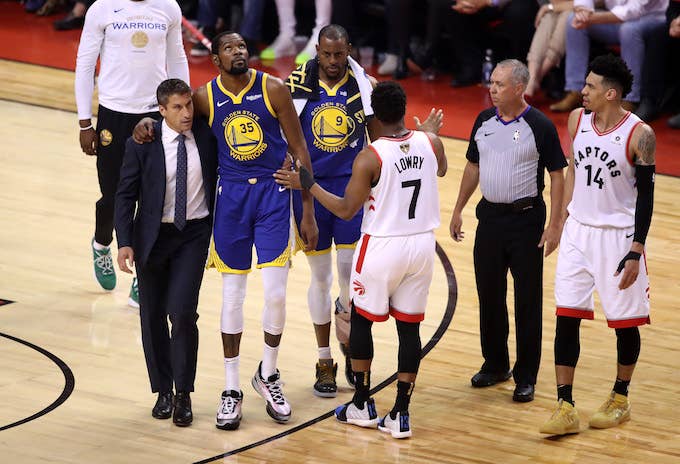 Kevin Durant suffered from another injury during Game 5 of the NBA Finals on Monday night, after he reportedly injured his Achilles. He is set to undergo an MRI on Tuesday, with some close to the Warriors thinking it's a torn Achilles heel.
Game 5 marked Durant's return, after he missed a month with a strained right calf. When he fell over during the game, many Toronto fans initially cheered. Drake meanwhile, was visibly upset over Durant's injury, and consoled him as he walked off the court.
Steph Curry, Draymond Green, DeMarcus Cousins, and other teammates spoke out against the Raptors fans after the game.
Curry told reporters that the fans' reaction wasn't "my experience with the people of this city," after he spent part of his childhood in Toronto. "I commend Danny Green and Kyle Lowry especially, I think they were the ones that were kinda singling to the crowd like, 'Let's check ourselves a little bit and understand this is about an individual, a human being,' and not, 'Oh shoot, he's hurt. We won the championship.'" He added, "You hate to see that when a guy is going through pain like that."
Green told reporters, "That's just unreal. Classless. Just classless."
Klay Thompson was also incensed. "It was bullshit. That was freaking ridiculous," he said. "I can't even put into words how mad I was about that."
He also addressed Durant's impact on the team, "All those talking heads that say we're better without him, that's ludicrous, that's crazy, this is the best player in the world."
Cousins called the cheering fans, "Trash. So trash."
Drake showed his support for Durant by sharing a photo of the basketball player on Instagram, writing, "Was tough for any of us to even enjoy that game tonight after seeing this transpire. Praying for our brother."
Durant took to his Instagram stories to share how he felt about his injury and about seeing his team win. "I'm hurting deep in the soul right now," he wrote. "I can't lie but seeing my brothers get this win was like taking a shot of tequila. I get new life."
It should also be pointed out that while some fans did initially taunt Durant, many showed support by giving him a standing ovation and chanting "KD" as he walked into the tunnel.