DeMar DeRozan Is Mad at Jimmy Kimmel Over Game 2 'Invisiball' Sketch
DeRozan's agent pointed out the sketch was shot over a year ago.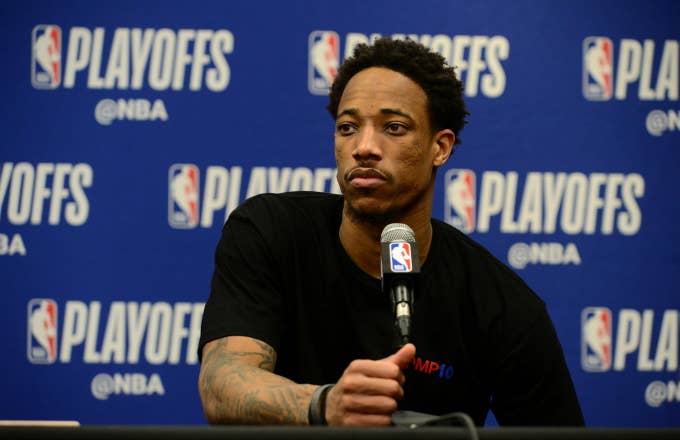 Getty
Image via Getty/Bart Young/NBAE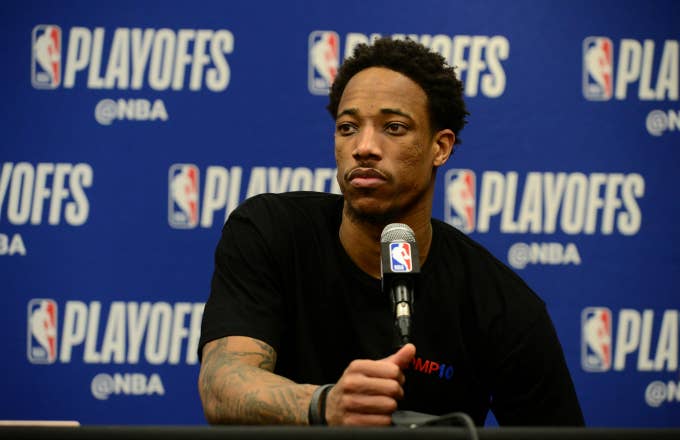 Jimmy Kimmel hasn't made DeMar DeRozan watching his former team in the Finals any easier. ABC decided to air a Jimmy Kimmel Live: Game Night sketch featuring DeRozan during Game 2 of the NBA Finals.
In the sketch, DeRozan is starring in a fake commercial where he's selling an invisible training basketball called the "Invisiball." The fact that the Raptors made it to the Finals less than a year after trading him away makes the timing awkward. So, when his camp caught wind of the sketch's proposed air date, they urged Kimmel and ABC to pull the clip. 
"We found out a few days ago, and we alerted them immediately that it's not something that we wanted them to do nor did DeMar want it on," DeRozan's agent Aaron Goodwin told The Athletic. He also pointed out that the sketch was shot over a year ago, which made the airing feel even more of a low blow.
"We felt it was extremely insensitive to the fact that DeMar's (former) team is playing in the Finals. They made it clear to us that it was funny to them, although it wasn't funny enough for them to use a year ago when they shot it," Goodwin explained. "We even asked them, 'If you're going to air this thing, put up a disclaimer that, for whatever reason, you've had this footage for over a year and you decided to use it now.' And they refused to do that."
DeRozan's friend and former teammate Kyle Lowry said he gave his congratulations for the Raptors' Finals berth, but DeRozan has gone on record stating that he was "extremely hurt" that the franchise that drafted him gave him away.
A rep from Jimmy Kimmel has yet to comment on the situation.