It was a forgettable Sunday for the Clippers most indispensable players. Danilo Gallinari and Lou Williams probably lost some sleep after disappointing performances in a gettable game for the underdog Clippers in their best-of-seven series with the Warriors.
But if you're not talking about what ultra impressive Clippers rookie Shai Gilgeous-Alexander did against the Warriors, you're missing the big picture.
We'll get the obligatory out of way as quickly as possible after coming to the above realization in the middle of Game 4 at Staples Center. The Warriors were 113-105 winners on Easter and left Los Angeles with a commanding 3-1 lead in their first round Western Conference playoff series. Give Klay Thompson and Kevin Durant all the credit. While Durant led all scorers with 33, Thompson got hot early scoring 17 points in the first quarter and finished with 32, hitting 6-of-9 3-pointers, to compensate for a subpar performance from Steph Curry.
The reasons why the Warriors won, and the Clippers are about to start their summer, are obvious. Golden State weathered every Clippers run and got a major boost from the reserves early in the fourth quarter when the Warriors easily could've coughed up the lead. Normally a very good free throw shooting team, the Clippers missed eight of 'em. Williams didn't hit a field goal in the fourth. Gallinari was 5-of-20 from the field. And the Hamptons Five—or the Death Lineup, or whatever the hell you want to call them when Curry, Durant, Thompson, Draymond Green, and Andre Iguodala are on the court together—executed down the stretch like the veteran, playoff-savvy squad you expect them to be.
He's a really good player. For a rookie, to come in and attack with the confidence the way he did, that shows you what he's about. — Warriors coach Steve Kerr
But we're really here to talk about what we saw from the Clippers' most intriguing and maybe most important player going forward. Depending on how much you've been paying attention this season, what Gilgeous-Alexander did Sunday, scoring a career-high 25, was either a revelation or a definitive reminder that he's the foundational piece for the Clippers.
"Before he even stepped into training camp I watched film of him with my best friends," Clippers guard Patrick Beverly said after Game 4. "This kid is going to be special. You see the grind throughout the year and he embraces it. He loves the grind. Whether it's up or down, coaches, they on him like they're supposed to be. He never folds."
Getting an endorsement like that from one of the NBA's all time grinders is great, but the Canadian showed NBA observers plenty of glimpses of future greatness throughout a quietly impressive campaign. Only scratching the surface of how complete a player he can be, SGA probably exceeded outside expectations of how impactful he would be in his first year, even though Clippers coach Doc Rivers thought the kid had star written all over him before the season started. Gifted offensively, with incredible length, he came into the league with a rep of being an incredibly hard worker and finished ninth in rookie scoring, playing in all 82 games, 73 of which he started. On national TV Sunday, he had his best offensive game, pouring in a Clippers rookie record in the postseason and answered the challenge Rivers gave him beforehand. The coach needed his point guard from Kentucky to be more aggressive. If the Clippers were going to have any shot evening up the series before it reverted back to the Bay Area, SGA had to step it up. He did. And then some.
"I seen Shai come out and wanted to impose his will in the game early," Durant said. "He played with no fear tonight and that's what kept them in the game most of the game."
You think Durant isn't taking notice of what the 20-year-old kid just did? KD, of course, is the No. 1 free agent this summer and definitely has made mental notes about SGA. While Durant hates it when we speculate about his future and his headspace, a drastically improved SGA and Durant would be a helluva duo. Thompson, Kawhi Leonard, or any other top level free agent could just as easily fit in alongside the smooth and silky point guard and thrive. It's not crazy talk to say SGA's ceiling appears to be higher than that of the second year player from UCLA who plays for the Clippers' crosstown rival.
For sure, there are things that Lonzo Ball does better than SGA—like rebound, rack up assists, and make the highlight passes. But you can easily contend Gilgeous-Alexander had a better overall rookie campaign than Ball, considering he played way more games, helped get his squad to the playoffs, shot markedly better from the field and free throw line, and, you know, actually played. Plus, SGA doesn't bring a boatload of hoopla with him like Ball.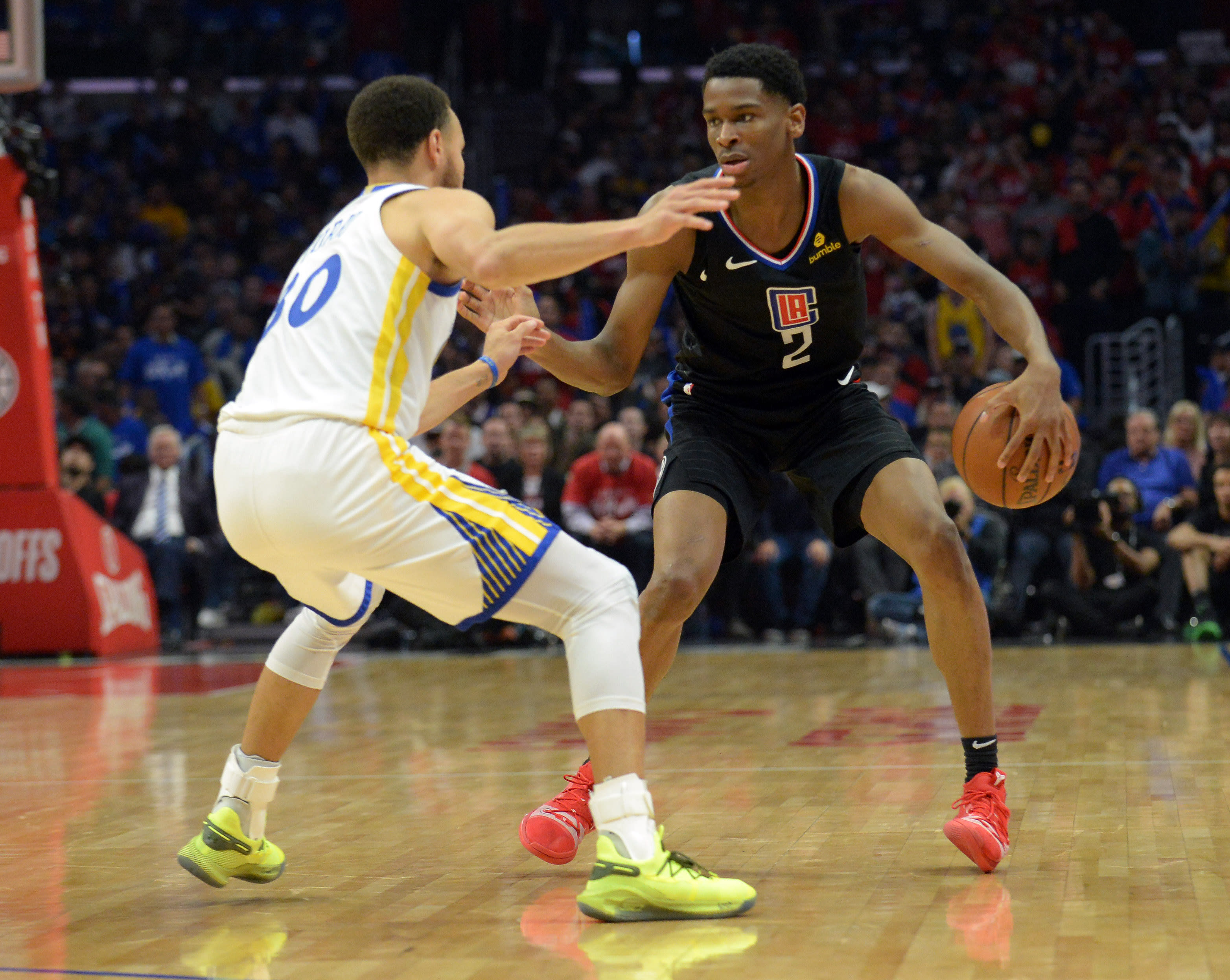 Just who SGA compares to isn't easy to pinpoint. Rajon Rondo gets thrown out there as a benchmark—same school, similar builds—but SGA is a much better scorer and shooter. He needs to improve his 3-point percentage and certainly be a better distributor, but that isn't always his fault considering how the Clippers are currently built to thrive—with Williams dominating ball-handling duties when he's on the floor, which is a lot for a reserve. Regardless, SGA's been incredibly impactful and might go down as a borderline steal since he was chosen with the No. 11 pick in the 2018 draft.
"He's a really good player," Warriors coach Steve Kerr said. "For a rookie, to come in and attack with the confidence the way he did, that shows you what he's about. I thought he was great. He really hurt us, especially in that first half and I thought we did a better job on him in the second half. He's got a great future."
There are plenty of reasons why the Clippers will be among the most attractive destinations for high-level free agents. Los Angeles, as a city and place to live, sells itself. Rivers is widely revered. The organization has invested in every level of player development. They're hoping to open their own arena in a handful of years. And the Clippers are the exact opposite of the dysfunctional Lakers right now and don't have a 35-year-old superstar in LeBron James who will always be catered to first and foremost. Make sure you have the young and talented roster, with Gilgeous-Alexander high at the top of that list, as another big reason why free agents will be crushing on the Clippers come July. Because who wouldn't want to partner with the best young point guard in LA on the verge of blowing up?