Anthony Davis Tells Us DeMarcus Cousins 'Went From a Teammate to an Enemy'
We caught up with Anthony Davis to talk about the Pelicans offseason and what it means to lose DeMarcus Cousins to the Warriors.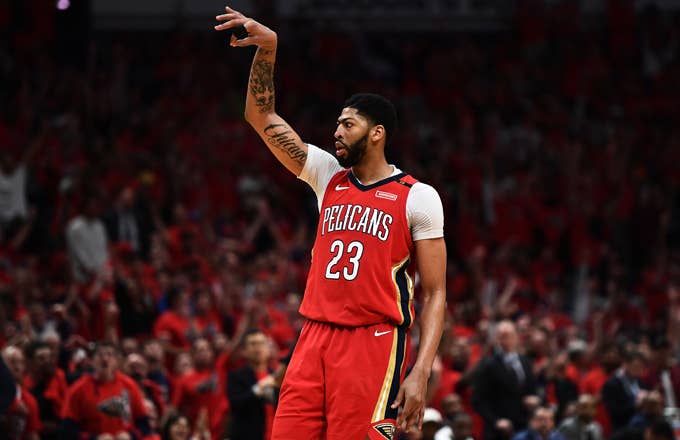 Getty
Image via Stacy Revere/Getty
We've never seen a player quite like Anthony Davis. He's like if you put Kevin Garnett in an Iron Man suit and he's carried New Orleans on his back since being drafted No. 1 overall in the 2012 NBA Draft. This past season, he took his game to a new level after teammate DeMarcus Cousins went down with a torn Achilles at the end of January. Davis went on a 15-game run where he averaged 33, 13, two steals, and two blocks, including five 40-point games and one 50-point game.
With their surprising first round sweep of the third seeded Blazers and the losses of Rajon Rondo and Cousins, the Brow has even more to prove this upcoming season. It's going to be hard to top 28 points, 11 boards, and 2.5 blocks, but with a stacked Western Conference, the perennial MVP candidate will have to do just that.
The Pelicans have since replaced starters Rondo and Cousins with Elfrid Payton and Julius Randle and should probably add some more shooters if they plan on being legit contenders next season. We got up with A.D. courtesy of Mobil 1 to talk New Orleans, Boogie signing with Golden State, and how he plans on dethroning them.
(This interview has been edited and condensed for clarity.) 
What's your favorite thing about New Orleans?
The food. The food is amazing. The atmosphere and the people too. There's no place like it.
Do you frequent gator farms?
[Laughs.] I haven't, I've been on a swamp tour before, though. The driver stopped and caught a baby gator with his hands. That was pretty cool to see.
Have you ate gator meat?
I don't think I have. I'm not that adventurous.
"I wish the best of luck to him and we'll see him three maybe four times this year, and try to beat him. Now he's the enemy."
What are you top three foods in New Orleans?
Gumbo, I've gotten into seafood a lot since I've been here, and gumbo again [laughs]. The gumbo is really good down here.
How about favorite spots to eat?
I don't go out much but I would say maybe Emerald's. I go to Ruth Chris too but that's a chain. Emerald's is really good.
You guys surprised everybody last season when you swept the Blazers. How do you plan on building on that momentum?
We have to keep getting better and moving in the right direction.
How do your game and Julius Randle's game compliment each other? 
He's strong, physical guy, likes to play in the paint. He can push the ball, score, pass. I always loved the way he played, he's a Kentucky guy and I'm excited we can have him. I'm making sure that my game changes with the times and just keep working on the little things. I can't wait to get to work.
How do you beat the Warriors?
Um...I haven't had much success with that [laughs]. It's really tough because they play so well as a team. They move the basketball, have the best shooters in the game, the best scorer in the game; you really have to play a perfect game. When they make their runs, you have to be poised enough to combat them. This game is about runs, when they go on theirs, you have to be able to go on runs, too.
They need to put some shooters around you, bro. You guys need to bring Steve Novak out of retirement.
[Laughs] We're fine. I love our team, I love what we're doing and the direction we're headed. We got a lot of guys that could shoot the basketball and make plays for others. The more shooters and other guys that become available, we'll try to add them to what we have as well.
How surprised were you when Boogie signed with the Warriors?
I mean, I'm happy for him. He did what he did. He chose the right team for his career right now with his injury, I'm assuming. I wish the best of luck to him and we'll see him three maybe four times this year, and try to beat him. Now he's the enemy. Anybody who's not on the Pelicans is an enemy to me. He went from a teammate to an enemy.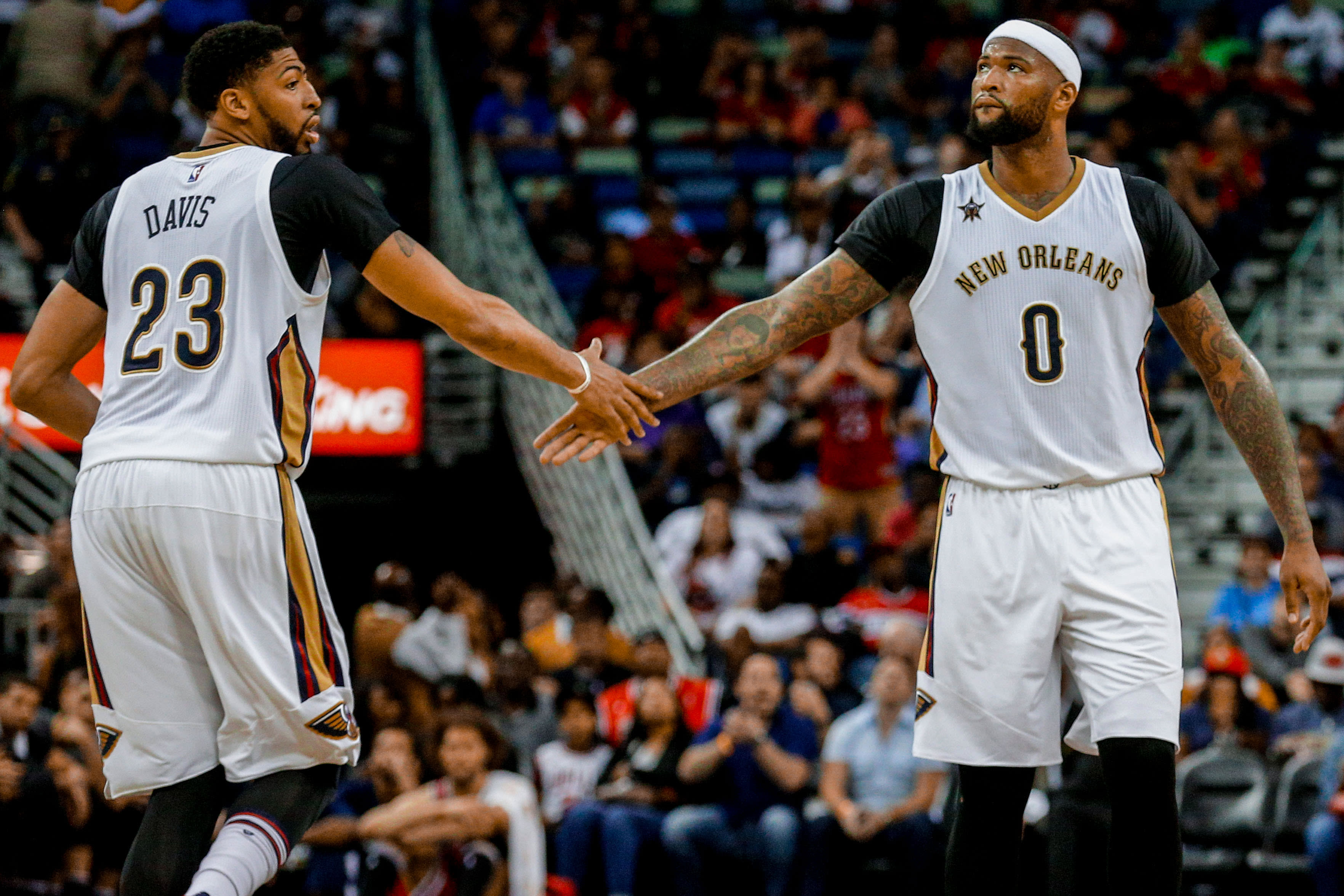 Do you think college athletes should be paid?
There's a lot that goes on in the NCAA. You get a full-ride scholarship to play whatever sport if you're fortunate enough. For me, I was able to make the most of my time at Kentucky and made some great memories. I'm neutral, I'm not in college anymore. I did my time but I think something's gonna change soon.
Talk about your Mobil 1 partnership and the road trip.
I'm on the 10,000 mile pit stop for the Mobil 1 Annual Protection 20K Road Trip which basically guarantees 20,000 miles before your next oil change. We're at the half way mark.