Let's get the hard facts out of the way: Lionel Messi has never won a senior trophy for Argentina.
Between 2014-16, he lost three straight finals—the 2014 World Cup Final to Germany, and the 2015 and 2016 Copa America Finals to Chile, both on penalty kicks. In the latter, he missed his attempt, left the pitch completely distraught, and preemptively declared his retirement from the national team only to rejoin months later. Going into its qualifying match vs Ecuador in 2017, Argentina was a hair away from missing the World Cup, until a hat trick from Messi guaranteed a spot in the tournament. But they're not even favorites to get past the first round. So where does that leave Messi's legacy?
When you think of the greats, the likes of Pele, Maradona, OG Ronaldo, and Zidane come to mind. The one thing all of these legends have in common? They've won a World Cup. It doesn't matter that Ronaldo never won a Champions League title, or that Pele and Maradona played in a different time and hence significantly different leagues, the rules remain the same: You want to be the GOAT? You've gotta win a World Cup. We don't know who started this rule, but we all unabashadley follow it without realizing how flawed the argument actually is.
Let's say for argumentative purposes that Spain had succeeded in convincing Messi to give his allegiance to the Spanish national team in 2003 (Since Messi carries dual citizenship between Spain and Argentina, he could have very well chosen which country to play for, yet ultimately decided to stick to his birth country of Argentina). We know now that Spain went on to win the World Cup in 2010. If Messi was a Spanish national he very well would have been on that team, and very well would be a World Cup winner. Now let me ask you: does this hypothetical scenario make him any different of a player?
Messi holds the record for most goals scored in a single calendar year (91!!!), the most goals scored in La Liga (currently at 383), the most goals scored in a single La Liga season (50), AND the most goals scored in a single club season in Europe (73).  Did I forget to mention that he also holds the record for the most assists in La Liga (149)? And lest I forget the THIRTY-TWO trophies he's won with FC Barcelona, which includes but is not limited to, FOUR Champions League titles, nine La Liga titles, and six Copa Del Rey titles. Oh, he's also the all-time leading goal scorer in Argentina history.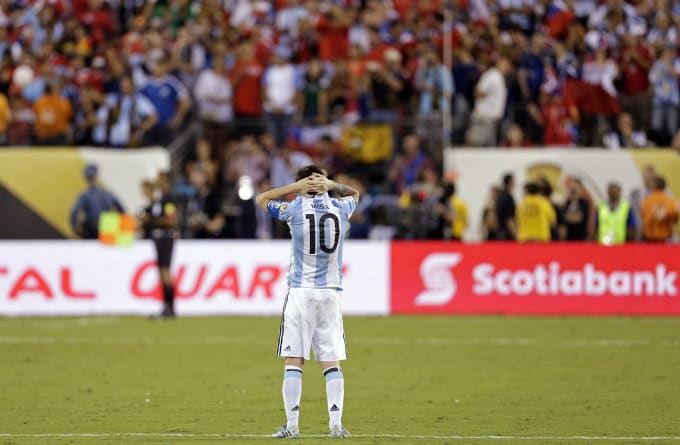 Messi has stats up the wazoo that can backup how good he is on paper, but that doesn't even begin to describe how it feels to watch him play. He does things that shouldn't be possible, all while making it look like the easiest thing in the world. Nothing captures what it's like to watch Messi pull off another one of his magical moves quite like Mike Goodman did in a 2015 article for Grantland when he said that "the answer is Messi. It's the answer to 'Which roster do you want?' It's the answer to 'Who is the best player any of us has ever seen?' It's the answer to 'What is the meaning of life?' The answer is always Messi." Goodman had this reaction after watching Messi eviscerate Bayern Munich—a team mostly comprised of the same German players who handed Messi a World Cup loss just 10 months prior—in the 2015 Champions League semifinals.
For the sake of opinion, I asked my Twitter followers how they felt watching Messi play. As expected, the answers ranged from "magical" to long-winded musings. Here's a brief synopsis of the replies:
"It feels like watching someone who solved soccer. As if everyone else is still working out the problems and he's the one person with all the answers."
"I feel joy, shock and awe. I'm baffled at the ceaseless quality he displays, how he's always in the right place and nearly always makes the right decision. how he makes everyone around him better. mostly? I'm just happy. Messi makes me happy."
"You'll know as soon as he does one of a million things only he can do that you've witnessed greatness personified."
When Messi is on the field, there is no debate to be had. Watching him play is such a privilege in itself that all arguments become moot. The beauty of Messi is that he captivates his audience in a way that's never been done before. And that's why he's the greatest of all time, with or without a World Cup.