From the moment Shaquille O'Neal learned he would have the opportunity to give a wedgie to one member of The Starters, he made his desired victim clear. The 7'1", 300-something-pound Diesel wanted J.E. Skeets.
"It was creepy—the whole time, he was just saying, 'I want Skeets, I want you,'" Skeets recalls. "It was probably because I'm the smallest of the four guys and he thought he could get me up in the air, which he did."
The man whose power once forced the NBA to change its backboards yanked Skeets' grey Calvin Kleins out of his pants and over his head.
Fellow Starters host Tas Melas had his own pinch-me moment. When Lamar Odom and Khloe Kardashian released a unisex perfume called Unbreakable, the scent debuted with a sensual advertising campaign featuring a shirtless Odom.
Melas brought a photo of Unbreakable with him to NBA Media Day. When he showed it to the notoriously serious Kevin Garnett, the Big Ticket let out a hearty laugh.
These are among the many instances in which the two original hosts of The Starters have asked themselves, "Is this really happening?"
Skeets, Melas, Leigh Ellis (the Australian), Trey Kerby (the dude with the big beard), and the production savants Jason Doyle and Matt Osten are behind the popular 30-minute NBATV show. With an unconventional approach to sports talk, The Starters—who aren't former players/coaches or overconfident opinion peddlers—have built a loyal fan base.
They recently received congratulations from a fleet of current and former NBA greats when their 1,000th episode aired.
Congratulations pour in from around the NBA for #TheStarters' 1,000th episode! pic.twitter.com/VuEs8moEZZ

— The Starters (@TheStarters) March 14, 2018
Long before they were receiving shout-outs from Dikembe Mutombo and Charles Barkley, Skeets, Melas, Doyle, and Osten were college students at Toronto's Ryerson University, where they studied Radio & Television Arts. Much like a great basketball team, their personalities meshed. They had similar interests and senses of humor.
They worked on their fourth-year thesis together and respected each other's work ethic. So when their schoolwork wrapped up, they looked for a new way to work together. 
Doyle had an idea: How about a podcast?
Wait…a what?
In 2005, Doyle, who was working as a sound editor for a production house and had taken a liking to the emerging medium, pitched Skeets and Melas on the idea. They looked at it as a way to break free from the misery of their day jobs. Skeets was working as a physician recruiter, Melas as a blogger and transcriber for Yardbarker. Many recent college grads find themselves trapped in soul-draining jobs, and this trio was no exception.
They started out discussing general sports topics, but quickly focused on a niche: the NBA. The Toronto natives became NBA diehards when the league launched the Raptors—their favorite squad to this day—in 1995.
Their podcast was dubbed The Basketball Jones. The show started with once-weekly, 30-minute episodes recorded at Doyle's apartment.
"It was just super fun at the time, and we didn't really know what we were doing," Skeets recalls. "Having J.D. in our back pocket for production was instrumental…it was a hobby, and we also loved it."
The show snowballed from once a week to twice a week to daily in 2006. They'd hop on Skype and record their conversations before heading to work.
For the first three years of the show, they paid for everything out of pocket and made no money.
In the early days, TBJ had a small but dedicated group of fans. It helped that Skeets was building a name for himself—well, for his persona—by writing for outlets like Deadspin and Ball Don't Lie. Skeets' real name is Phil Elder, but he adopted the pseudonym so his bosses wouldn't catch him blogging during his 9-to-5.
Melas says the emails they received from listeners around the world—from Hong Kong to Africa—kept him going.
"We had a hardcore fan base, so we knew we had tapped into something," Melas says.
Osten, who attended law school at McGill University after graduating from Ryerson, joined the team in 2009. He brought business acumen. The TBJ crew pitched a bunch of networks and got rejected, but Osten persevered with Canadian multimedia outlet theScore. It was a long process, but eventually, they were hired and could focus all their attention on the show.
We had a hardcore fan base, so we knew we had tapped into something.
Shortly thereafter, they added Kerby as a full-time blogger. He moved from Chicago to Canada to work more closely with the team. Occasionally he appeared on air.
During the 2011 NBA lockout, TBJ embarked on a 10-stop No Season Required Tour. They brought along Ellis, who was working at theScore as a producer, to help with logistics. But they quickly realized that, with his repository of NBA knowledge and quirky personality, he belonged on the air, too.
As time went on and they kept producing content, the audience grew. Then came a curve ball: they learned theScore, which Rogers Communications had purchased, was disbanding as a TV station (it continues as a digital product).
Osten got in touch with the NBA. Unlike the last acquisition, this one happened quickly. Before the 2013 season, Turner Sports, which co-manages NBATV, acquired the six-man TBJ outfit. They moved from Canada to Georgia and were rebranded The Starters. Skeets says it was an adjustment, but more so for their personal than professional lives. For example, he had to buy a car.
Turner, seeing potential, took a chance on something new.
"There's a lot to like about The Starters," says Scooter Vertino, SVP of Content, Programming & Production at Turner​. "They're big basketball fans, first and foremost, and you can tell their passion and commitment to following all things NBA on a daily basis. And, yes, they're entertaining and funny, and all those things that make them stand out, but if they weren't also credible and well informed, the show wouldn't work."
The sports TV giant has remained relatively detached in the five years since the acquisition. Turner allows The Starters to do their thing.
"Our shows weren't great to start in Atlanta, but they let us get our sea legs," Melas says. "I think because there was that hands-off approach, our show has grown a lot more...much credit has to go to Turner for letting us be ourselves and not forcing us into a box of sports television."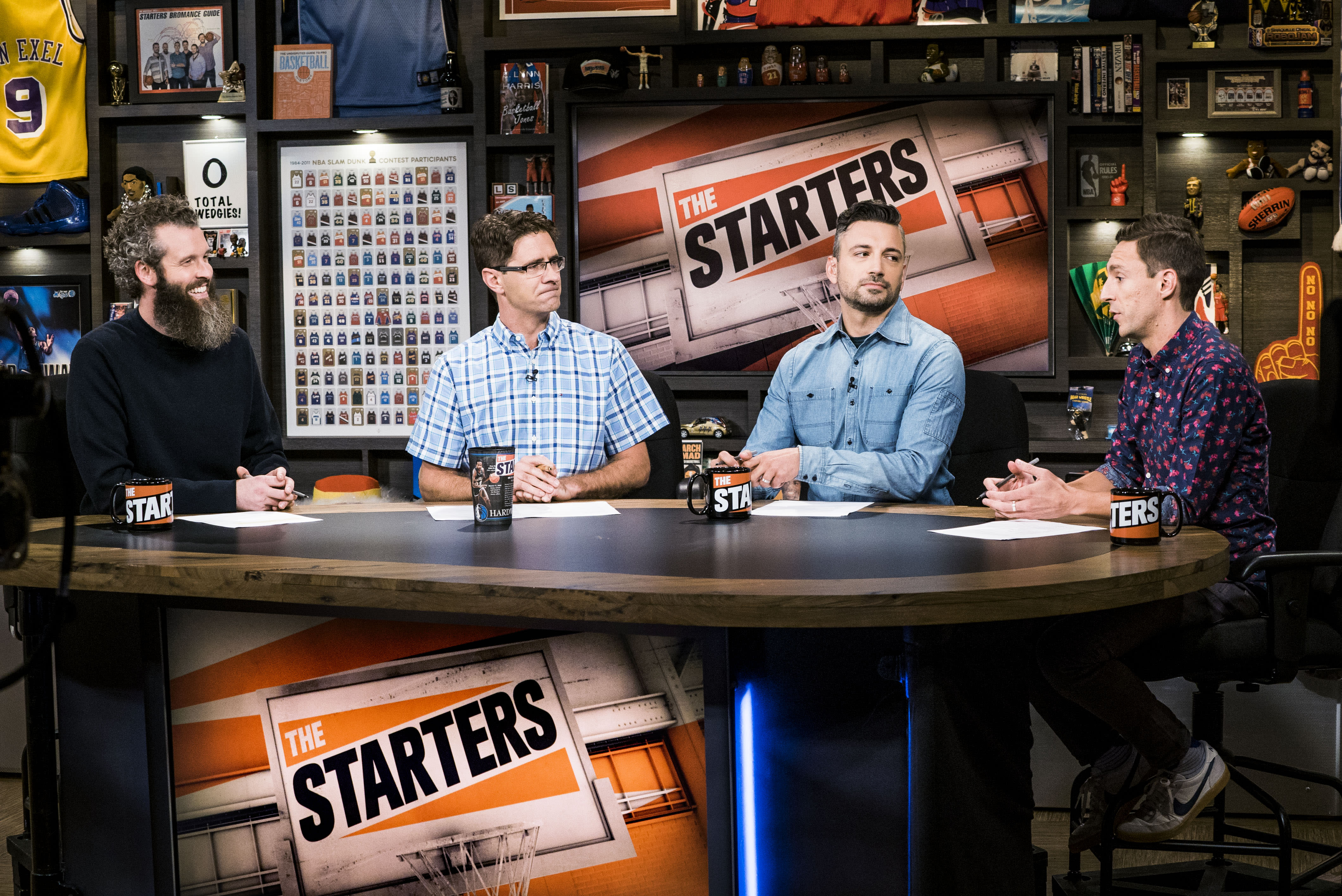 In a day in which TV executives are desperately searching for a viewership formula, The Starters have achieved sustained success by breaking the mold. They're entertaining and humorous but also informative and formulaic. For example, they recently debated the impact of Kyrie Irving's injury while Ellis had his chest waxed.
Every month, the loser of the Pick 'Em Payoff has to do something embarrassing. @LeighEllis pays off his 4th loss of the year with some extreme manscaping. #TheStarters pic.twitter.com/euhh1C5io6

— The Starters (@TheStarters) April 6, 2018
"As much as we'll go one way with the craziness, we'll come right back to what people want to hear about…it's glaringly different from a lot of shows, so it catches your eye," Skeets says. "I think sometimes people watch our show for the first time and go, 'What is this? I don't get it. Who are these guys? Is that guy Canadian or Australian? Why does that guy have a giant beard?' I think if you watch it a second, third, fourth time, you tend to realize the vibe of the show, and it can become addicting for some people."
The Starters work 8-12 hours a day depending on your definition of work. They typically arrive in the office around noon and brainstorm ideas for a couple hours. Then Osten will edit footage while the on-air guys plan their content delivery. Around 6 p.m., they head to makeup, and the show is recorded at 7 p.m. When it's wrapped, they go home—and jump right into watching and tweeting about basketball. The hosts' Twitter presences have certainly helped the show's popularity.
For those aspiring to emulate their success, Skeets offers two pieces of advice: first, produce content on a consistent schedule, both for the audience and to keep yourself accountable. The second bit is simple: be yourself.
"I am exactly the same on and off camera, and we all are, and people can see that—they know that it's not a façade," Skeets says.
Or, as Melas puts it: "We just started being ourselves on microphones 12 years ago." The rest is history.
I am exactly the same on and off camera, and we all are, and people can see that—they know that it's not a façade.
Next on their agenda: coverage of the playoffs, draft, and Summer League. They'll have a brief break in August and be back for their sixth season with Turner in the fall.​
Thanks to a loyal fan base, The Starters have turned their passion into their occupation. Those fans, who feel more like friends, have fueled their ascent from Skyping before dreary day jobs to getting wedgies from Shaq—and the impact has been reciprocal.
"We're not doing anything real groundbreaking, but there have been a lot of emails through the years where people say, 'you got me through this crisis' or, 'I can't believe how much a part of my daily routine you've become,'" Melas says. "That is really heartwarming, touching—it's real stuff affecting real people."