"Thank you all for coming. Welcome to the 2018 NFL Draft. The Cleveland Browns are now on the clock. You've got two minutes to make your selection. Good luck."
Two years and one week ago, I was selected by the Philadelphia Eagles to play in the National Football League. Now, I'm the one making the selections.
It's a chilly "Spring" day, and I'm at the NFL Experience venue in Times Square. After measuring my vertical leap (which is about that of a horse) and getting fake snowed on in the completely—and somewhat scarily—immersive 4D theater, I, along with other media members are sheparded over to the main level. There's a big "draft board" in the front of the room and a podium sitting adjacent. A clock hangs reading two minutes.
I've been assigned general manager duties for five different NFL teams, and it's my responsibility to dictate the future of these franchises. No pressure, right? The problem is, I haven't done my homework.
I know where my beloved Giants pick (second), as well as what my team needs (everything). I'm aware of the top talent in this year's draft, namely Sam Darnold, Josh Rosen, Saquon Barkley, and the loveable Baker Mayfield. Outside of that, I'm as fluent in the language of NFL prospects as Kevin Hart is in Spanish.
It also doesn't help that I'm handed the seventh overall pick, which belongs to the Tampa Bay Buccaneers. Understatement time: I have a vague idea of their current personnel. I've never wanted to be Todd McShay more in my life.
"In 2011, I wanted to draft a player by the name of J.J. Watt. We drafted Von [Miller] instead, so luckily that turned out alright." — John fox
By the grace of some higher power (David Tyree?), I'm handed a detailed scouting report that outlines draft order, team needs, and ranks the best players by position. Stirring in my chair, I feverishly flip through the packets, and become enamored with Saquon Barkley's bio. Suddenly, I hear a voice.
"Target clumps of players, not individual ones."
The voice belongs to John Fox, an NFL coach of nearly three decades (most recently with the Bears) and now an ESPN analyst, who hosted a pre-draft Q&A session with us. He's one of the dudes responsible for selecting Julius Peppers in 2002, and Von Miller in 2011, two of the greatest defensive lineman ever. His war room experience is second-to-none.
But even great drafters like Fox have whiffed on prospects and passed up on future Pro Bowlers. He'll be the first to admit that.
"Oh, there been lots of those guys. In 2011, I wanted to draft a player by the name of J.J. Watt. We drafted Von [Miller] instead, so luckily that turned out alright."
And Fox warns against the always seductive quarterback.
"The success rate for drafting QBs is much lower than it is for drafting a wide receiver," he says.
Yes, general managers are the ones who make the final decisions when it comes to drafting players—owners in very extreme cases—but coaches have a huge say in the selection process. And according to Fox, coaches (and teams) will often leak "fake drafting news" intentionally, as a way to play mind games with the rest of the league.
The first several selections of the mock draft are made, and before I know it, my guy Saquon is off the board.
"The Tampa Bay Buccaneers are now on the clock."
Shit.
My right hand rakes through my hair, and a sharp heat courses through my chest and engulfs my spine. I glance up at the clock, which is ticking down. 1:29, 1:28, 1:27. My eyes shoot over to the big board, but I can't see the small writing. I forgot my glasses upstairs...
Caught in a mini panic, another moment of divine intervention saves me.
"What are you thinking?" It's the living, breathing, Carolina Panther-blue suit wearing Fox.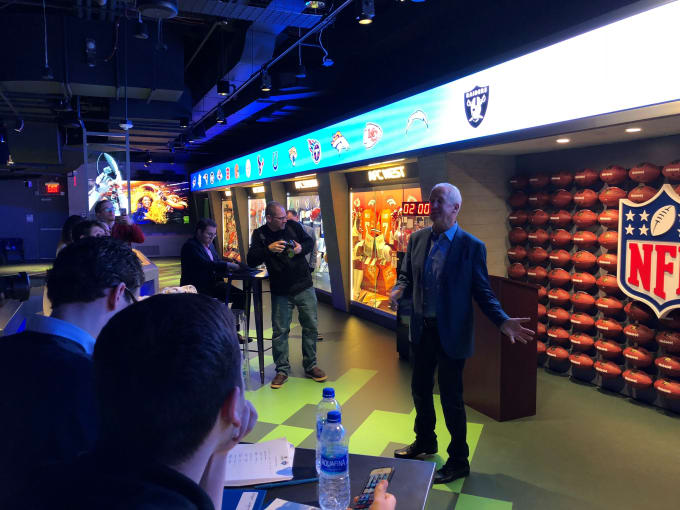 His presence reminds me of Coach Eric Taylor. Charismatic, an infectious smile, a true passion for football. He doesn't have the Texas southern accent, yet you still here the Virginia—where he's from—in his voice. It's also authentically raspier, thanks to 40-plus years of yelling on the sidelines. Before he even offers a word of advice, I feel calmer.
The Bucs are in need of defensive help.
"Remember, you want this guy to be a 10-year starter in the National Football League," he says. "The combine shows you how well a guy moves. For me, what's most important is what they can do on the field…You also need to look at dimensions."
"The combine shows you how well a guy moves. For me, what's most important is what they can do on the field." — john fox
He's referring to size, and I see Alabama's Minkah Fitzpatrick is on the board. A 6'1'' free safety, Fitzpatrick played a huge role on Nick Saban's national championship winning team this past season.
"Off-field personality matters, definitely," Fox adds.
I quickly try to Google Minkah, but no there's Internet. Like the good 'ole days before social media was out here exposing people, I have to take a leap of faith and trust that Minkah's a good kid.
After thanking Fox, I methodically pace (always gotta be wary of tripping) to the podium. This is the other aspect of the mock draft. I become Roger (did someone say Deflategate?) Goodell. That means announcing the pick, in its entirety:
With the 7th pick of the 2018 NFL Draft, the Tampa Bay Buccaneers select…Minkah Fitzpatrick, free safety out of the University of Alabama.
It's a mouthful, but I get through it. Almost tipping over the podium? Can't quite avoid that one...
While unusual, Minkah Fitzpatrick is not a difficult name to read. Ogbonnia Okoronkwo, by contrast, is going to be a challenge. The Detroit Lions require a defensive end, and I'm the person who can deliver that for them. But I need to flawlessly pronounce Ogbonnia Okoronkwo.
Determined, I practice saying the name over the span of eight picks (16 minutes) until it's my time to hit the podium. What comes out of my mouth resembles Ogbonnia Okoronkwo. The room is supportive—not at all how fans would actually react to the blunder. As I pass by Fox heading back to my seat, he whispers, "Nice job on that name, bud."