DeAndre Jordan couldn't help himself in the locker room. Drake's "6 Man" was stuck in his head.
"Like I'm Lou Will," Jordan crooned. "They must have played that a hundred times."
The Staples Center PA played it 11 times Saturday, to be precise. That's what they do when super sub Lou Williams drops one through the nylon. So it was basically on repeat during the Clippers' matinee matchup with the Wizards as Williams cooked up Washington for a scintillating 35 points—including the game-winning 3-pointer with 1.2 seconds left—in a contest the Clippers desperately needed.
It stopped Los Angeles' four-game losing streak and gave the squad something to smile about for a change considering it's been such a disheartening and disappointing first quarter of the season for Doc Rivers's squad.
"I thought we showed a lot of heart," the Clippers head coach said. "Lou was amazing."
Once upon a time, Williams was immortalized in a Drake song for having two girlfriends. Nowadays, he should be celebrated for being the best sixth man in the NBA. Averaging 19.7 points per game over 30.3 minutes a game, Williams has stepped it up recently, pouring in an average of 24.9 a night over his last eight games as the 9-15 Clippers try to slowly climb out of the hole they've dug themselves through their first 24 games of the season.
Expectations were high for Los Angeles entering the season, even after Chris Paul took his talents to Houston. Las Vegas pegged the Clippers as a 50-plus win team and after a 5-0 start to the season with a revamped roster, things were looking up. Some egregiously wrote that Los Angeles's other basketball team would be just fine without CP3. Then the Clippers Curse took over. Down went Patrick Beverly. Down went Blake Griffin. Up went the Ls. Since Griffin was lost to a knee injury two weeks ago, the Clippers are 2-4, a big improvement after the team dropped nine straight in November. 
But Williams bailed them out against the Wizards—themselves playing short-handed without star point guard John Wall—when it looked like another Clippers L was inevitable. After letting a first half lead slip away in the third quarter, Williams went to work. He scored 22 in the second half, none bigger, than his three from 30 feet out over the out-stretched arm of Bradley Beal. Isoed with only a 5 seconds to go and down two, Williams looked right, dribbled behind his back to the left, and launched.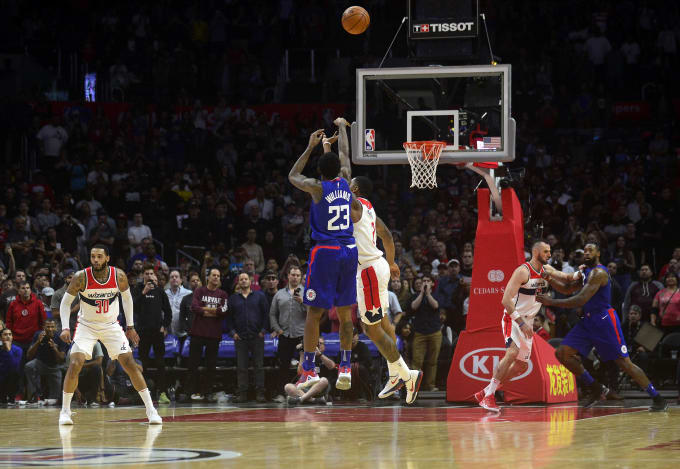 "He was going to left. You can put that in the bucket, son," Jordan boasted in the locker room.
"If I go left, I like my chances," Williams said.
It was reminiscent of another celebrated sixth man Rivers coached for the previous five seasons in Los Angeles, Jamal Crawford
"I've had a good string of six men here," Rivers said. "And Lou is very similar. Lou is just so efficient. That's what I see with Lou. He's just like Jamal in being a professional scorer. And just like Jamal in that they both started out like point guards in that they both can make plays."
Rivers needed Williams for 37 minutes Saturday and he responded. Four-of-eight from beyond the arc, 9-of-10 from the line, with eight assists to top it off made for a special afternoon. It was signature moment in a season bereft of them for the Clippers. Whether they can weather the storm until Griffin returns and make a run at the postseason remains to be seen. Rivers needs all he can get from Williams right now and he's delivering. 
Since 1987, only six NBA Sixth Man of the Year award winners have averaged 19 or more points per game. The last one to do it was Jason Terry in 2009. Williams is averaging more points off the bench than anyone in the league (Rockets guard Eric Gordon isn't far behind, averaging 18.6 ppg). He can't remember playing this well over a stretch of games during his 12-year NBA career. "To some degree, it feels good to have some high numbers and you like to turn these things into some wins," he said. The Clippers better hope they don't wear him down since Rivers said Williams was on empty at the end of the game as his minutes have steadily risen over the past few weeks. 
But if he keeps this up, he's well on his way to securing another Sixth Man of the Year honors. Williams took it home in 2015 when he was with the Raptors. That's when Drake dropped "If You're Reading This It's Too Late" and the track Clippers fans and Williams' teammates hope to have stuck in their head well past this weekend.