LOS ANGELES — In a series featuring a stupid amount of fireworks, Game 6 may have been a let down. Because if you tuned in hoping for another night of bombs bursting in the air, the Astros and Dodgers left you hanging.
But who cares in the end since Tuesday's results mean we get a Game 7 Wednesday. An already dramatic World Series figures to come to an epic end because isn't that how it always works with baseball? We got a Game 7 to remember forever last year between the Cubs and Indians and the way the 2017 Fall Classic has played out there's only one way the finale between the two best teams in the game can end.
Yet halfway through Game 6, it didn't look like we were getting a Game 7. Even if it was only a one-run game after five innings. 
Because Tuesday at Chavez Ravine was shaping up to be an Astros coronation. Halfway through, Justin Verlander was dealing for the Stros. One of the most dominant right handers of the last decade and a guy likely headed to Cooperstown was just a few innings away from becoming a certified legend.
Kate Upton's significant other looked awesome through five innings. He had struck out eight, allowed just one hit, preserving Houston's precious one-run lead thanks to George Springer's third inning solo home run. Then came the sixth. A single, a hit batsman, a double, and a sac fly later, Verlander had coughed up the lead. The Astros would never seriously threaten again. Final score: 3-1 Dodgers in Game 6. Onto Game 7.
"I thought [Verlander] was obviously cruising," Astros manager A.J. Hinch said. "He had one hiccup in the middle of the game, but that was about it."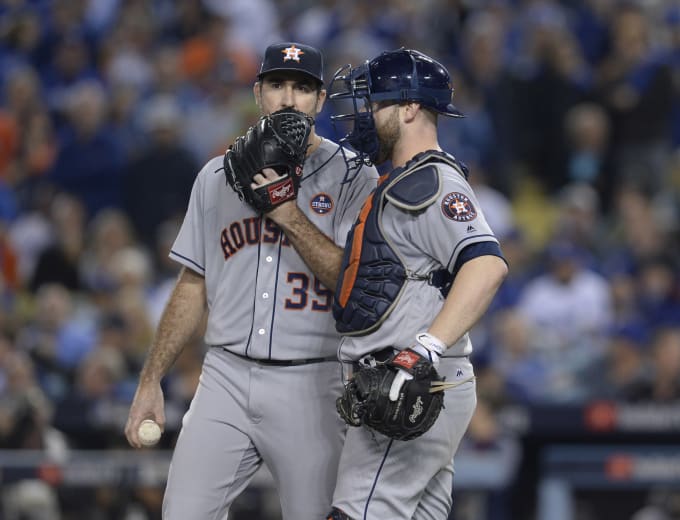 After an epic Game 2 that saw a record eight home runs in a World Series game and a Game 5 that was an instant classic—it lasted 5:17 and defied any logical explanation the next morning—we get nine more innings that are going to be insanely dramatic. Both bullpens are running on fumes. Will Clayton Kershaw, just pitched Sunday, be able to throw a few innings? What about Verlander? Could he give the Astros an inning or two in a pinch? Mistakes will be made, heroes will be crowned, and goats (the bad kind) will be ridiculed. Wild things happen in Game 7s. Baseball practically guarantees it. 
Talking to MLB Network analyst Harold Reynolds on the field before the game, he almost guaranteed the series was ending Tuesday. He believed in Verlander, expected greatness from the 34 year old because he remembered a conversation he had with him about five years ago.
"He was throwing no-hitters and I talked to him after one of those games," Reynolds said. "I asked him when do you know you have a no-hitter. 'Oh man, in the first inning. I think every game like that.' And he goes, 'I want to be in Cooperstown some day.' He understands his destiny. He knows this is going on his Hall of Fame resume."  
Verlander was already a Hall of Famer before Tuesday. He could have become a legend in front of 54,128, almost all of whom were clad in Dodger blue. The faithful erupted in the bottom of the sixth when Corey Seager's sac-fly plated the go-ahead run. Dodger Stadium went ballistic when Joc Pederson, who had all of two hits in September, clocked his third home run of the World Series an inning later. The Dodgers survived Tuesday, but the odds are still stacked against them. Two-thirds of the teams that win a pivotal Game 5 go on to win the World Series. Convention says the Astros will be world champs when it's all said and done. But the Dodgers chased the Astros best pitcher and maybe the Stros' best chance of winning last night. Houston's going to have to rely on Lance McCullers and a suspect bullpen if the game's best offense can't carry the load. 
"This series was destined to go seven," said McCullers, the Stros' starter Wednesday. 
Verlander had a chance to cement his status as an all-timer. Reynolds wasn't the only expert on the field who thought Verlander was going to shut down the Dodgers. His MLB Network colleague Al Leiter felt the same way. He thought the series was going to be over on Halloween.
Instead, we get a Game 7. If it features half of the drama last year's Game 7 then we're in for a treat. Knowing these two squads and what we've seen from them over six games, the only trick is predicting who the hero will be. There's so much young talent in this World Series.
"[Jose] Altuve, [Alex] Bregman, [Carlos] Corera, [Corey] Seager, [Cody] Bellinger, I think we're looking at some guys that potentially will be Hall of Fame players, if not $200 million players," Reynolds said before the game.
Cooperstown? Altuve's starting to put together one hell of a career. He definitely has Hall potential. We know the absurd contracts will come for just about all the other young studs playing in this series. But for now, they'll take a ring and a champagne shower.