LAS VEGAS — Hours before Canelo Alvarez and Gennady Golovkin fight to decide who the best middleweight on the planet is, it's not easy to track down Oscar De La Hoya. To find him, we're marched down the endless corridors of the MGM Grand, led past a wrought-iron gate, past the slot machines and neon lights in exchange for a brief moment of tranquility.
For De La Hoya, it's earned peace. He is a living legend to the thousands of Mexican-American boxing fans who have flooded Las Vegas this weekend, and they begin screaming for him as soon as he's in earshot. The head of Golden Boy Promotions seems thankful to have a moment to himself, but he's also excited about what's to come on Saturday.
"This is what boxing is really all about, bringing two of the best fighters on the planet, squaring off on such an important weekend," says De La Hoya, alluding to the significance of a fight being held during Mexican Independence Weekend. There are times when you might believe you're in Mexico, casino corridors flooded with the green, white, and red of the nation's flag. Golovkin's fans are loud and plentiful, waving the blue and yellow flag of Kazakhstan, but they are fighting an uphill climb.
The energy around town is palpable. Weeks after Floyd Mayweather and Conor McGregor completed the final act of their three-ring circus, Alvarez and the man known simply as "GGG" are ready to go head-to-head, in what most boxing fans believe will be the fight of the year. The men pulling the strings behind the scenes believe everything is in place for a classic fight, and they make sure to take quick, but effective jabs at the Mayweather-McGregor bout that just went down.
"When you have two guys that are clearly the best in their division, not only in the ring but outside the ring, as far as their fan bases, their marketability, that makes this a lot easier to promote," says Tom Loeffler of K2 Promotions. "We don't need guys throwing money on the stage or pushing them off at the weigh in."
With two of the sport's best and most exciting fighters about to settle a fight that has been years in the making, Complex was able to be part of an intimate interview session with De La Hoya thanks to Tecate, and the living legend dished on Canelo's career, winning over a new generation of fans, and much more.
(This interview has been edited and condensed for clarity.)
What sort of advice do you have for Canelo heading into a fight like this?
You tell him to fight with passion, that's it. He's done everything he has to do, he's ready, he's prepared. Whatever takes place in the fight, whatever Golovkin brings, he's ready for. But the one thing I tell him is fight with passion, that's it, and leave it all in the ring. There's millions and millions of people watching, so you might as well go out there and fight with pride, with honor. That's what it's all about for me.
When I was fighting back in the day, I would just leave it all on the line. In boxing, in any sport, you're as good as your last fight. Canelo has an opportunity to really shine, and boxing has an opportunity to continue riding that wave. We did have those four million pay-per-view buyers with Mayweather-McGregor—that exhibition that took place—so we have an opportunity to speak to those fans, and let them know there's a real fight taking place. It's pretty exciting.
Is there an opportunity, because of that Mayweather-McGregor fight, to show what a real fight looks like, to help capitalize on that momentum and potentially create a new generation of boxing fans?
I wasn't against Mayweather-McGregor. Yes, to me, it was a disrespect to the sport, because I'm a purist, boxing is my life. But I'm all for talking to those fans who were able to witness a boxing event for the very first time. So we must talk to them, we must engage with them, and embrace them. This fight couldn't have come at a better time, because people have an idea of what two boxers at the highest level can do, and we're witnessing it.
Canelo Álvarez and Gennady Golovkin have both made weight ahead of their hotly anticipated fight. Watch the recap here #CaneloGGG pic.twitter.com/SBXBOfPX5Q

— Tecate (@tecate) September 16, 2017
Vegas is full of energy, everybody traveling from all over the world, it's just amazing for boxing. I'm not worried that Canelo and GGG aren't going to deliver, because this fight is a can't miss, this fight is made to be a classic, it's made to be I'm hoping a trilogy. These are the types of fighters that can deliver a special fight.
Do you feel now that you're on the promotional side of things that you have a responsibility to help deliver more of these matchups of big name, big time boxers? You fought Felix Trinidad, Julio Cesar Chavez, Floyd Mayweather, Manny Pacquiao, and many other major contenders during your career, and it feels like fighters build to big fights more than they have big fights. Would you want to see fights like these happen more often?
Absolutely, and I strongly feel it's my responsibility to bring boxing back. After my era came Mayweather, and with Mayweather, as talented as he is as a boxer—which I respect dearly—he didn't do justice to the sport, in not having the toughest challenges, not fighting Manny Pacquiao when he was at his peak, waiting 7-8 years. It didn't make a positive impact for the sport.
Now that he's retired, now that Pacquiao is at the tail-end of his career, we have Canelo. And so my responsibility is face them, match him up with the very best, because this is exactly what we get. Canelo can be the savior of boxing. For me, yes, it's about the business, but it shouldn't be the primary focus. You have people talking about, well, how many pay-per-views is this going to do, ratings, closed-circuit?
Business is great, it's going to be a huge fight. But if you notice, in this promotion with Canelo Alvarez, it's not about the money, it's about the fight. It's about the two individuals inside the ring, and it's their responsibility to give us a great, great fight. Everything else will fall in place. I want people to remember why we're here, and that's because we have two great fighters who are going to give us one for the ages.
Speaking of Mayweather, Canelo's only professional loss came against him when he was just 23 years old. How has Canelo evolved since that fight?
When Mayweather fought Canelo, Canelo was too young. Mayweather has made some calculated decisions in his career, that maybe hasn't given him the respect from fight fans that he maybe deserves. But Canelo just has the confidence, he has the experience at that championship level, he doesn't feel invincible, therefore he trains like no other athlete I've seen, because of that loss, because of that experience.
"I'm not worried that Canelo and GGG aren't going to deliver, because this fight is a can't miss, this fight is made to be a classic."
And same with Golovkin! He had a very difficult fight against Danny Jacobs at Madison Square Garden, he goes 12 rounds for the very first time in a long time, because he's [usually] knocking everybody out. So everybody thinks GGG's losing it, I think it was because Jacobs is an amazing fighter, an incredible talent, and when you're knocking everybody out—he knocked out like 20 guys in a row—if you have to run five miles, eh, maybe today I'll run four.
I think that fight right there made him even better and more dangerous for Canelo, because now GGG woke up and said I better get back to my roots, I better start training hard. The way I describe it is it's going to be hell for both guys, it's going to be that brutal of a fight. And I love it, I can't wait.
With technology better than it has ever been, it seems like you have a real opportunity to tell stories of great triumph, of being able to overcome adversity, and do so in different ways than you might have been able to in previous generations.
I've been preaching that. Kids these days, they don't want to be told what to watch, when to watch, where to watch it. You have phones, you have these tablets, all these devices, and we're actually catering to it. When we started Ring TV, it was for that reason and that reason alone, to be able to connect on a more personal basis with the younger fan, the fan that wants to get to know that fighter and take a journey. You're going to do that through technology, you're going to do it through telling the stories, and boxing will continue to grow and flourish.
I'm really excited about what we're doing internally with Ring TV and Golden Boy promotions, and obviously Tecate has been very instrumental with sending out the message. 'Be bold,' right? We couldn't be any happier with that partnership we've been able to grow.
What does it mean to you to be able to bring together all these things on such a significant weekend for people of Mexican descent, to have Canelo and his fans and Tecate represent the pride of an entire nation?
It's very important to show the world what Canelo's all about, what Tecate's all about, what being bold is all about, what the Mexican culture is all about. It's a great opportunity to really expose the brands on a global scale, especially when you have this type of fight, where all eyes are going to be in Las Vegas, who's involved, who's a part of, it's very important for boxing.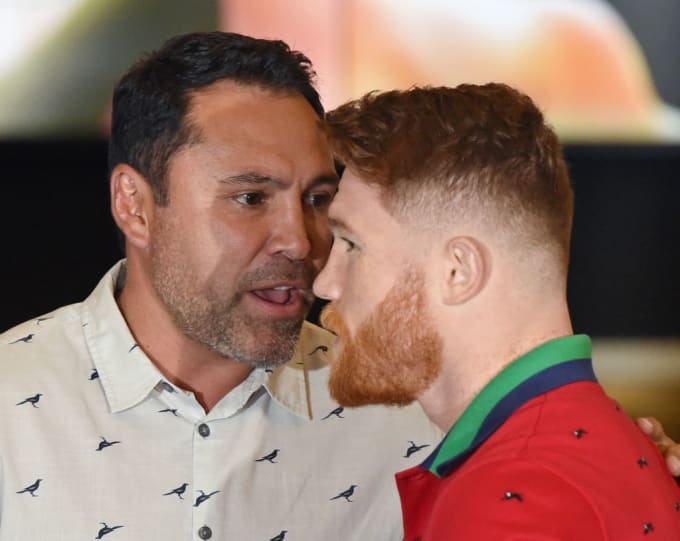 Everything must go perfectly, everything must happen without a glitch this weekend. That's the only worry I have, because we have something special here, and it's because of who's involved. Especially Tecate, being involved and creating such a wonderful platform to expose boxing to a whole new level. I'll be able to take a deep breath once that final bell rings and everything is running smooth, and nothing major happened. Everything just was perfect.
Both of the fighters are known for partaking in the "Mexican style" of boxing, an aggressive style that's typically a fan favorite. Does it make you feel proud to see that legacy live on and to give it such a large platform?
GGG, he's a fan's dream, a boxing fan's dream. He has all the amateur experience, he's an amazing, amazing boxer, but he decides to fight in front of you and take a few punches himself, and create this exciting fight. I love this guy, he doesn't know how to take a step backwards.
Same with Canelo, and fans love that. Canelo moves his head a little more, and he can box just a bit, enough to get hit and create an amazing fight. When you have two guys who don't know how to take a step going backwards, you're going to get an explosive fight.
I think a lot of people are going to be talking about that Mexican style for a very long time. I remember "Marvelous" Marvin Hagler vs. Thomas Hearns, it was one of those middleweight classic matchups 30 years ago. [I find it] ironic how my younger kid tells me, 'Daddy I want to come to this fight, Canelo-GGG,' and I'm thinking to myself, my kids are going to be talking about Canelo-GGG 30 years from now.
So this is not just important for the fighters and who wins, this is important for boxing. Boxing is not riding on this fight, but this fight here is a very important fight for the future and the landscape boxing.
You've said in some previous interviews that you don't expect this fight to go the distance. Having said that, would it almost be a letdown or a disappointment if no one scored a knockout?
I've been preaching 10 rounds of hell for both guys, so I mean, two more rounds, why not right? Let's go the distance.
I just think these guys hit too hard, they're too powerful, they're too strong, they're machines right now, they've been training so hard to look for the knockout. There's no way this fight goes to a decision, there's too much firepower in one ring. So many bombs are going to be flying, one has to land. That's the type of fight we're going to see.
When we make fights, you never know what's going to happen, but there's a reason why Golden Boy Promotions has been involved in like, the past 10 years, Fight of the Year, we're always involved in it. There's a reason: I was a fighter myself, and I understand what it takes, and I want these guys to make sure they give the fans what they're looking for. And that's an entertaining fight, a fight where they can cheer from the edge of their seat, you get up and you have chills [from the] adrenaline.
Boxing is amazing. Boxing is incredible. And when that first bell rings, you're going to feel it, it's going to be electrifying. There's nothing like it. I've been to Super Bowls, I've been to NBA Finals, I've been to all the sporting events. There's nothing like a major fight when that bell rings.