Some of the Americanness of the NFL lies in how it sells itself as a meritocracy. The idea that hard work and ability will be given their just due is embedded in the nation's genesis—football is the physical manifestation of that principle. What's often disregarded is how that concept is provisional and how that promise is readily taken away once you overstep boundaries. One year after taking that knee, Colin Kaepernick has come to represent that trapping both as an exiled quarterback and as a black man in America.
If we're focusing on merits, the 29-year-old ought to have a job by now. San Francisco finished 2-14 last year, but anyone who pins it on Kaepernick without considering the team's poor luck stopping the run, its weak wide receiver corps, and the suspect O-Line surrounding him is scapegoating. And besides, Kaepernick finished with a 4:1 TD-to-interception ratio.
But in the six months since Kaepernick opted out of his contract, NFL executives and coaches have resorted to a series of nonsensical excuses, anonymous jabs, and verbose fuck-offs to justify his exclusion. When the Seahawks said no, head coach Pete Carroll reasoned that "we have a starter, but he's a starter in this league and I can't imagine that somebody won't give him a chance to play." So they picked Austin Davis—whose bonafides include totaling more turnovers than starts in his 2015 Cleveland stint—to back up Russell Wilson instead of a former Super Bowl quarterback. Other anonymous executives have went the less goober-ish, but nonetheless disrespectful route of calling Kaepernick a "distraction" while barely examining why he knelt in the first place: to stand up for African-Americans who are systemically targeted by law enforcement.
Kaepernick's league-wide shunning has led many to reasonably conclude that he's been blackballed, prompting some longtime fans to turn their backs toward the NFL. Protesters have demonstrated outside of NFL headquarters in New York and a petition has reached over 175,000 signatures. This likely won't derail the NFL machine, though. The season will roll through its 17 weeks with millions of viewers tuned in, and we'll be united in the Super Bowl's capitalist joy in February. Because in spite of itself, NFL is still America's Game.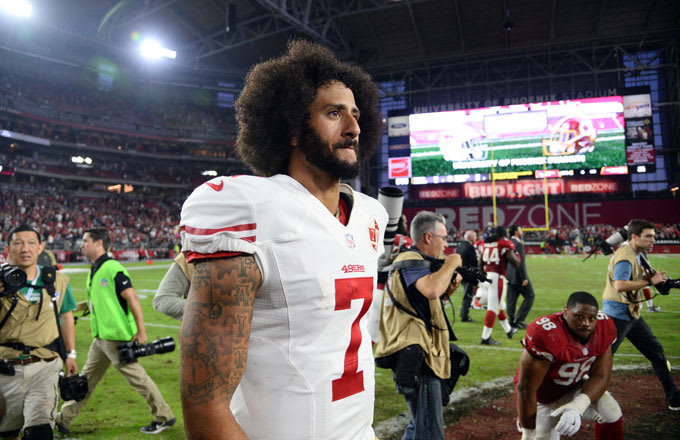 Although the NFL is carried by decades of lore, the league has only recently superseded the MLB to become America's sport. As Pulitzer Prize-winning columnist Mary McGrory once said, "Baseball is what we used to be. Football is what we have become." Pop culture phenomena like the NFL are significant because they reflect our value system. The league's rhetoric proudly appeals to that idea: The logo's shield and stars are borderline patriotic agitprop. American football bolsters itself as where grit, will, and a bit of wit—pillars of masculinity—combine for the glory of winning as a team. Because they're definitively American, they're presented as praiseworthy characteristics, not ailments that romanticize violence. Rich Cohen once noted it's a microcosm of "a tough country, made by violence, which the game compresses and presents in the course of an afternoon."
The principles that are supposed to represent the totality of America usually only serve a few. The NFL lauds the violence that propels the sport but fumbles when that violence is enacted on women. And the league has yet to honestly address how it inflicts irreversible brain trauma on its easily discardable players. But we've been known about both failings: The NFL has botched domestic abuse cases in consecutive years, and Will Smith starred in a whole movie about the latter.
Kaepernick's unofficial expulsion feels like newer toxic territory for the NFL because he's essentially being punished for defending African-American life. Black men make up about 70 percent of the league, yet the head coaches, front office men, and owners are predominantly white. If the league still does tout its commitment to diversity, it's a surface-level pledge because the core says otherwise. The NFL values individualism only to the extent that it doesn't upset the status quo, even if the intent is to defend a person's humanity.
Like America, things aren't truly fucked up unless men in power decide they are. Within four years, Kaepernick went from being called potentially one of the greatest quarterbacks ever to jobless and criticized because he inconvenienced a privileged few to speak for the oppressed. In fact, it might not be a stretch to think the executives view civilian black bodies as just as expendable as Kaepernick.