Myles Garrett Says if He Doesn't Go No. 1 in NFL Draft, He'll 'Punish Your Team' and 'Knock Out Your QB'
Myles Garrett believes he's worthy of the No. 1 overall pick, and he's going to punish your team if you don't think he's worth it.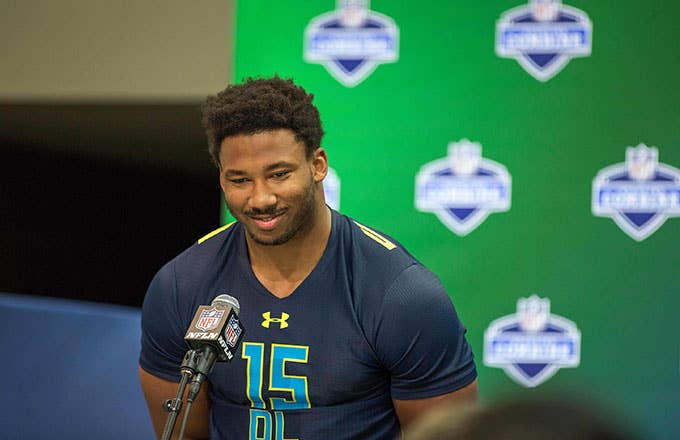 USA Today Sports
Image via USA Today Sports/Trevor Ruszkowski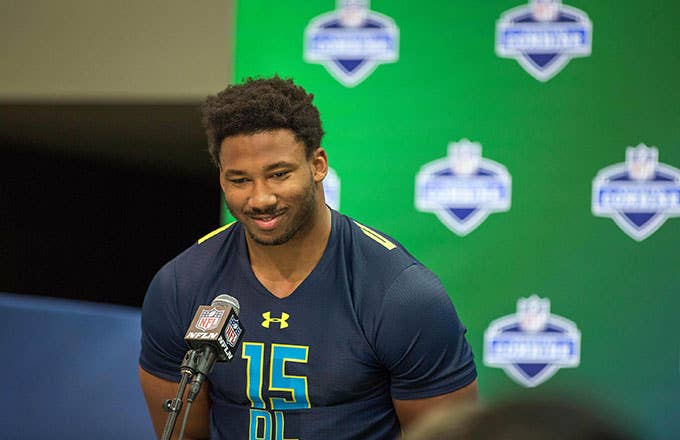 Most kids good enough to be taken No. 1 overall in the NFL Draft have been coached to play it safe when they get interviewed. They talk about their desire to be great with a bunch of empty platitudes, smile for the camera, and wait for their name to get called on draft night.
Most kids are not Texas A&M's Myles Garrett. Garrett entered the 2017 NFL Combine as the presumed top prospect, and he further wowed scouts and executives with his standout performance, cementing his place at the top of nearly everyone's mock drafts. He left Indianapolis being compared not to other football players, but superheroes like Wolverine from X-Men.
But as we've seen throughout the years, mock drafts do not always translate to reality. The Cleveland Browns are the current owners of the No. 1 pick, and despite Garrett's high grade there's no guarantee they'll take him with the draft's top selection. So when Garrett was asked by ESPN The Magazine's Sam Alipour about how he'd react if he wasn't taken first overall, he didn't mince words:
ESPN: All right, imagine I'm Hue at that dinner. My franchise hasn't had a good quarterback since Bernie Kosar. Why should I take you first overall?
Most prospects stick to cliches like "proving my doubters wrong" or "making teams pay" for sleeping on how good they think they can become. Taking it to the level Garrett did is not too common, and crosses into territory that is usually only approached by veterans with years of NFL production under their belts. A draft prospect promising to knock out your quarterback is pretty rare, especially before he gets drafted.
In case you had any doubts about how serious he is about his chance at greatness, the 21-year-old defensive end has his eyes set on the GOAT, Jerry Rice. "I want to be the greatest. The greatest that ever played, regardless of position or era," he says. "If his total greatness is considered the best of all time, I want to exceed that."
Garrett is the best prospect in this class, and he knows it. He's confident enough in his ability that he probably wouldn't want to play for a team who would be scared away by tough talk. If the Browns are soliciting advice from us, they should do themselves a favor and just take Garrett No. 1 overall. They've had bad luck with quarterbacks as it is, and the last thing they need is a stud defensive lineman dead-set on knocking their next one out.
Send all complaints, compliments, and tips to sportstips@complex.com.