An NFL team still hasn't scooped up free agent Colin Kaepernick, the former 49ers quarterback who last season refused to stand during the national anthem. Kaepernick is only 29, and at one point not too long ago he was considered one of the most promising young quarterbacks in the NFL.
I mean, just three years ago—after Kaepernick led his squad to a Super Bowl and NFC title game in consecutive years—San Francisco gave the guy a six-year extension worth up to $126 million. (He opted out of his deal earlier this month.)
Has he fallen that far from the golden child we knew a couple years ago? NFL teams are still taking fliers on career backups like Josh McCown and Brian Hoyer. Is Kaepernick really worse than those guys?
Friday, Richard Sherman, the Seahawks' cornerback, appeared on ESPN's First Take. Sherman spoke out in defense of his former rival (remember when Sherman broke up Kaepernick's pass to Michael Crabtree in the end zone to seal the NFC Championship game?) and said it's ridiculous that Kaep hasn't been signed yet.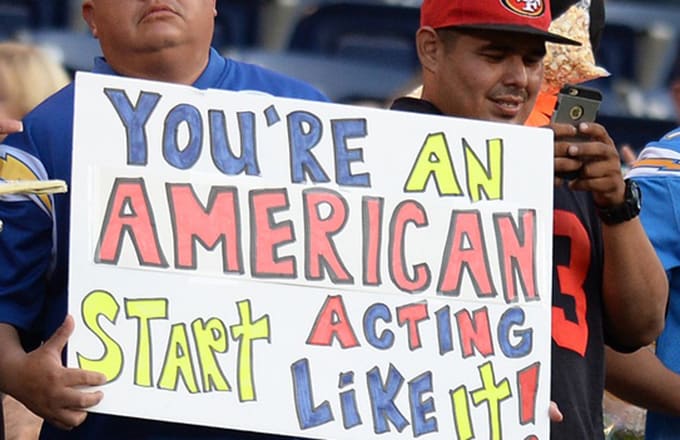 "It's difficult to see because he's played at such a high level, and you see guys, quarterbacks, who have never played at a high level being signed by teams," said Sherman, who's never afraid of sharing his perspective. "So it's difficult to understand. Obviously he's going to be in a backup role at this point. But you see quarterbacks, there was a year Matt Schaub had a pretty rough year and got signed the next year. So it has nothing to do with football. You can see that. They signed guys who have had off years before."
Sherman's belief in Kaepernick's abilities seemingly increased throughout the interview. Though he initially said Kaepernick would "obviously be in a backup role at this point," the corner later claimed Kaepernick is better than most of the starters in the NFL.
"You don't have 32 starting-level quarterbacks in this league," Sherman said. "You have about eight elites, and then you have the rest of the league. You have about eight, nine elite quarterbacks. You have two or three who have the potential to be elite. And then you have the rest of the teams. So he could play and start on a ton of teams in this league. He would be a starter on probably 20 of the teams in this league. But you're telling me that you're going to let other guys, you're going to pick up some of these other guys and tell me that they're starters?"
Twenty is probably a stretch—is Kaepernick really better than Joe Flacco, Eli Manning, or Trevor Siemian?—but the point holds some truth: Kaepernick is probably superior to some starters out there, and he is definitely superior to many backups. So why are teams hesitant to pick him up because of a peaceful protest while rumors abound that the Saints are considering signing Johnny Manziel, who's had near-constant struggles with drug and alcohol abuse in addition to a domestic violence charge​?
In his best season, Manziel threw for 1,500 yards, seven touchdowns, and five interceptions. Last season—a "down year" for Kaepernick—the 49ers QB threw for 2,241 yards, 16 touchdowns, and four interceptions. 16/4 is one hell of a TD/INT ratio; it was seventh-best in the NFL.
Think about those numbers and the difference between Manziel and Kaepernick's character. What's going on here? Clearly Sherman's belief that Kaepernick is being avoided because of his controversial National Anthem stance holds some weight. Other NFL players have spoken out in Kaep's defense, too, including Seattle's Michael Bennett and San Francisco's Torrey Smith.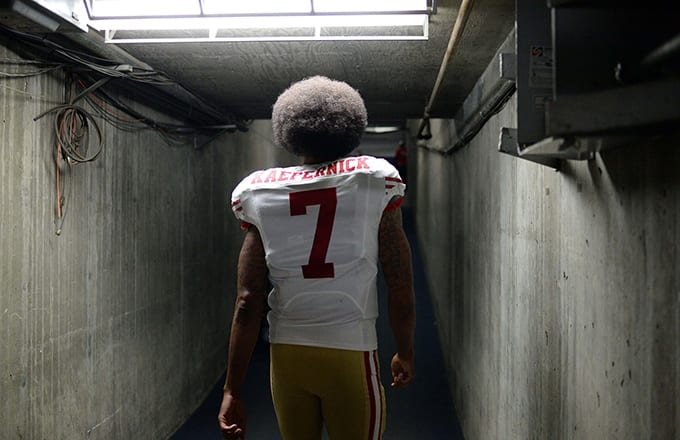 How have Geno Smith, E.J. Manuel, Nick Foles, Mike Glennon, The Sanchize, and Matt Barkley gotten deals while Kaepernick has been ignored? No, but seriously, I'm a Bills fan—how did E.J. get a deal before Kaepernick?!
Whether the NFL is conscious of it or not, the collective league is sending a message. That message appears to be: if you want to stand for something controversial, don't. It will harm your career.
This all runs counter to the Integrity section of the NFL's mission statement: "We do the right thing when no one is looking, and even if it's unpopular when they are looking. We demand accountability and we expect fair play. We say what we mean, mean what we say, and always follow through. "
The NFL being inconsistent? Who would've thought?
In the end, Kaepernick will be fine. I'm sure eventually a team will give him a shot, signing him to a contract that's far smaller than what he actually deserves considering he'll be perhaps the most overqualified backup in the league. He'll find a spot among fellow backups like Brandon Weeden, Aaron Murray, Scott Tolzien, and Zac Dysert.
It's just another bad look for the NFL, a league that becomes harder to understand—and harder to support—every day.
Ria2trNTE6xONYe_5cIcV7nFWmdzBTCN