ComplexCon returns to Long Beach Nov. 6 - 7 with hosts J. Balvin and Kristen Noel Crawley, performances by A$AP Rocky and Turnstile, and more shopping and drops.
Secure your spot while tickets last!
A month removed from its last friendly match, there's a lot of questions circulating around the U.S. Men's National Team, who fired coach Jurgen Klinsmann in November after a five-year tenure and replaced him with Bruce Arena. And one of the players looking to make a splash on the new-look team is recently appointed 31-year-old New York Red Bulls captain midfielder and MLS All-Star Sacha Kljestan. A lot of questions are circulating about the National Team, who's in a fight to qualify for the 2018 FIFA World Cup in Russia, and Kljestan's ready to step up and help lead his club and country to the next level.
With Klinsmann gone and Arena, the team's manager who previously coached the USMNT and Los Angeles Galaxy, back in and Kljestan set to lead the Red Bulls this season, there's a lot of change going on. But Kljestan told us Monday at the Adidas store on Fifth Avenue in New York that he's up for the challenge, and knows people are counting on him.
"Camp in January was awesome, everyone came in with a blank slate. Such a freshness in camp, everyone was on their best behavior. Everyone was awesome," Kljestan says about Klinsmann's departure and Arena's arrival as the new USNMT manager. "Training was great. Bruce [Arena] has an easy way of talking to people and making everyone feel at home. I'm really looking forward to playing for Bruce again. Hopefully we can get qualifying back on track again in March."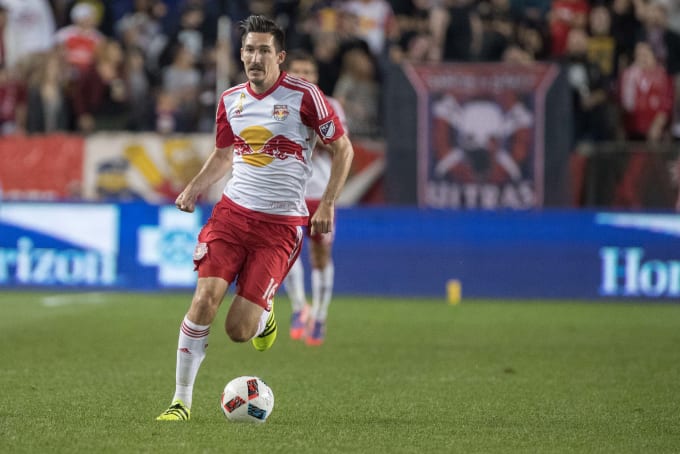 The National Team lost two qualifying matches for the World Cup against Mexico and Costa Rica in 2016, which ultimately brought the firing of Klinsmann, and Kljestan felt the frustration, coupled with the Red Bulls' early exit in the 2016 MLS Playoffs to the Montreal Impact. "The season ended with the worst taste in my mouth, and it sucked. Then I went and played for the U.S. Men's National Team, and then we lost the first two games of the Hexagonal, and that sucked as well, so this off-season's been way too long," he says. "We want redemption, and we know it won't come until the playoffs, which is a long way away. So we've got a lot of work to do before that happens, but the mentality of the team's been great."
The New York Red Bulls have been the most successful regular season club in MLS over the past few years, but a strong playoff run has alluded them since coach Jesse Marsch took over the club two seasons ago. But it's a new year and new look for the club who calls New Jersey home, with its trading of former captain Dax McCarty to the Chicago Fire and naming Kljestan its new leader.
Kljestan was there in January when McCarty, a close friend to him, was traded. "I was there the day he got traded. I saw him an hour after it happened. It sucked. I went to his hotel room, because we were in L.A. for the National Team. I said to him, 'Dude, it sucks,'' he says. "But it's part of the business, and he's my boy, and I loved playing with him. I hated to see him go. I think he's bummed. He was sad to leave us, he's a great player, but he has a great shot of being on the National Team now."
But things are looking up for the Red Bulls, USMNT, and Kljestan, who welcomed a son into the world this January. The Red Bulls are in the CONCACAF Champions League and play against the Vancouver Whitecaps on Thursday, while kicking off the season this upcoming Sunday against the league's newest club, Atlanta United F.C. There's hope for Kljestan and the Red Bulls this year, though, especially with its 7-0 and 4-1 thrashings of crosstown rivals New York City F.C. last season. "That's a game that's going to go down in history. I don't know if I'll ever be part of another game with such a big margin," he says. "We kicked their ass. We've had their number so far."
This might just be the time that the Red Bulls can bring home a championship to its supporters, and it's on Kljestan's mind. In fact, he's confident. ​"Every year I say, 'This is the year we're going to win MLS Cup,'" he says. "So, this is the year we're going to win MLS Cup."