ComplexCon returns to Long Beach Nov. 6 - 7 with hosts J. Balvin and Kristen Noel Crawley, performances by A$AP Rocky and Turnstile, and more shopping and drops.
Secure your spot while tickets last!
Who needs a space heater or nine layers to keep you warm on a frigid Monday when we've got all these Odell Beckham Jr. hot takes?
The Giants no-show in the second half of Sunday's showdown with the Packers predictably turned into an indictment of Beckham's behavior, namely his jaunt down to Miami with fellow Giants wideouts Victor Cruz, Sterling Shepard, and others to party with Justin Bieber and Trey Songz on a boat and in the club last week. Maybe you heard about that.
And by now, you've probably heard more than few talking heads throw Beckham under the bus or read a few tired columns about how his "selfish" actions were a big reason—if not the reason—why the Giants were the biggest losers of Wild Card weekend.
Not because the defense had no answers for the hottest quarterback in the NFL. Not because the vaunted Giants secondary—the NYPD—was carved up for 362 yards and four TDs by a two-time (and counting) NFL MVP. Not because Eli Manning missed targets after getting off to such a hot start. Not because of the almost non-existent Giants running game. Not because of a few special teams gaffes. Not because Randall Cobb got away with offensive pass interference on that Hail Mary.
But sticking to the narrative that because Beckham and company wanted to blow off some steam on their team mandated off-day it cost the Giants makes for bigger headlines, bolder boasts, and a whole lot of shit stirring that's good for business.
We all get it. We also know better.
Sure, everyone agrees ducking down to Miami six days before a playoff game and posing shirtless on a boat while wearing shearling-lined boots is not a good look. Christ, you're a Nike athlete, Odell. You should know that Prestos pack easy. But—really?!?—partying with the Biebs is why the Giants were smoked 38-13 by the surgical—and disturbingly lucky—Aaron Rodgers?
There's no debating that in his first playoff game, Beckham stumbled his way to a disappointing performance on a stage he was dying to shine on. Beckham caught only three balls, dropped a touchdown in the first quarter, couldn't haul in a bunch of others, and generally was a non-factor thanks to a Green Bay secondary that was incredibly vulnerable, yet blanketed him throughout the game. Yes, big players are supposed to rise the occasion and Beckham decidedly failed in that regard. But big pimpin' on a yacht in Miami didn't make him miss that touchdown early on. Dropping it didn't help the Giants in the long run, but it didn't ultimately cost them, either.
"There was nothing that could connect seven days ago to today and how we came out and played and executed," Beckham told the media after the game. "There's just nothing in the world, that's not realistic. I think it did a great job at creating distractions for us. It's unfortunate. That's just the way this world is. There's just no way you could connect something that happened seven days ago to this game today."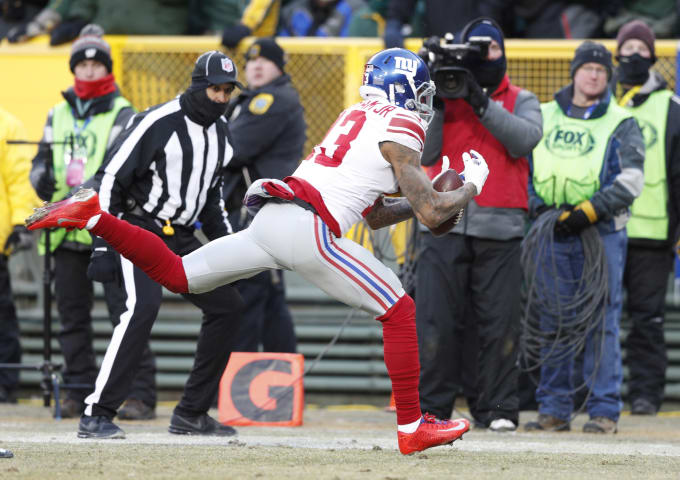 The Giants were a flawed team. Featuring a bad offensive line that forced Eli Manning to way too often throw balls before he wanted to throughout the season, the Giants made the playoffs in large part because of their defense. And it was playing up to its rep through the first 25 minutes of the game, pressuring Rodgers and actually sacking him a few times; most importantly, keeping the Packers off the board. Other than that one fourth down stop in the third quarter, the rest of the 35 minutes played out the exact opposite. The defensive line looked gassed as Rodgers danced around the pocket, extending plays for comically long stretches. And the secondary soon buckling under the Rodgers onslaught. 
That's why the Giants lost. Not because Beckham only caught three balls and didn't rip off a signature, game-changing play. And that certainly wasn't because his head wasn't where it needed to be because it was bobbing back and forth in the club on a Monday.
"What happened today? Aaron Rodgers happened today," Giants linebacker Jonathan Casillas said after the game.
If you want to get on Beckham for anything, get on him for reportedly telling a member of the Packers' grounds crew to "Fuck off" after he allegedly punched a hole in a wall near the visitors' locker room. Beckham has trouble controlling his emotions and it sounds like he did something stupid after game out of frustration. You can get on him for dropping that touchdown in the first quarter and for an overall disappointing performance but you can't clown him for costing the Giants a meeting with the Cowboys next Sunday because he got on a boat on his day off.