You'd think Draymond Green would give the whole Snapchat thing a rest after he inadvertently made his sausage into national news by sending it out into the world on Sunday morning. But, apparently, that's just not how Green rolls, as he continued broadcasting everything he could think of prior to the U.S. team's first game against China on Saturday afternoon.
The subject of his Snapchat story on Thursday was much more PC (though a lot less entertaining) than his accidental dick pic, and by that we mean it was a breakdown of Team USA's hair. This, of course, is something we thought wouldn't be brought up after LeBron James announced he was skipping the Rio games. But hey, what the hell do we know?
As you can see by Green's narrative, which is that the "Moral of the story hair isn't a strength of this team...Going for the gold!!" several players on the team are suffering from success in the hair department, so please, no need to constantly riff on the aforementioned King's headbands.
First Green critiqued himself, because his teammates aren't the only ones who should be having fun at his expense. From there he pointed out Kevin Durant's issues, which appear set to replace the void Manu Ginobili's baldspot will leave when he finally retires: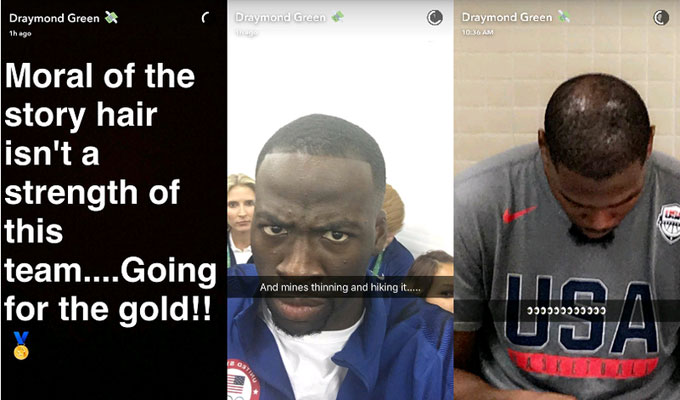 Then came shots directed at three unsuspecting superstars: Carmelo Anthony, Paul George, and Jimmy Butler: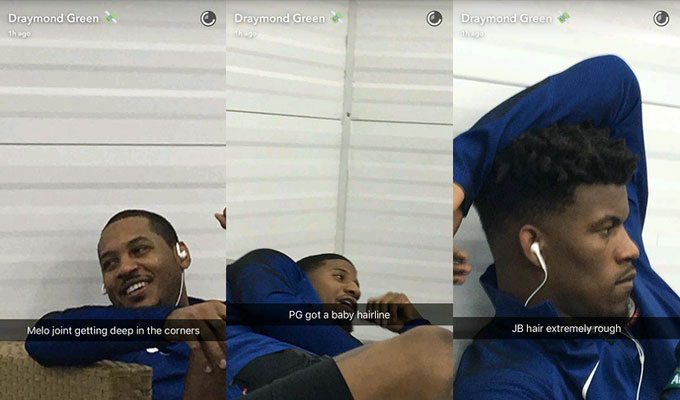 In fact, about the only dude who didn't get burned was Klay Thompson: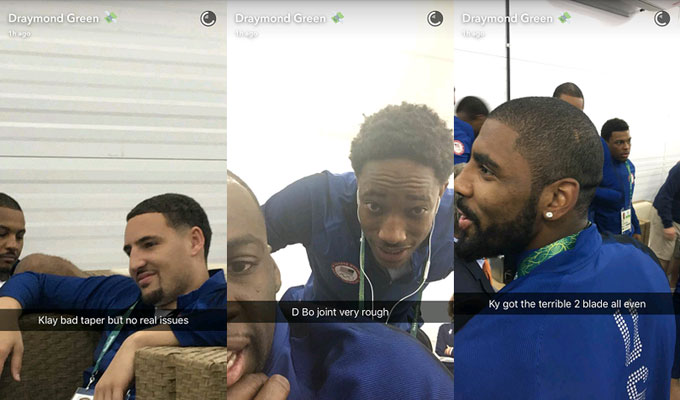 All in all it seemed to reinforce a feeling we've been having over these past few weeks, which is: Can we please just get these damn games going already?