The internet is filled with cautionary tales that illustrate why you need to think about everything you put on social media. In some cases, people have been arrested for sending out inappropriate tweets. In others, college athletes have been kicked off their respective teams for having momentary lapses of judgment. And in the past, there have been quite a few employees who have gotten fired by their employers for hitting "Tweet" when they shouldn't have. If you voluntarily choose to make your private life public on social media and you send something out into the world that could potentially make your place of business look bad, you shouldn't be surprised if they decide to part ways with you.
That's exactly what happened to a Cavaliers fan named Moe Wahdan on Wednesday after he sent a vulgar tweet using the Twitter handle @SoftCaramelKiss to Steph Curry's sister Sydel about 12 hours before the start of Game 3 of the 2016 NBA Finals. Sydel—who plays volleyball at Elon University in Elon, N.C.—started her day by sending out this tweet to let her followers know that she was on a flight headed to Cleveland:
Wahdan responded by telling Sydel that her and the Curry family should "get the fuck out of Cleveland." He also made an obscene remark about Steph Curry's daughter Riley in the tweet. It has since been deleted, but a screenshot of it was posted a short time later on Total Pro Sports: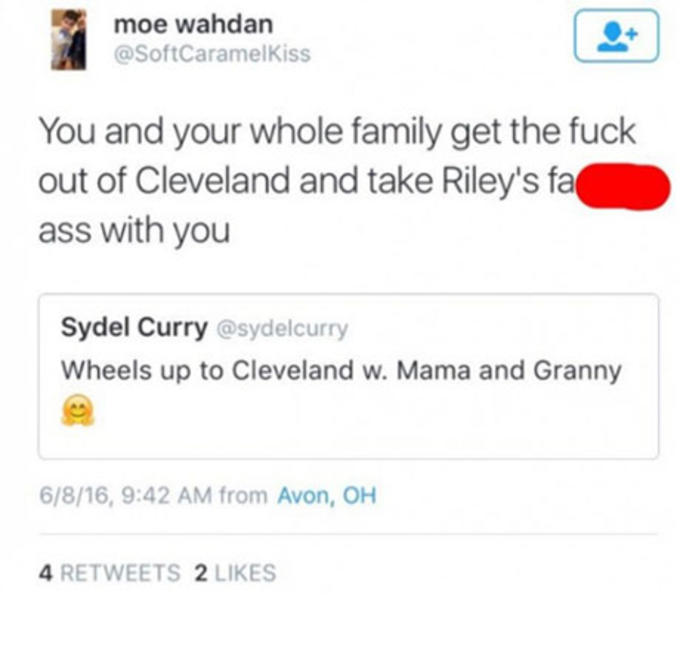 Sydel responded with this tweet and then left to catch her flight:
That wasn't the end of the story, though. While Sydel was en route to Cleveland, the @warriorsworld Twitter account saw the interaction she had with Wahdan and sent out this tweet about it:
That led Twitter user @cheryll—and others—to tag Wahdan's employer in tweets sent out about the message he had sent to Sydel:
And within just minutes, Wahdan's employer, The Holton-Wise Property Group, started responding to @cheryll and the other Twitter users who had notified them about Wahdan's remark. The real estate company used Twitter to say that it "does not condone" the language Wahdan used in his tweet and said that he had been terminated, effective immediately:
When Sydel eventually landed in Cleveland and checked her Twitter, she sent out this:
She also responded to someone who filled her in on what she had missed:
After sending out that tweet, Sydel moved on to talking about other things on Twitter, but Wahdan continued. He addressed his termination with his followers and retweeted a @warriorsworld tweet about the situation:
Later, he also took credit for Curry's poor performance in the first half of Game 3:
Shortly after the game ended, Sydel had apparently had enough. She had a brief back-and-forth with Wahdan about his original tweet to her:
It ended with Sydel blocking Wahdan:
He is still tweeting about his interaction with Sydel on Twitter as of Thursday morning.
When reached for comment on Thursday, James Wise, the owner of Holton-Wise, confirmed Wahdan is no longer a part of his company. He sent Complex this statement in response to an email we sent him:
Shortly after Moe made his inappropriate comments Twitter members started tagging The Holton-Wise Property Group twitter account (@HoltonWise). At about the same time this was happening, I was notified via email from multiple people who were offended by his actions.
I immediately investigated what was going on. I also stumbled upon his twitter account that had many tweets and posts that where wildly inappropriate. At Holton-Wise, we expect our employees to conduct themselves in a professional manner at all times. The behavior demonstrated by Moe towards the Curry family, as well as the inappropriate content I discovered while investigating what was happening with the Curry family tweets led me to terminate him immediately. We do not condone harassment or hate speech of any kind.
We should point out that this is not the first time Sydel has had an issue with a Cavaliers fan.
Let this serve as yet another example of why you need to think before you tweet.