Following their 120-111 loss in Game 5 of the Western Conference Finals on Thursday night, Russell Westbrook and Kevin Durant had to sit down for a post-game press conference because: A) It's mandatory, and B) It's not that big of a deal. But Westbrook ended up making headlines because of a response that he had to a question about Steph Curry.
During the press conference, ESPN reporter Michelle Steele asked the duo, who combined for 71 points in Game 5, if they think Curry is "underrated as a defender" because of a steal he made in the fourth quarter. And Westbrook responded to the question by laughing.
Westbrook's gut reaction was much more telling than Durant's forced cliché of a response, though, to be fair, No. 35 was still pretty pointed with his comments:
"I mean, getting steals, I don't know if that's—that's a part of playing defense. He's pretty good, but he doesn't guard the best point guards. I think they do a good job of putting a couple of guys on Russell, from Thompson to [Andre] Iguodala—and Steph, they throw him in there sometimes. He moves his feet pretty well. He's good with his hands.
"But, you know, I like our matchup with him guarding Russ."
After seeing Westbrook laugh, ESPN responded by putting together a graphic that shows his numbers versus Curry compared to his numbers versus other Warriors defenders. It seems to indicate Curry has done a solid job against Westbrook: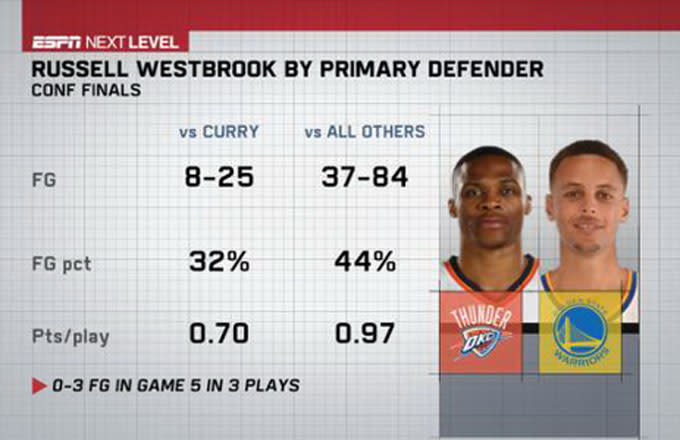 Westbrook has averaged 28 points and 11 assists throughout the series, though he's done it while committing 4.6 turnovers a game and shooting 41.3 percent from the field.
When informed of Westbrook's laughter a short time later, Curry appeared to acknowledge to ESPN that teammate Klay Thompson gets assigned harder defensive matchups. "I've got a great teammate that's obviously a better defender on the perimeter," he said. "My job is to follow the game plan. I've done that the last four years of my career, trying to elevate my defensive presence. I do my job."
Fair enough. ESPN.com reporter Royce Young, who covers the Thunder, also attempted to clarify Westbrook's laughter with this tweet:
Tune in Saturday night to see what impact all of this has during Game 6 of the Warriors/Thunder series.