Deep in the heart of Texas is the Longhorn football squad. So when they start the season 1-4, many within the Lone Star State will start yapping that things definitely need to change. 
To predict their likelihood for college football's postseason, The Longhorns "bowling" ball is now running into the gutters of the lane. In these two examples of newly-minted naysayers against the team, including one of Texas' own players, things can only go from bad to worse once they speak up on Twitter about it all.
Let's start with this retweet that went 'round the world of college football today from freshman DB Kris Boyd. Apparently, he wasn't pleased being on the sidelines with his team being routed by TCU 37-0 by halftime. Boyd went "Benedict Arnold" at the half and retweeted a tweet from some trolling Texas A&M fan who courted him to transfer to the Longhorns rival squad: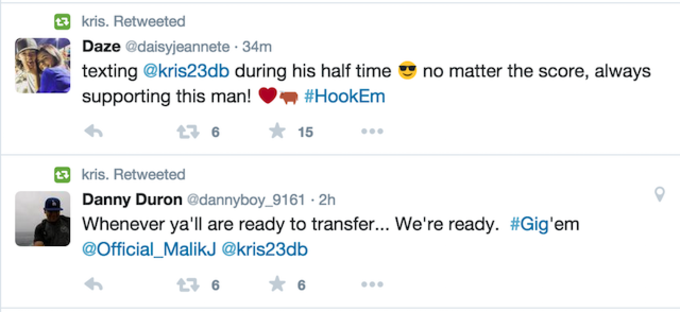 I guess that's why Clemson and some other college football team's coaching staff ban their players from using social media during the season— to prevent dumb shit like that for the world to see.  Coach Strong had something to say about it: "They should never be on their phone at halftime." Needless to say, Kris has some explaining to do to the guy who gave him his University of Texas scholarship.
Even the Texas Rangers tried to get in on the action on the speculation that Coach Strong should be just get out of dodge now. After the Rangers blew their chance to clinch the AL West in a monumental collapse against the Angels this afternoon, the Rangers social media manager tweeted a stone in the Glass House of Defeat ...
But the Rangers front office wasn't too happy to find this on their Twitter without their consent. So they axed that guy for his stupidity. They even issued a statement apologizing for it all:
Watch what you say on social media. The tweets is watching...
Send all complaints, compliments, and tips to sportstips@complex.com.
[via Twitter]